Let's READ - Support Children Suffering from Life Threatening Illnesses
Let's READ is United Way Mumbai's campaign to reach out to 5000 underprivileged children and provide them with the opportunity to experience the joy of reading.
Read More...
My Appeal
Hi, I'm Siya, 13 years old, 8th grade studying in AIS - Ascend International School. Cancer is a fatal and life-threatening disease which is a serious issue in the world, per year, cancer takes the lives of millions. The impact that this disease can cause is tremendous. Hundreds of poor kids undergoing cancer treatment at Tata Memorial Hospital depend on charitable donations which are woefully inadequate. When my mother, a cancer survivor, was undergoing treatment, I realized that even with all the medicine, treatment, love and support, recovery is a very difficult and long process. We are fortunate to have sufficient financial wherewithal to provide the necessary care. You see a lot of kids and their families from out of town having to live on pavements but what is extraordinary is that the kids are still smiling and don't let cancer wipe out their smiles and their spirit. If only they had access to financial support then they would be able to pull through this curable disease. When I saw my mom fight cancer I had made up my mind to do everything I can to help the less fortunate kids who go through the same trauma. I am going to be running the Tata Mumbai Marathon for the third time. The last time I ran, My father, Girish, my mother, Priti, my Aunt, Jigi and little brother, Vir, ran a combined total of over 65 km in the Mumbai Marathon 2016 We raised around 8 lacs in support of cancer treatment of these kids. We are looking forward to your generous support towards this cause. All funds raised through this campaign will go directly to Tata Memorial Hospital, for helping and supporting young people fighting cancer. Thank you, Siya Aggarwal
Project Details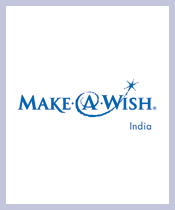 Make-a-Wish Foundation is dedicated to granting the most cherished wish of children between the ages of 3 to 18 years, living with life threatening illnesses, irrespective of their socio-economic status, caste, race or religion. The daily battle of survival that these children face is eased by fulfilling their most cherished wishes, which, in turn has a therapeutic effect. For these children, a wish fulfillment brings hope of a possible future, when none is guaranteed.
Our campaign will give these deserving children a necessary opportunity to experience the pleasure of reading.
Target: 200 Children. 8 Mini-Libraries. 2200 Books.