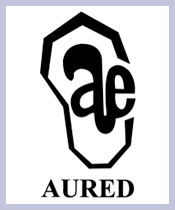 Aural Education for Children with Hearing Impairment (AURED Charitable Trust)
Aured, Anand Niketan, King George V Memorial, Dr. E. Moses Road, Mahalakshmi, Mumbai, Maharashtra, India, 4000
Founded Year: 1991
Cause category:
Telephone: 022-24926721
Charity Bib Status:
Not Available
Raised by 0 contributors.

About NGO:
Facilities :
AURED provides Habilitation to children with Hearing Impairment through the Auditory Verbal Approach.
Early Intervention - 0 - 3 yrs.
Audiological Management
VRA ( Visual Reinforced Audiometry) - Free Field Audiometric Testing for children below the age of 2 years and it is also frequency specific.
Hearing Aids trials & selection
Audiograms and Mapping for Cochlear Implant Recipients & Hearing Aid users.
Distance learning via e-mail
Well stocked library which is regularly updated with the latest books on Auditory Verbal Approach
Teaching Aids and books developed by AURED is available and can be used by parents and therapists irrespective of what language the child is taught in.
A CCTV system for central monitoring of therapy sessions.
Resource Centre: A number of graduate and post- graduate students from the Ali Yavar Jung National Institute for the Hearing Handicapped are provided the facility to collect data from student records at AURED.
Workshops for Professionals: AURED conducts regular workshops for professionals - to introduce the Auditory Approach and Cochlear Implant management to professionals who are working with hearing impaired children.
Mobile Screening Programme
Awareness to Noise Pollution- It's effect on Hearing
Fund Usage:

Our aim is to ensure that new technology, which enables deaf children to listen and speak, is made available, specially to children of underprivileged families.
The average income of families who enrol their children with AURED is below Rs. 5000/- per month. They often have to pledge their jewellery and land to finance their travel to Mumbai, internal commuting and towards their child's cochlear implant.
AURED helps to enable these families to mobilize funds for hearing aids, which may cost upto 1 lakh each, cochlear implants – each costing over 5 1/2 lakhs, besides mandatory tests and hospitalization, for upgradation of the implant which is necessary with the advancement of new technology, and for accessories ie. Microphones, cords and cables, battery compartments and even speech processors.
Parents have to run from pillar to post to accumulate the required funds for a cochlear implant and this results in a delay that is detrimental to the child's progress.
Additionally, the centres have to be maintained, administration cost, salaries for 26 staff members, sustenance of various projects,and the rent amount to be paid for the premises, which Trusts are reluctant to support.
Impact:
17 years of age Sunny is a self assured, confident boy. He has completed Junior college at R.B.K. International School, which is an IGCSE (Cambridge) board and has stood first in his class. Sunny has now got admission in the University of Illinois at Urbana Champaign,US, for Industrial Engineering and Maths. Sunny was born with a hearing impairment and came to AURED at the age of 16 mths where he received aggressive Auditory Verbal Therapy which enabled him to listen and speak, However, his speech was not clear due to the profoundness of the hearing loss.He was implanted at the age of 7 years. Along with the therapy and guidance he received at AURED, Sunny had the unconditional support of his parents who have assisted him in every possible way to help him with his integration process. He ceased coming to AURED for formal therapy at the age of 10 years. Sunny's parents encourage him to participate in AURED functions, like the parents' teachers' day so that the younger kids can draw inspiration from kids like him. He and his family represent AURED at the Standard Chartered Mumbai Marathon, brandishing an AURED banner, cheering loudly. Hearing impaired children are said to have a problem learning new languages, Sunny had chosen French as his second language in school and speaks it with panache and the enthusiasm of a good student. His listening skills are good enough for him to pick up and enjoy a foreign language and can speak in Hindi and Kutchi as well. He is quite accomplished on the tabla and is now learning to play the saxophone!