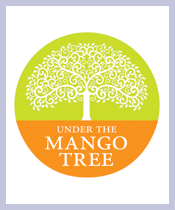 Under The Mango Tree Society
54, Naju Mansion, Wodehouse Road, Colaba, Mumbai, Maharashtra, India, 400005
Email: vijaya@underthemangotree.org
Website: www.utmt.in

Charity Bib Status: Sold out

About NGO:
Beekeeping through facilitated cross-pollination can increase agricultural yields by more than 40% and provide a lucrative income stream for farmers through selling honey and wax. Under The Mango Tree's strategic initiative, "Bees for Poverty Reduction (BPR)" seeks to use the power of market forces to increase livelihoods for India's farmers. UTMT implements its Bees for Poverty Reduction framework, training and equipping smallholding farmers to use bees to increase their incomes by as much as threefold. Our goal is to increase agricultural productivity, incomes and bring about empowerment through a focus on sustainable community-based beekeeping.
UTMT's BPR framework brings together a number of components to address scalability and sustainability in a
way that has never been attempted in India before:
a. It focuses exclusively on the indigenous bee - the Apis cerana indica, available in natural surroundings and an
excellent pollinator.
b. It diversifies livelihoods by providing hand-holding training support at the farmer's homestead and increasing
agricultural productivity for the small farmer.
c. Inherent in the framework is not just a buy back arrangement for the honey and beeswax produced, but a
buyback at premium prices for the farmer due to organic certification.
Fund Usage:
The funds raised through Mumbai Marathon 2013 will go towards:
Training small/marginal farmers in tribal areas in beekeeping enabling them to increase yields from their crops naturally and sustainably
Creating more employment/income opportunities for tribal women through beekeeping training and production of inputs
Creating infrastructure for outreach and hand holding training
Providing more bee boxes to resource poor farmers enabling them to earn more income
Organizing beekeepers into groups and making them self sufficient in the long run
Impact:
Sureshbhai Padvi is a master trainer with UTMT who lives in a small village, Nani Kosbadi in tribal Gujarat.
He grows rice, chilies, tomatoes, and brinjals on his small land plot. A subsistence farmer with family of five,
Sureshbhai had to travel daily to find manual jobs to support his family. His annual income is around Rs 20,000.
Since he started beekeeping with UTMT's help, he doesn't need to migrate as he sells honey from his twelve
boxes. There is a high demand for his pure, local honey. This season he sold honey worth Rs 1500 in a month.
Sureshbhai regrets that he had to leave school early due to poverty though he wanted to study. Now he is
determined to educate his children and plans to use the money from beekeeping for their education. Having
developed leadership skills through his role as a master trainer, beekeeping goes deeper than economic and
agricultural benefits for Sureshbhai. He quit drinking after starting beekeeping. He sees beekeeping as a constant
learning experience, which he enjoys sharing- especially in his role of master trainer. Managing his boxes as well
as overseeing fifty others in the village, Sureshbhai is a true example of the change that beekeeping has brought
about in the area.
Page Url :
http://www.unitedwaymumbai.org/ngo98_utmt.htm
Online donations are now closed for SCMM'13'
Founded Year:
2009
Cause category: Social, Civic & Community Development
Our Supporters
You can raise funds by placing this donation widget on your web page or blog. Please click on the image.