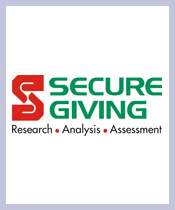 Secure Giving
6th Floor, Rampart House, 6, K. Dubash Marg , Mumbai, Maharashtra, India, 400001
Founded Year: 2005
Cause category: Education
Telephone: 022-22851392
Charity Bib Status:
Not Available
Raised by 0 contributors.


Donations for SCMM 2015 are closed. Thank you.
About NGO:
Secure Giving offers a range of services to corporates and social ventures that enable them to nurture, develop and measure their social development initiatives. We offer specialised CSR advisory services such as developing strategies and framing CSR policy; conducting need assessment and feasibility studies; impact assessments; and CSR reporting and documentation to enable corporates to maximize their CSR growth potential.
By occupying the space between NGOs and corporates, Secure Giving aims to deliver independent services and expert insight into societal development issues.
We employ tools that help organisations to understand and quantify the social, environmental and economic value they create. We believe in adopting a sustainable approach towards CSR initiatives and deliver customised services as per the organisation requirement.
Fund Usage:
We appeal for your support to be channelised towards one or more of the grassroots level NGOs we support. Your support will help beneficiaries in areas like education, health, community development
Impact:
Confedential (we audit the CSR activities done by the corporates). Hence we will not be able to sumbit any case studies until permitted.
More Related
About SCMM 2015
Participating Charities
Corporate Teams
Individual Fundraisers
Student Challenge
Fundraiser Levels & Privileges
How It Works
Fundraising Kits
Charity Bibs
Frequently Asked Questions
Downloads
The Superhero Rises!
Click to watch the video.