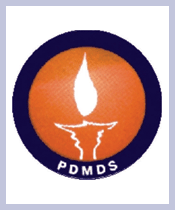 Parkinson's Disease And Movement Disorder Society
6, Jasville, 1st Flr, Opp Liberty Cinema, Marine Lines, Mumbai, Maharashtra, India, 400020
Email: PDMDS.INDIA@GMAIL.COM
Website: alfmaria88@gmail.com, pdmds.india@gmail.com

Charity Bib Status: Sold out

About NGO:
PDMDS is an all India registered charity society. The Society was founded in 2001 and is registered under the Bombay Public Trust Act of 1950 and the Societies Registration Act of 1860.
The main objectives of the society are:
* To improve the quality of life of People with Parkinson's and their caregivers through better care and treatment.
* To develop Parkinson's Support Centers that provides education and therapy. To reach out to homebound People with Parkinson's and their caregivers with rehabilitative services.
* To provide needy patients with financial assistance for medication, therapy and rehabilitation.
* To disseminate the knowledge and understanding of Parkinson's Disease amongst People with Parkinson's and their families, medical and allied health professionals and the public.
* To organize workshops, seminars, conferences and programs to promote the cause of Parkinson's Disease.
* To encourage research in all aspects of Parkinson's Disease and Movement Disorders.
Fund Usage:

The Parkinson's Disease and Movement Disorder Society strives to improve the quality of life of People with Parkinson's (PWPs) in India. Through the introduction and implementation of support groups in 2005 and physiotherapy intervention programs in 2011, the PDMDS has witnessed a significant improvement in the quality of life of PWPs, as reported by both the patients and their caregivers across various centers in Mumbai. All the services at the Support Centers are provided free of cost. PDMDS would like to sustain and enhance these services, as well as increase the reach through the development of new Support Centres across Mumbai and the country. We provide patients with physiotherapy, speech therapy, occupational therapy and counseling through support group programs conducted at the Support Centers. For many patients, treatment of Parkinson's Disease is out of reach due to the unaffordable cost of medication and therapy. PDMDS through its Patient Welfare Fund offers free medication, assistive devices and therapy to those who cannot afford.
For all these activities we are in need of funds. We look forward to your support to help us reach out to more patients in need and take the activities to other locations within this vast country.
Impact:
Mrs. Usha Jain (Dadar Support Group)
Mrs. Jain is a young onset Parkinson's patient (38 years-old when diagnosed). Though she was invited for the support group meetings, she was reluctant to attend because of her age, and economic background. She and her family tried various alternative treatments with the hope of finding a quick remedy for her condition. During the home visit made by our counselor, Mrs. Jain and her family were educated about Parkinson's Disease and the support provided by PDMDS to help patients and their caregivers effectively deal with the illness. Mrs. Jain and her husband started attending the support group meetings regularly since 2011. She now shows comfort in socializing with elderly patients and continues with her household responsibilities without any physical difficulties since she has started attending regular physiotherapy sessions. Also, the medical support provided by the organization has reduced her concerns in the expenses involved for her treatment and rehabilitation.
Page Url :
http://www.unitedwaymumbai.org/ngo95_pdmds.htm
Online donations are now closed for SCMM'13'
Founded Year:
2001
Cause category: Health
You can raise funds by placing this donation widget on your web page or blog. Please click on the image.