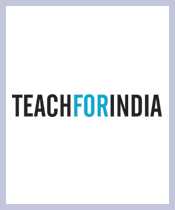 Teach to Lead (Teach for India)
Godrej One, 2nd Floor, Eastern Express Highway, Pirojshanagar, Vikhroli East, Mumbai, Maharashtra 400079, Mumbai, Maharashtra, India, 400079
Founded Year: 2009
Cause category:
Telephone: 022-25185821
Charity Bib Status:
Not Available
Raised by 96 contributors.

About NGO:
"Teach For India exists because of a deep belief that every child can and must attain an excellent education. Teach For India believes that it will take a movement of leaders across sectors with the idealism, belief, skills and commitment to end educational inequity.
In the short run, Teach For India recruits India's most promising college graduates and high performing young professionals to serve as full-time teachers in low-income schools for two years. Fellows work tirelessly to bridge the immense gaps their children face, putting students on a fundamentally different life path. Through the Teaching as Leadership framework, Teach For India staff provide training and support to Fellows, ensuring they can employ innovative teaching strategies to maximize their effectiveness in the classroom.
In the long run- After the Fellowship, Fellows join the Alumni Movement. The Alumni are the forerunners of our movement and are instrumental in helping us reach our vision. The Alumni are a powerful and growing leadership force. Informed by their experiences and insights, the Alumni Movement works from inside and outside the educational system to effect the fundamental, long-term changes necessary to ultimately realize educational opportunity for all."
Fundraisers supporting this NGO:


Fund Usage:

Teach For India believes that education is the single most fundamental social issue especially in a country where approximately 30% percent of the population is under fourteen years of age. At an individual level, education is a priceless asset which dictates ones course in life. A lack of education creates ignorance, which in turn fosters issues from corruption to violence to populist government policies. If we educate India in the right way, the future holds great promise.The Standard Chartered Mumbai Marathon presents us with an excellent opportunity to raise funds for the movement and spread awareness about the cause. Out of the funds raised at the marathon, 86 % of the funds are utilized towards Teach For India program costs, i.e. towards sponsoring the Fellowship program which include Fellow Stipend cost, Housing Stipend, Training and Development Support, etc and 14 % towards non - program i.e. operational costs. We need your support and help. By running and raising funds for Teach For India in the marathon you help in building the future of India's million children!
Impact:
Teach For India Fellowship: They teach, I learn
Teaching, Learning, Re-learning, Unlearning, Failing, Trying and Succeeding.
Transformation takes time. It's the first truth I learnt after spending 3 months into my Fellowship. Kids don't suddenly become Math wizards and they don't become fluent English speakers. Teach For India has a structured training program that prepares a Fellow for meticulously planning each aspect of each lesson and forming a strong conceptual base for the students. However, this often plays out differently in class, where teaching non-violence takes precedence over Math and teaching non-venomous vocabulary takes precedence over English. There are moments when you become the sort of teacher you dreaded in school, shouting loudly and almost hysterical at times. This is when students who are yet to be corrupted by the diplomacy that comes with age, tell you in a brutally honest way that they didn't enjoy your class because you shouted too much.
There are rare moments though, which would make any teacher proud, that prop up most unexpectedly. Once, I was teaching word problems and there were some students who got the test wrong because they were not paying attention. I was unimpressed and let them know about it. Soon, the recess bell rang and I went to the staff room to have food. 20 minutes into recess, the students who I had curtly told to pay attention in class, walked in with their test worksheets. They had skipped their recess to finish their paper.
This dedication is something that I can neither take credit for, nor understand. I don't remember once skipping my recess to do anything remotely academic in school but here were students who I had assumed didn't like to study, skipping their break to perfect a math objective.
Dedication is when I see Akash staying back for an hour and a half, every day after school to learn, I discover what it really means. It's not me who has asked him to stay back, in fact it's the other way round. Akash is one of the weakest kids academically, who reads at a KG level in 4th grade. When the Unit test results were declared and a parent teacher meeting called, Akash's mom initially refused to come, certain of her son's failure. Akash assured her that he had done well this time. Hesitantly, his mother walked into the class, still not convinced. She sat down to look at the marks and her face slowly brightened into a wide smile. Akash had scored a 70% on a tough math test, better than a lot of his peers. Pre-conceived notions are needless and hinder relationship-building with students and the community around the school. For instance, parents in the low-income community surrounding the school are extremely passionate about the power of education and demand that I give homework every day so that their child doesn't while away time hanging out with the wrong sort of people. Teaching a class of 60 boisterous students, including 48 boys is a task that requires something far beyond knowledge. It requires courage. The courage to fail, to falter, and to find your way again and again; Till an Akash comes along and makes it all worth it.
- Ankit Vyas (2011 Cohort)