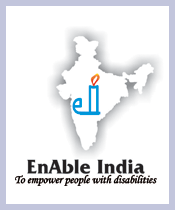 Enable India
#12, Khb Colony Koramangala 8th Block, Bangalore, Karnataka, India, 560095
Founded Year: 1999
Cause category: Disability
Charity Bib Status:
Not Available
Raised by 0 contributors.


Donations for SCMM 2015 are closed. Thank you.
About NGO:
Enable India is a non-profit organization working from 1999 towards the economic independence and diguity of persons with disabilities. We cater to the neeeds of all kinds of disabilities like visually impaired, hearing impaired, physically disabled, mental retardation, mentall illness and more across India. Enable India works on creating employable pool of candidates and creates demand in companies and provides the workplace solutions by which the persons with disability will work effectively. So far we have placed over 1300 persons with disabilites.
Fund Usage:

Employment of persons with disability involves a lot of efforts in various stages as making demand creation in companies, job identification, job analysis, identifying suitable candidates, training to candidates, interview preparations, interview, frequent follow up with companies, initial hand holding, providing assistive aids and work place solutions retention activites etc.
These activites costs Three Lakh Rupees per Month. The marathon donation will help us to continue these services without interruption to persons with disabilites
Impact:
Amina is a physically disabled candidate who came from an over protected environment. She was not sent out of the house alone for any purpose. She was included in our manual training and even to the training her aunty used to come along with her and wait till the training was over and taken back home. Amina was very shy by her nature and afraid to talk to strangers. Even during the training she used to cry in group sessions.
During the training there was a change in her and she become open and started to participate in group activities and also to mingle with other participants. When she was sent to a company for work shadowing she liked the job and desired to join there. Now Amina goes to work alone, changing 4 buses a day and is able to earn and support her family.