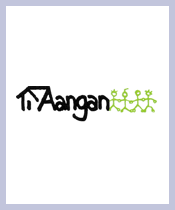 About NGO:
Aangan's work begins when laws, state policies, community or parents fail to protect a child from abuse, violence, conflict, neglect and exploitation.
40% of India's children are vulnerable. Our goal is to reach "invisible" vulnerable children and strengthen state or community protection systems around them as well as build the child's own resilience and coping strategies.
Whether they are children living in the harsh jail-like conditions of state-run children's institutions, or children engaging in dangerous work or risky activities or facing social exclusion in urban slums, we firmly believe that only a safe, supported child can cope effectively with difficult circumstances, access healthcare, education or meaningful livelihood -thus protection is at the core of all our programs.
Fund Usage:

Aangan's work is targeted towards systemic change. We don't build parallel systems to protect children, but work to positively transform existing ones so that the state and community deliver on their responsibility towards children. All funds and support raised from Mumbai marathon will go directly toward the children who benefit from our programs, listed below.
Our programs:
Effective Institutions: to raise standards of care in Observation Homes and Children's Homes in 12 states including Uttar Pradesh, Bihar, Madhya Pradesh, Orissa and Maharashtra.
Shakti: where vulnerable adolescent girls experience the power of collective action as they design, plan and run their own community projects.
Chauraha: to reduce risky and offending behaviour of vulnerable boys. Through individual mentoring and building a network of community support, these boys learn to make better choices for themselves backed up by realistic vocational and educational plans.
Impact:
PROBLEM
Govandi girls rarely leave their homes. It is discouraged to attend school or work. Many girls sit at home, doing nothing, without much outside support since even their fathers or brothers are against the idea. One family member of a Shakti girl said, "It doesn't look nice to even carry a handbag on your arm, since you appear as you are coming from work". They are left with few options.
Within the Shakti center, 18 girls came together and decided they wanted to help get more children into schools. They identified with this cause, because they also felt the pain of not being able to get into schools. Govandi has an abundance of schools, yet there is a huge gap between awareness of the options as well as the protocols put into place to get children registered.
SHAKTI SOLUTION
The girls resonated these issues, and felt like the lack of awareness around education options was the first obstacle they needed to overcome. They setup a door-to-door campaign surveying families about education. Do they know when the admissions are? How do they get documents? The answer was clearly no.
From this initial survey the girls decided to created help desks containing resource information about many of the local schools, processes, and required paperwork called Read Govandi.
Read Govandi began by focusing on motivating child laborers to attend school and use them as a resource.
RESULTS
The help desks, with the help of a local principal increased the enrollment for the schools and provide a service to the community free of cost. After negotiating special permissions for a disabled child, the principal began to remark on the work of the girls and what it was able to achieve.
IMPACT
Shakti girls were able to create their own processes in order to impact the individual, not just help them to get into schools. The help desks got 59 children in schools during its first inception. Now over 750 children have been enrolled over two years, and the number continues to grow. These frameworks for understanding how to access simple resources which were already available made it designed from the community, by the community, which magnifies the impact of these girls' collective efforts.
The girls learned critical negotiating and collaboration skills, which they were able to take back to their parents to discuss their own attendance in school. 5 of the 12 Shakti girls returned to their parents to affirm their own education and began attending school shortly after. Although family support for girls' education is rare, some of the cousins of the girls were able to come to their graduation. It was a proud moment to see them support what they once had condemned.
Page Url :
http://www.unitedwaymumbai.org/ngo87_the_aangan_trust.htm
Founded Year:
2000
Cause category: Women, Children & Aged
Telephone: 022-23525832
Our Supporters