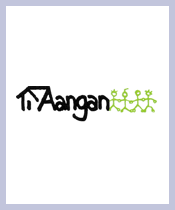 The Aangan Trust
1/48, Ac Market, Tardeo,, Mumbai, Maharashtra, India, 400034
Founded Year: 2000
Cause category: Children
Telephone: 022-23525832
Charity Bib Status:
Not Available
About NGO:
Aangan works to strengthen or build child protection mechanisms that both prevent as well as respond to children's exploitation and threats to their security and wellbeing. Our prevention work is located in urban bastis or slums where impoverished children and families are supported and empowered to create a safe environment for children. The work of response focuses on strengthening the state's capabilities in rehabilitating children who have been rescued or have escaped from situations of violence, exploitation or other hazards and are kept in childcare institutions.
Our work is centered around children who are normally invisible such as children hidden away in childcare institutions; working adolescents who do not have the benefit of protection under inadequate labour laws; out of school children who are isolated in their homes or at work in the informal sector, children engaging in illegal and risky activities.
We believe that if children, adults and state authorities engage with one another to identify, build and strengthen mechanisms that ensure children's protection, then communities will be safe for all children.
Fundraisers supporting this NGO:


Fund Usage:

Shakti - Isolated vulnerable girls find their SHAKTI (strength) to affect change for themselves and the community
Young adolescent girls are more likely to drop out of school, be married off and experience isolation and exploitation. To instill confidence, encourage them to study and work as well as be more informed about their environment, Aangan works with young girls at risk in communities to build their resilience and reduce vulnerability.
Aangan builds girl-safe communities through the following: (a) protecting girls from violence and abuse (b) providing access to essential services, such as health, education or police protection (c) ensuring community protection for girls through family ties (d) providing access to economic opportunities through education and vocation. In order to do so, Aangan works with girls, boys, community adults, local NGOs and government authorities responsible for protective state services.
Some Changes that have resulted in Girl's Lives:
It was most likely that fourteen year Varsha, would be pulled out school and taken back to her village to get married.
But her Shakti network negotiated that her trip back to the village be postponed. They also supported her to get a job with a Shakti friends mother, proving to her family that financial independence was a real option for her financial security over child marriage. 
In Bin Toli in Patna, 10 girls who worked long ten hour days realized during Shakti sessions that they want a different future. They negotiated with parents and a local organization for functional literacy classes so that they would not get cheated by middlemen who bought their craft products at dismal rates. They also believe that literacy will open up new opportunities in the future and believe that other musahar girls should follow their example.
Impact:
PROBLEM
Govandi girls rarely leave their homes. It is discouraged to attend school or work. Many girls sit at home, doing nothing, without much outside support since even their fathers or brothers are against the idea. One family member of a Shakti girl said, "It doesn't look nice to even carry a handbag on your arm, since you appear as you are coming from work". They are left with few options.
Within the Shakti center, 18 girls came together and decided they wanted to help get more children into schools. They identified with this cause, because they also felt the pain of not being able to get into schools. Govandi has an abundance of schools, yet there is a huge gap between awareness of the options as well as the protocols put into place to get children registered.
SHAKTI SOLUTION
The girls resonated these issues, and felt like the lack of awareness around education options was the first obstacle they needed to overcome. They setup a door-to-door campaign surveying families about education. Do they know when the admissions are? How do they get documents? The answer was clearly no.
From this initial survey the girls decided to created help desks containing resource information about many of the local schools, processes, and required paperwork called Read Govandi.
Read Govandi began by focusing on motivating child laborers to attend school and use them as a resource.
RESULTS
The help desks, with the help of a local principal increased the enrollment for the schools and provide a service to the community free of cost. After negotiating special permissions for a disabled child, the principal began to remark on the work of the girls and what it was able to achieve.
IMPACT
Shakti girls were able to create their own processes in order to impact the individual, not just help them to get into schools. The help desks got 59 children in schools during its first inception. Now over 750 children have been enrolled over two years, and the number continues to grow. These frameworks for understanding how to access simple resources which were already available made it designed from the community, by the community, which magnifies the impact of these girls' collective efforts.
The girls learned critical negotiating and collaboration skills, which they were able to take back to their parents to discuss their own attendance in school. 5 of the 12 Shakti girls returned to their parents to affirm their own education and began attending school shortly after. Although family support for girls' education is rare, some of the cousins of the girls were able to come to their graduation. It was a proud moment to see them support what they once had condemned.