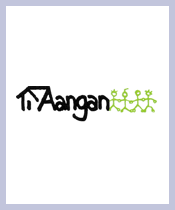 The Aangan Trust
1/48, Ac Market, Tardeo,, Mumbai, Maharashtra, India, 400034
Founded Year: 2000
Cause category:
Telephone: 022-23525832
Charity Bib Status:
30 Available
Raised by 0 contributors.

About NGO:
Aangan is a child protection organization that promotes safe communities for children with a focus on children in dangerous or difficult situations and environments. These are children imperiled by their exposure or vulnerability to isolation, neglect, violence, hazardous or exploitative work, early marriage, juvenile offending, trafficking and abuse. We enable safe communities where children, adults and governments work together to prevent and respond to the harm that these children face. Aangan's prevention work is located in urban bastis or slums where impoverished children and families are supported and empowered to create a safe environment for children. The work of response focuses on strengthening the state's capabilities in rehabilitating children who have been rescued or have escaped from situations of violence, exploitation or other hazards and are kept in childcare institutions.
Fund Usage:

The funds will be utilized for Aangan's PACT (Parents and Children Against Trafficking/Harm and Chauraha Programs.Through our PACT program,  adult volunteers in the most vulnerable communities are trained and empowered to be alert to child protection issues such as early marriage, trafficking, violence and abuse; to respond to the harm that children face; and to activate government systems and services to promote children's safety and protection. Currently, 309 PACT workers have been trained to work with 50 families each. In the past year, these barefoot child protection workers have identified and responded to 208 children in situations of serious harm or risk.

Chauraha is a 40- hour program from for adolescent boys who are isolated, out of school, in hazardous work or engaging in dangerous behavior. Perceived as workers or troublemakers, the vulnerabilities of adolescent boys largely go unaddressed. Through group and individual work and community events, boys learn to recognize and articulate risk, take steps towards reframing their image of themselves and come to be recognized as change makers in the community. Via Chauraha, we have reached out to 3707 such vulnerable boys in the past one year.