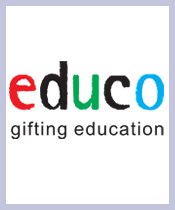 educo
Educo C/o Of: M/s International Creation, 22 Ground Floor Khatav Bldg, Dr. S.s. Roa Road, Parel, Mumbai, Maharashtra, India, 400012
Founded Year: 2009
Cause category: Education
Telephone: 022-24715315
Charity Bib Status:
15 Available
Raised by 0 contributors.

About NGO:
Educo is an NGO established in 2009 and entered into a partnership under the PPP policy of the MCGM to support Saibabapath Mumbai Public School. We started with 20 children in preschool and now are serving 530 children in the school. The senior most class is now Grade 6.
We have a team of dedicated and qualified teachers who are committed to the welfare of the children. We encourage an environment of continuous learning and up gradation of the teachers professional skills and keep abreast of all developments in the educational environment.
We have a engaged and enthusiastic community of parents and service the children in the impoverished neighborhood of Lalbaug, Parel.
Since we believe in the wholistic development of the child we maintain a nurturing environment and small child to teacher ratio.
We also encourage children to work with computers from an early age, have an arts curriculum and a structured sports program. Our students actively participate and win accolades in various district and state level sports.
Fund Usage:

The demand for more number of children is tremendous and we aim to grow significantly. The funds raised will be used for building NGO capacity, teacher training and improvement of technology facilities in the school.
We are specifically looking to improve the computer laboratories, science facilities and improve resources throughout the school. Being one of the handful of the NGO's in Mumbai in partnership with the MCGM in the School Support Program we look forward to maintaining a long and fruitful relationship in the long term.
Impact:
Bhumita Rathore is a twinkly eyed, cherubic little girl who loves to read storybooks. When she joined our school in June 2010, in Senior Kg, she was an undernourished, neglected child. Her mother is a part time maid and her father is no longer with the family. Bhumita lives with her maternal grandparents and uncle and the family can barely make ends meet. Her home environment was very difficult. Not only was it a challenge to feed her,but educating her was a luxury they could not afford. As the social worker and teachers were aware of her background and the challenges of her home environment they took extra care of her academic and emotional needs. Very often extra food was also slipped into her school lunch box by her teachers when they noticed it came empty to school, knowing very well this may be the only meal of her day.
Despite her difficulties, with the nurturing and focus by the EDUCO team Bhumita now in Class 2, not only can read and write but is a very intelligent, vocal child. As her mother meets the staff on a daily basis while dropping and picking her child she is able to talk and discuss her problems. The teachers give her guidance and ensure the family pays good attention to Bhumita's academic and social needs. The feather in our cap in this situation is that EDUCO has emerged as a caretaker of the children's and parent's needs therefore is also able to positively influence the child's emotional well being!
We are sure Bhumita will not only be a successful student but also a secure individual in the future!