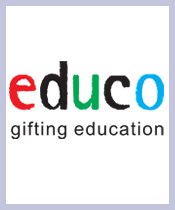 educo
A-3, Ganga Niwas Chs, Ganesh Gully, Near Gurukripa Sarees, Bharatmata, Lalbaug,, Mumbai, Maharashtra, India, 400012
Founded Year: 22.01.2009
Cause category: Education
Telephone: 022-24715315
Charity Bib Status:
Not Available
Raised by 16 contributors.


Donations for SCMM 2015 are closed. Thank you.
About NGO:
Educo is an NGO located in Central Mumbai managing a school in partnership with the MCGM. Our curriculum is focused on providing high quality English medium education to our students. However, we lay equal emphasis on imparting structured value education in order to build the studentís character. With active parent engagement and commitment to educo, we are able to impact the local community thereby being catalysts for social change.
Parel (Lalbaug) grapples with poverty and under-development, amidst the development and boomtown high rises surrounding it. This area is among the least literate communities in Mumbai. Education of the children and engagement with their parents will help this disenfranchised group of people into mainstream occupations.
Salient features:
1. We are one of the 4 NGOs which support MCGM schools out of total 50 MCGM schools in our ward known as the F/S ward.
2. In a span of 6 years educo has reached 415 children (in 2014) from the initial 20 children in 2009. educo aims to catapult to around 1000 children in next 5 years.
3. The student to teacher ratio in pre- primary and primary medium is 15:1 and 20:1 respectively.
4. We are working on a structured sanskar program to provide our children with the tools and capability for inner happiness, i.e. teachings of meditation, ethics, relationships and responsibilities.
5. We continuously engage kids in local indigenous sports along with mainstream international games throughout the year.
6. Greater visibility for corporates & CSR projects for an employee engagement program which can be impactful, credible and logistically easy to implement as educo is at a viable location.his disenfranchised group of people into mainstream occupations.
Fundraisers supporting this NGO:


Fund Usage:

Funds raised would be spent on
To upgrade computer technology in school
To build a Sanskar program
To build a robust sports program
To hire and maintain teachers
To fund the music and arts program
Impact:
Bhumita Rathore is a twinkly eyed, cherubic little girl who loves to read storybooks. When she joined our school in June 2010, in Senior Kg, she was an undernourished, neglected child. Her mother is a part time maid and her father is no longer with the family. Bhumita lives with her maternal grandparents and uncle and the family can barely make ends meet. Her home environment was very difficult. Not only was it a challenge to feed her,but educating her was a luxury they could not afford. As the social worker and teachers were aware of her background and the challenges of her home environment they took extra care of her academic and emotional needs. Very often extra food was also slipped into her school lunch box by her teachers when they noticed it came empty to school, knowing very well this may be the only meal of her day.
Despite her difficulties, with the nurturing and focus by the EDUCO team Bhumita now in Class 2, not only can read and write but is a very intelligent, vocal child. As her mother meets the staff on a daily basis while dropping and picking her child she is able to talk and discuss her problems. The teachers give her guidance and ensure the family pays good attention to Bhumita's academic and social needs. The feather in our cap in this situation is that EDUCO has emerged as a caretaker of the children's and parent's needs therefore is also able to positively influence the child's emotional well being!
We are sure Bhumita will not only be a successful student but also a secure individual in the future!