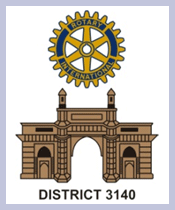 Rotary Club of Bombay
Rotary Club Of Bombay, 97/b, Mittal Tower, 9th Floor, Nariman Point, Mumbai, Maharashtra, India, 400021
Founded Year: 1929
Cause category: Education
Charity Bib Status:
Not Available
Raised by 0 contributors.


Donations for SCMM 2015 are closed. Thank you.
About NGO:
Rotary club of bombay was founded on march 19, 1929.
It is the 2nd oldest club in India with 336 members. We meet every Tuesday at Taj Hotel @ 1.15 pm. The club has 35 committies
Through which they serve the community to develop the objects of rotary under six areas of focus.
Fund Usage:

The funds are required for Rotarys area of focus namedly -: Basic Education and Literacy.
We carry out a programme called "Bhavishya – Yaan". We teach english, computers & life skills to 600 childrens in 5 municipal schools in central / South Mumbai. Dance, drama & art camps are conducted in the programme also.
Impact:
The Bhavishya – Yaan Project - educational programme is carried out from 7th - 10th standards in 5 municipal schools. The childrens get better marks in academics. They get computer & english speaking skills enabling them to get better jobs. Their confidence is also built through this programme. The kids usually drop out of the municipal schools but after the above programme they go for further studies in colleges.