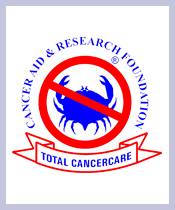 Cancer Aid & Research Foundation
Byculla Municipal School Bldg.,grnd. Floor, R. No. 15-18, N. M. Joshi Marg, Near 's' Bridge, Byculla (w), Mumbai, Maharashtra, India, 400011
Email: dgm2@canccerarfoundation.org,
Website: www.cancerarfoundation.org

Charity Bib Status: Not available

Online Donations raised so far: Rs.15150/-
About NGO:
Cancer Aid & Research Foundation (CARF) the biggest Medical Ngo from Maharashtra in the field of Cancer only has put a remarkable landmark in helping Poor Cancer Patients. In its duration of 12 years CARF reached to help out more than 6796 Patients in from 972 Hospitals and with an amount of Rs 12.85 Crores. We help the patients in various ways and counsels them along with their family for keeping away the fear of Cancer from their faces.
We also provide scholarship based on the merits to the needy & poor students. This year the amount we will disburse is Rs. 33.66 Lacks among 93 students.
Fund Usage:

The funds mainly generated are disbursed for the treatment of Poor and Needy Cancer Patients. Here at the Foundation we Counsells the Patients and inquiries each and every patient. In fulfilling all the criteria of the inquiry process and once we are satisfied , we provide Medical, Financial, and other (Transportation / Accomodation) help to the patient. We take care of patients from all across India. So far in the duration of 12 years we have disbursed nearly about 13 crores among poor cancer patients.
We organize Free Screening and Medical Camps for the poors who cannot afford the cost of Checkups / Treatment in the slums of Mumbai. In these camps we provide Free Checkup, Free Medicines, and tests at huge discounts.
Apart from this we are working in the field of Cancer Awareness too. In this regard we distribute Leaflets, brochures, Guide Books, Informative Stickers and Screening films for Awareness for Cancer.These camps are organized into Schools, Colleges, corporate, Govt Offices, college / other events of Mumbai.
Thus we have become the biggest Medical NGO in Maharashtra in the very short time span of 12 years.
Impact:
"Cancer" and the thought of losing a loved one to the dreaded disease. With Salman Ahmed's family, it was no different. Diagnosed with the serious form of blood cancer in 2010, in the 3rd standard, Ahmed was caught unaware while his family was left shocked and disturbed. After certain test like Bone marrow investigation, it was revealed that the boy had cancer, following which he was subjected to 5 difficult chemotherapy and 4 radiation sessions. As friends and well-wishers from nearby came to visit him and offer their prayers, his parents, particularly the Ahmed's mother, worked very hard to look after her son and keep her faith strong.
The will of God eventually came forth... as two years later, Ahmed is now completely cured; healthier and quick to even set his goals for a job in the government sector. It is in success stories like these that the Cancer Aid & Research Foundation takes pride in its work, all made possible with the faithful support from noble donors.
Page Url :
http://www.unitedwaymumbai.org/ngo80_carf.htm
Founded Year:
2001
Cause category: Health
Our Supporters