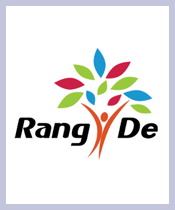 Rang De
A 1102, Ajmera Green Acres, Bannerghatta Road,, Bangalore, Karnataka, India, 560076
Founded Year: 2008
Cause category: Women Empowerment
Telephone: +91 8041650037
Charity Bib Status:
Not Available
Raised by 0 contributors.


Donations for SCMM 2015 are closed. Thank you.
About NGO:
Rang De, through its online portal enables individuals to become social investors and lend money to micro entrepreneurs listed on the website. The social investors get back their money with a nominal financial return and a tangible social return.
Rang De will act as facilitator of the social investment transactions and will ensure disbursement of loans and repayments from the borrowers through its network of field partners.
Rang De acts as facilitator of transaction and will not deduct any tax on the interest received. However, the interest received will be taxable as income as per statutory laws.
Fund Usage:

Rang De intends to make poverty history in India by reaching out to underserved communities through microcredit. This is done through a network of carefully selected field partners and social investors and offer microcredit that will have a positive impact on business, education, health and environment of the communities Rang De works with.
The funds are raised and are provided to the rural entrepreneurs who reside in the interiors of villages of various states like Bihar, West Bengal, Jharkhand, Orissa, and Madhya Pradesh. With the network of field partners the funds reach the unreached poor community, who do small ventures like cow rearing, goat rearing or runs petty shops. The loan amount is then utilized by the rural entrepreneurs in expanding their business and earns a better living in the state of inflation where people strive for the fittest.
Impact:
Case study of a rural entrepreneur
Saraswati Devi resides in Jharkhand. She has been a recipient of Rang De loan through our field partner Udyogini. Saraswati Devi has faced difficult circumstances throughout her life. Her endeavors were met with great resistance, but she worked hard to overcome every obstacle that came her way. In 2010, she set up a village level service centre (VLSC) in Jharkhand. She availed a loan from Rang De in the month of October 2010 to run her VLSC and was very successful. A proud entrepreneur, she developed confidence and gained popularity in her village. Her VLSC was chosen to house a library and eventually became a location for a night school, where she now teaches.
Saraswati took the initiative to speak up in her village and suggest better business ideas. With her new found courage and independence, she not only began to support her family but also started to help others in her community.