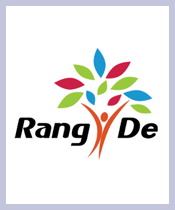 Rang De
A 1102, Ajmera Green Acres, Bannerghatta Road,, Bangalore, Karnataka, India, 560076
Founded Year: 2008
Cause category: Livelihood Generation
Telephone: 080-41650037
Charity Bib Status:
15 Available
Raised by 0 contributors.

About NGO:
Rang De is an award winning social business. Our mission is to use technology to disrupt systemic inequities that keep people locked in poverty. Back in 2008, we launched India's pioneering peer-to-peer micro-lending platform to crowd-fund micro-loans. These affordable, collateral-free and ethically administered micro-loans provide an alternative to expensive, exploitative credit. Till date 7800+ Indians have funded over 37000+ loans totalling ₹32 crores, with a jaw dropping low default rate of less than 0.5
We continue to expand our interventions - all engaging civil society - with sharp focus on alleviating poverty and spurring grass-roots socio-economic growth and development.
We will reach 250,000 families over the next 5 years with access to affordable micro-credit for livelihoods, education, vocational training, health and sanitation. We will be targeting specific groups such as tribals, artisans, small & marginal farmers. We will be expanding across the country - going deep and wide. Be a part of this freedom movement - freedom from poverty and deprivation for millions of Indians.
Fundraisers supporting this NGO:


Fund Usage:

Last year, you made it possible for Rang De to effectively train our Impact partners. "Strengthening the Bonds", a capacity building programme conducted for the ground level staff of the Impact Partners. An effort to hand holding the partners to overcome the specific challenges faced by the diverse organisations that Rang De has partnered with.Today we have successfully disbursed over 38000 loans, touching thousands of lives positively! (38,850 to be exact)
Yet, many more lives abound.
This year, we want to employ more funds in education and empowering women. Rang De's knowledge of the rural pulse has driven us to this decision. There are thousands of rural youth who await an opportunity to higher education and career driven courses.Rang De works with the underserved communities in the country where enterprising women are looking for opportunities to start up a small scale business or continue traditional art.
Our focus will be to touch as many lives as possible and ensure that we root out unemployment among the youth of our country and empower our women.
Your efforts make a difference to Rang De, to our impact partners and to our underserved communities.
Join us in our mission to end poverty in India!
Impact:
Case study of a rural entrepreneur
Saraswati Devi resides in Jharkhand. She has been a recipient of Rang De loan through our field partner Udyogini. Saraswati Devi has faced difficult circumstances throughout her life. Her endeavors were met with great resistance, but she worked hard to overcome every obstacle that came her way. In 2010, she set up a village level service centre (VLSC) in Jharkhand. She availed a loan from Rang De in the month of October 2010 to run her VLSC and was very successful. A proud entrepreneur, she developed confidence and gained popularity in her village. Her VLSC was chosen to house a library and eventually became a location for a night school, where she now teaches.
Saraswati took the initiative to speak up in her village and suggest better business ideas. With her new found courage and independence, she not only began to support her family but also started to help others in her community.