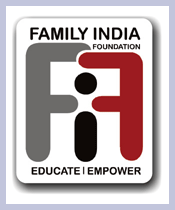 Family India Foundation
Kh. No. 225, Behind Dda Flats Market, Ladosarai, New Delhi, Delhi, India, 110030
Founded Year: 2007
Cause category: Education
Charity Bib Status:
Sold Out
About NGO:
FIF is a not-for-profit, registered as public charitable trust with a vision to fight poverty and improve the quality of life of citizens in the Indian subcontinent.
Vision:
A large percentage of India's population lives below the poverty line unable to attain the basic needs of life. Our vision: "to break the cycle of poverty and improve the quality of life of the disadvantaged" in the Indian subcontinent.
Mission:
To bring this vision into reality we: "work for the disadvantaged by providing opportunities for Education, Training and Development."
Area of Focus:
Our Education and Training Program aims to provide those in need with access to quality education & training. Our initiatives cover various stages of academic development right from early childhood education to skill building for youth.
Fund Usage:

Start Early is an Early Childhood Care & Education Programme, with the goal of creatinga pre-school learning experience for underprivileged children.
Underprivileged children enrolled in this learning centre that makes learning an attractive experience in a non-formalised environment by providing the best possible facilities, resources and framework to support the children's learning and all-round development.
Start Early Project assists in educating children and their families about the benefits and importance of education, with a sustained focus on providing functional literacy to children which will aid them in their lives as adults.
Impact:
The month of June has seen our Equal Opportunity Program in full action once again with two events reaching more than 70 children plus their families.
On the 5th of June at the request and initiative of one of our supporters we celebrated Mast. Arrman's birthday with new friends from the YMCA girls home project. Later on in the month we co-hosted our second program for 40 children from the CHIRAG foundation with entertainment and education for HardRock Cafe's 41st anniversary. A doctor volunteered her time and skill to teach basic important health& Hygiene habits as part of the event. Some comments from institutions who participated in the event.
"This event has given the children some delightful moments in their lives. It was a day that we would recall with fond memories. You did a remarkable job in organizing tall the activities. Once again a big thank you to Family India Foundation" - Swati Srivastava, K.C. Mahindra Education Trust
"CHIRAG family is glad to be invited to Equal Opportunity Program organized by Family India
Foundation with our beneficiaries." - Vanitha D'Souza, CHIRAG (Project of:College of Social Work, Nirmala Niketan, Mumbai)