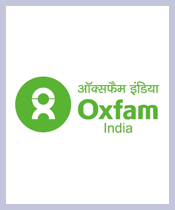 Oxfam India
Oxfam India, 176/184 Mhada Building, Bora Bazar, Maruti Lane, Near Fire Brigade Station, Fort, Mumbai, Maharashtra, India, 400001
Founded Year: 2008
Cause category: Social, Civic & Community Development
Charity Bib Status:
Sold Out
Raised by 0 contributors.


Donations for SCMM 2015 are closed. Thank you.
About NGO:
Oxfam India works in partnership with over 180 grassroots NGOs to address the root causes of absolute poverty and injustice in the four areas of Economic Justice, Essential Services, Gender Justice and Humanitarian Response and Disaster Risk Reduction (DRR).
Oxfam India's program is focused on four social groups - Dalits, tribals, Muslims, and women.
In all that it does, Oxfam India strives to empower communities, and hold governments accountable. It also believe that responsible corporates have an important role to play in promoting a more inclusive pattern of development. And most importantly, it believes that active citizenship-of young and old, poor and middle class, rural and urban-is the catalyst for bringing about change.
Fund Usage:

This year, Oxfam India enters the Standard Chartered Mumbai Marathon with a vision. A vision of an equal and just society... and we are starting from the bottom - the least cared for - the Wastepickers of India. Wastepickers form one of the poorest and most undervalued sections of the large and unregulated informal economy of India. As self-employed workers who earn their livelihood from the collection and sale of recyclable scrap from urban solid waste for recycling they fight not only economic poverty but also social stigma of earning through work which is seen as 'unclean'.
Oxfam India together with SNDT aims at changing this. A change which is for good. Through our interventions last year, we helped provide an identity to these silent and faceless people through issuing Identity cards in many places.
This initiative has now to grow. We need your support for this. We can provide these men and women with their right to health by minimising the occupational hazards that they work in - provide medical relief and insurance, safety gears and protection against harrasment and violence. We want to provide these vulnerable sections of OUR society with decent work and livelihood so that they can SAVE too!
Impact:
Surekha Lala Gaekwad (30 years) works as a waste picker in the University of Pune in Aundh. Along with seven more waste workers, she collects dry and wet waste from the four zones of the University's sprawling premises. She started collecting recyclable waste from the main waste containers at the University's ground after her marriage. She used to accompany her mother-in-law who was the first member of KKPKP (Kagad Kach Patra Kashtkari Panchayat), a trade union of waste pickers in the city of Pune, formed with the help of SNDT (Women's University), Oxfam India's partner, to help bring together this largely informal sector, help them get their rights, identity and a job security. Over the years, she participated in all the struggles for the rights of waste pickers along with fellow members of KKPKP. After the formation of SWaCH, a cooperative to give a formal identity to the waste pickers and make the work and sector formal in 2005, the University granted them the contract for door to door collection and segregation of waste in 2006. They were also given a sorting shed where they could segregate waste without disturbance to others, an area which has been dubbed as the 'waste pickers office' by the people in the University.