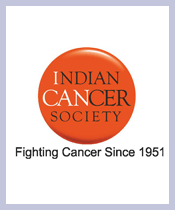 Indian Cancer Society
74, Jerbai Wadia Road, Bhoiwada, Parel, Mumbai - 400012 (india),
Email: ics_mumbai@yahoo.com
Website: www.indiancancersociety.org

Charity Bib Status: Sold out

About NGO:
The Indian Cancer Society (ICS) was established in 1951 in order to undertake a comprehensive cancer care programme in the country. Its mission is "Care to Cure" for the underprivileged, needy cancer patients. In its existence of nearly 6 decades, the Society has been a trail blazer and pioneer in cancer care with many firsts to its credit. The Society established the first Rehabilitation Centre at Parel which is the largest and oldest of its kind in Asia and contributes greatly to the mental, physical and economic well being of underprivileged cancer patients.
The Society also runs the Cancer Registry for Mumbai, the oldest cancer registry in the country, which was later extended to the whole of Maharashtra. ICS's research program includes publication of the internationally recognized "Indian Journal of Cancer". The Society was instrumental in establishing the first Chemotherapy Department and the first Cytology Laboratory in India at the Tata Memorial Hospital, Mumbai.
Fund Usage:

For Cancer Awareness and Detection programs for the under privilege section of societies.
To Investigate, Research and Record cancer incidence, prevalence, causes and pathology and to facilitate treatment, cure and palliative care of cancer patients. Establish Cancer Survivorship Programs to help provide emotional, physical and financial support, post treatment, especially for the poor.
Impact:
Till date, more than 3,37,000 persons have been tested in Cancer Detection Clinics & Camps through Mobile Vans; more than 25,300 cases referred for further investigations in Maharashtra, Gujarat & Goa. Over 6,35,000 participants have benefitted till date through over 5000 Educational programs, Films/AV & Exhibitions. More than 3,894 patients have benefitted last year from Occupational & Lymphadema Therapies, Cervical Cancer Rehabilitation Kits & Prosthetic/Orthotic Appliances like Limb Latex Prosthesis. More than 5600 patients / survivors & their family members have benefitted last year from Vocational Rehabilitation and skill training, Cancer Survivorship Program & Counseling Services; UGAM has been launched two years back to help childhood cancer survivors. 85 to 100 Cancer Patients/Survivors and Dependants benefit daily from livelihood assistance, medical assistance, free food, nutritive supplements & Ambulance services, free clothes, blankets, monsoon kits, etc. 231 Child Cancer Patients & their parents with a 75 days average stay period benefited last year from Free Accommodation, Free monthly rations, Dietary Supplements , Counseling, Academic assistance , Children Workshops, Picnics, Entertainment Programs, Competitions & Fun & Games in Mumbai offered through St Jude Childcare Centers. More than 1,817 individuals have availed of low cost cancer insurance cover till date. More than 401,871 cases covered till date for collection of cancer related data as part of the National Cancer Registry Program.
Page Url :
http://www.unitedwaymumbai.org/ngo6_ics.htm
Online donations are now closed for SCMM'13'
Founded Year:
1951
Cause category: Health
Our Supporters
You can raise funds by placing this donation widget on your web page or blog. Please click on the image.