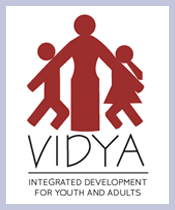 Vidya Integrated Development For Youth and Adults
Laxmi Niwas, 1st Floor, Navy Compound, Chaitanya Nagar, Iit Market, Powai,, Mumbai, Maharashtra, India, 400076
Founded Year: 1991
Cause category: Education
Telephone: 022-25787317
Charity Bib Status:
20 Available
Raised by 0 contributors.

About NGO:
VIDYA is an education based NGO which offers quality education and empowerment opportunities to lesser privileged children and youth.
VIDYA believes that education leads to empowerment and transformation, both for individuals and communities. VIDYA is active in Delhi, Mumbai and Bangalore. The Mumbai chapter started in 2001. Today VIDYA reaches out to 2500 beneficiaries through programs in 5 urban slum communities in and around Powai and in 10 BMC or low-income schools across the city. The VIDYA model of education follows an integrated
approach within its programs, thus we focus on holistic development of our beneficiaries to mould them into socially responsible and productive citizens while leading them from education to employability.
Fund Usage:

This year VIDYA is raising funds for community projects. We believe that our educational intervention would be incomplete till we work on the factors surrounding our beneficiary and that's where the community development plays a major role. Be it cleanliness, substance abuse, sanitation, physical and mental well being, financial stability of family or awareness of legal rights - each of these aspects impacts the life of each individual deeply. With the community projects we intend to begin our journey towards making communities better places to live.
The funds raised through Marathon will be used towards cleanliness drives, door to door intervention, building or maintaining community toilets, networking with external resources and partners to raise awareness and bring solutions to community issues. We also envision setting up a culture hub in the community which shall be accessible to all alike, a vibrant venue encouraging music, drama, arts! VIDYA seeks your support in making the dream of healthy and happy communities possible!
Impact:
Priyanka Chawan is the topper at VIDYA Mumbai this year. She scored 89.20% in her SSC Board exams. She credits her performance to her parents for their support and Noshir Sir for his guidance who is a dedicated volunteer at VIDYA. Her mother is a housewife and her father is a driver. She aspires to become a doctor and has chosen to study Science from Jhunjhunwala College.
She has been a student at VIDYA since class 5 and considers VIDYA to be her second home. She has found tremendous support from VIDYA and hopes to give back to society in her own way, someday.