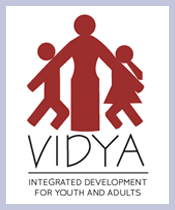 Vidya Integrated Development For Youth and Adults
Laxmi Niwas, 1st Floor, Navy Compound, Chaitanya Nagar, Iit Market, Powai,, Mumbai, Maharashtra, India, 400076
Founded Year: 1991
Cause category: Education
Telephone: 022-25787317
Charity Bib Status:
Not Available
Raised by 18 contributors.


Donations for SCMM 2015 are closed. Thank you.
About NGO:
VIDYA is an education based NGO which offers quality education and empowerment opportunities to lesser privileged children, youth and women. VIDYA believes that education leads to empowerment and transformation, both for individuals and communities. VIDYA is active in Delhi, Mumbai and Bangalore. The Mumbai chapter started in 2001. Today VIDYA reaches out to 2000 beneficiaries through programs in 5 urban slum communities in and around Powai and in 8 BMC schools across the city. The VIDYA model of education follows an integrated approach within its programs. This means that a holistic view of education and empowerment is highlighted when building socially responsible citizens. VIDYA seeks to develop academic and social skills by nurturing young minds through independent learning and enrichment activities.
Fund Usage:

Thanks to the government's efforts, today RTE has been implemented quite successfully in India. However, what is eluding the children here is RTL - the Right to Learn. The learning is largely lacking due to the students being unable to read age appropriate matter, which eventually leads to dropping out from education. 
At VIDYA we strive towards joyful learning environments where children read, think, express, question, explore, play, dream and dare! 
This Marathon 2015, we invite you to join the 'Run to Read' campaign with VIDYA which shall directly work towards better learning levels through extensive focus on reading and language acquisition in our Beyond School programs. The funds we thus raise shall be used for our reading programs that will help nurture a stimulating reading environment.
Impact:
Priyanka Chawan is the topper at VIDYA Mumbai this year. She scored 89.20% in her SSC Board exams. She credits her performance to her parents for their support and Noshir Sir for his guidance who is a dedicated volunteer at VIDYA. Her mother is a housewife and her father is a driver. She aspires to become a doctor and has chosen to study Science from Jhunjhunwala College.
She has been a student at VIDYA since class 5 and considers VIDYA to be her second home. She has found tremendous support from VIDYA and hopes to give back to society in her own way, someday.
More Related
About SCMM 2015
Participating Charities
Corporate Teams
Individual Fundraisers
Student Challenge
Fundraiser Levels & Privileges
How It Works
Fundraising Kits
Charity Bibs
Frequently Asked Questions
Downloads
The Superhero Rises!
Click to watch the video.