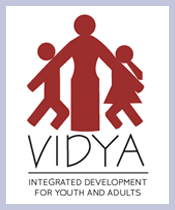 Vidya Integrated Development For Youth and Adults
Laxmi Niwas, 1st Floor, Navy Compound, Chaitanya Nagar, Iit Market, Powai,, Mumbai, Maharashtra, India, 400076
Founded Year: 1985
Cause category:
Telephone: 022-25787317
Charity Bib Status:
Not Available
Raised by 4 contributors.

About NGO:
VIDYA is an education based NGO which offers quality education and empowerment opportunities to lesser privileged children and youth.
VIDYA believes that education leads to empowerment and transformation, both for individuals and communities. VIDYA is active in Delhi, Mumbai and Bangalore. The Mumbai chapter started in 2001. Today VIDYA reaches out to 3500 beneficiaries through programs in 6 urban slum communities in and around Powai and in 12 BMC or low-income schools across the city. The VIDYA model of education follows an integrated
approach within its programs, thus we focus on holistic development of our beneficiaries to mould them into socially responsible and productive citizens while leading them from education to employability.
Fundraisers supporting this NGO:


Fund Usage:

This year VIDYA is raising funds for Transformation of Communities through Education and Awareness. We believe that just educational intervention would be incomplete till we work on the factors surrounding our beneficiary and that's where the community development plays a major role. From lack of quality education and empowerment opportunities to lack of cleanliness, substance abuse, sanitation, physical and mental health issues, financial instability - each of these aspects impacts the life of our beneficiaries deeply. With the focus on community transformation we intend to begin our journey towards making communities better places to live and enable community-led development.
The funds raised through Marathon will be used towards strengthening our community programs wherein we create safe and joyful learning environments, work on community issues like cleanliness, sanitation, deaddiction, financial literacy, health and nutrition by networking with external resources and partners to bring solutions. We also envision setting up a culture hub in the community which shall be accessible to all alike, a vibrant venue encouraging music, drama, arts! VIDYA seeks your support in making the dream of healthy and happy communities possible!

Breakup of funds utilization :

Beyond School centers in communities - 30%
Community Initiatives - 50%
Youth program (Vocational courses) in communities - 20%




Impact:
Babu Modhale is in class 12 now. He joined VIDYA as a student of class 5, 7 years ago and now considers it his second home. He comes from a family of 4 members. His father works as a contract sanitation worker, and hence income is not always guaranteed. He says his initial days at VIDYA were difficult, for he was not very confident or social hence found it difficult to make friends initially. However, in the safe and conducive environs of the community Beyond School center he gained confidence and learnt different life skills and soft skills that allowed him to succeed during his school years.
He is an avid footballer and attributes the discovery of his passion for Sports to VIDYA where he regularly attends the Sunday Sports program. Today he is a forward striker on the soccer team.
Another talent he discovered in himself was his acting prowess. A natural actor, Babu has been part of street plays organized by VIDYA Youth Forum spreading awareness on various social issues. He believes that it is his responsibility to give back to the communities what he has learnt at VIDYA.
He achieved 72% in his 10th board exams and is now pursuing commerce stream. Babu aspires to be a successful Chartered Accountant to be able to proudly support his family and one day wants to see his name in the Donor list of VIDYA newsletter, ensuring that the support he received touches more and more lives.

Babu is a true community leader, one of many that VIDYA creates day in and day out through its educational programs in the community!