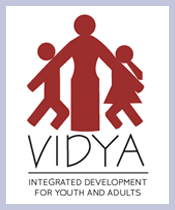 Vidya Integrated Development For Youth and Adults
Laxmi Niwas, 1st Floor, Navy Compound, Chaitanya Nagar, Iit Market, Powai,, Mumbai, Maharashtra, India, 400076
Founded Year: 1991
Cause category: Education
Telephone: 022-25787317
Charity Bib Status:
Available
Raised by 1 contributors.

About NGO:
VIDYA is an education based NGO which offers quality education and empowerment opportunities to lesser privileged children, youth and women. VIDYA believes that education leads to empowerment and transformation, both for individuals and communities. VIDYA is active in Delhi, Mumbai and Bangalore. The Mumbai chapter started in 2001. Today VIDYA reaches out to 2000 beneficiaries through programs in 5 urban slum communities in and around Powai and in 8 BMC schools across the city. The VIDYA model of education follows an integrated approach within its programs. This means that a holistic view of education and empowerment is highlighted when building socially responsible citizens. VIDYA seeks to develop academic and social skills by nurturing young minds through independent learning and enrichment activities.
Fund Usage:

VIDYA has some exceptional students who could go far but are forced to leave education because their families cannot afford the fees for school or college. To support our students and alumni VIDYA set up the Scholarship Program. For the marathon in 2015 we will use the funds to grow our Scholarship Program and support more individuals and their education dreams. A lack of an ability to pay fees should not hold someone back from reaching their potential, and our scholarships seek to address this. When you support VIDYA in the marathon you are fulfilling the dreams of children who have a tenacity to learn and want achieve their potential. Please support us in encouraging children to fulfill their dreams and achieving great success by donating to us in the Mumbai Marathon 2015.
Impact:
Manoj Subhash Gaikwad
He lives in 10x10 asbestos shed in the Powai Labor Camp right behind the plush homes of Hiranandani. The labor camp has around 500 sheds cum homes which are granted to families who work for a particular construction companies under contract. Manoj's father, Subash Gaikwad works with one of such companies as a labor supervisor. Mother,Satvsheela used to work in the same contract but has discontinued owing a heart ailment. She underwent a treatment in a hospital that cost her around Rs. 30000/- Post surgery; she has to undergo regular checkups which are proving to be very expensive.
The asbestos shed based homes at the Powai Labor Camp where Manoj stays with his family
Mother Satva Sheela places all the hopes on her son Manjoj. With Manoj scoring 85% the hopes have gone sky-high. Manoj was with Umang for than 5 years and has completed the Big Byte program from CLRC. Now he secured admission in Vikas High School in science stream (Class 11). Manoj is all geared up for studying Civil Engineering.
"Once I finish my engineering course and get a job, I will sponsor VIDYA children for their education"; - Manoj Subash Gaikwad