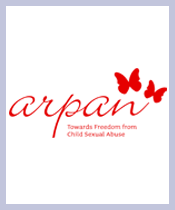 Arpan
1st Floor, 9/3,cama Industrial Estate, Val Bhatt Road, Goregaon (east), Mumbai, Maharashtra, India, 400063
Email: florence@arpan.org.in
Website: www.arpan.org.in

Charity Bib Status: Sold out

About NGO:
Vision: World free of Child Sexual Abuse (CSA)
Mission: To empower individuals, families, communities and society with prevention and intervention skills to reduce the occurrence of CSA and heal its psychological, social, sexual and physical consequences
Arpan aims to empower children, teachers, parents, NGO professionals and other care givers in multiple setting like schools, NGO setups, institutions, etc. with knowledge, skills and attitude to prevent instances of CSA and provide adequate support to children who have been victims. Arpan also offers psychotherapeutic support to children and adult survivors of sexual abuse and their families.
Direct preventive and psychotherapeutic work, is supported by the training of trainers and capacity building projects. Teachers, NGO professionals and interested individuals undergo intensive training so that they may be able to replicate Arpan's preventive module of Personal safety within their respective set ups.
Arpan model of intervention is strongly inclined towards research and resource development with a focus on data analysis, research studies, reviews, etc.
Arpan also has initiated a core committee of experts including lawyers, social workers etc. who are working on systemic level advocacy and for relevant change in the existing substantial and procedural laws.
Fund Usage:

The Personal Safety Education Project (PSE) is one of the core interventions at Arpan. Through this project we implement a life skill module with children, and also conduct awareness and skill enhancement sessions for parents, teachers, institutional caretakers, etc. and all primary stakeholders and caregivers in a child's life.
The Aim of the PSE Programe is to:
Empower children by imparting age appropriate information & skills related to Personal Safety
Build the self-esteem of children in order to prevent & protect them from sexual abuse.
Reach out to adults and make them aware of their role in keeping children safe.
Develop alternate medium to disseminate personal safety education in order to reach out to a diverse population of children within the community with an aim to reduce instances and vulnerability to sexual abuse.
Arpan strongly believes in imparting the PSE to all children across all boundaries and barriers. For this we very often conduct the entire life skill module in schools or homes for children belonging to the socio-economically underprivileged sections of society, where they could come from zero income groups to families with a monthly income lesser than INR 7000.00
Impact:
As part of Arpan's prevention work, the Personal Safety Education Program (PSE) was implemented in a school in Mumbai. The children responded positively to what was taught to them through the lesson. During the last lesson, a child from grade 1 informed Arpan's trainer that her friend was being sexually abused by the school's computer sir. The trainer then met the teacher and informed about all that the child had shared with her post Arpan's PSE program.
During the individual sessions 21 children from other classes shared about being sexually abused by the computer teacher. Arpan's senior counsellor then met the computer teacher who then admitted that he had been sexually abusing the children. He also asked for help so that he does not continue doing the same in the future. He is currently undergoing therapy. Meanwhile he was suspended from the school.
All the children who reported sexual abuse were given therapeutic intervention to help reduce the anxiety they experienced on grounds of this abuse. The children said that they were feeling dirty about what had happened but through counseling they understood that what had happened was not their fault and they were able to look forward.
Page Url :
http://www.unitedwaymumbai.org/ngo68_arpan.htm
Online donations are now closed for SCMM'13'
Founded Year:
2008
Cause category: Education
You can raise funds by placing this donation widget on your web page or blog. Please click on the image.