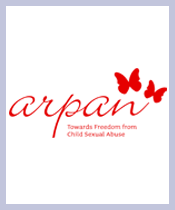 Arpan
1st Floor, Delta Chemicals Pvt Ltd., J-1 Cama Industrial Zone, Off Val Bhat Road, Goregaon (e) , Mumbai, Maharashtra, India, 400063
Founded Year: 2008
Cause category: Children
Telephone: 022-26868444
Charity Bib Status:
15 Available
Raised by 0 contributors.

About NGO:
Arpan is an NGO in Mumbai and the largest in the world working on the issue of Child Sexual Abuse (CSA) since 2006. Arpan has reached to over 66,000 children and adults directly and over 2,11,000 individuals indirectly through its various programs and activities.
Personal Safety Education (PSE) is Arpan's key project and aims at providing children personal safety skills required to prevent the risk of sexual abuse. Survivors of sexual abuse are given counseling support to facilitate the healing process. 'Arpan' works with schools and NGO's to make systemic level changes within the current infrastructure. PSE is currently conducted within schools, shelter homes, institutional and NGO set-ups.
Arpan has directly taught over 27,000 children personal safety skills, empowered over 20,000 parents and 1500 teachers with knowledge and skills to address child sexual abuse. More than 1500 children have been helped through counseling to overcome any negative outcomes of experiencing sexual abuse and or inappropriate behaviour.
Child sexual abuse has a long lasting negative impact on the survivor. Our children deserve a joyous childhood. Help Arpan prevent child sexual abuse and heal those who've been affected by it. You can help make a safe haven for the future of India.
Fund Usage:

The Personal Safety Education Project (PSE) is one of the core interventions at Arpan. Through this project we implement a life skill module with children, and also conduct awareness and skill enhancement sessions for parents, teachers, institutional caretakers, etc. and all primary stakeholders and caregivers in a child's life.
The Aim of the PSE Program is to:
Empower children by imparting age appropriate information & skills related to Personal Safety

Build the self-esteem of children in order to prevent & protect them from sexual abuse.

Reach out to adults and make them aware of their role in keeping children safe.

Reach out to maximum number of children in schools, community centers, societies, shelter homes etc and teach them about personal safety so to reduce instances and vulnerability to sexual abuse.
Arpan strongly believes in imparting the PSE to all children across all boundaries and barriers. For this we very often conduct the entire life skill module free of cost in schools or homes for children belonging to the socio-economically underprivileged sections of society, where they could come from zero income groups to families with a monthly income lesser than INR 7000.00
Impact:
Neha came from a middle-class family her mother was a house wife and her father worked at a factory. When she was 7 (4th standard), her elder cousin brother from her native place had come to live with them for 2 months. Under the pretext of teaching he would touch her on her private body parts. This made her uncomfortable as she didn't understand what was happening. Slowly he gathered enough courage to rape her. If she refused to fulfill his demands he would threaten her of killing her parents she was too scared to share this with anyone.
After the abuse neha would start cleaning the house. Her academic performance was sadly affected and she began to stammer and soon became an introvert. When she got married, she faced problems in maintaining sexual relationship with her husband. Cleaning and washing became ways of venting out frustration. One of her friend's observed this and referred her to Arpan. Arpan's therapist took counseling sessions with her, in the sessions she narrated the abuse. After the counselling the feeling of guilt, shame, fear, anger etc went away. Her behaviour of excessive cleaning was also stopped; she was able to manage her relationships and eventually worked on the incident of abuse which had caused trauma leading to long term impact.