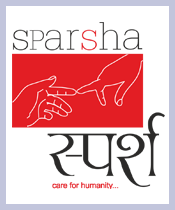 Sparsha Charitable Trust
A-5, Room No 07, Bmc Colony , Rawali Camp ,near Samaj Mandir Hall, Opp. Sardar Nagar Bmc School, Sardar Nagar, Sion Koliwada, Sion, Mumbai, Maharashtra, India, 400022
Founded Year: 2000
Cause category:
Telephone: 022-25779201
Charity Bib Status:
10 Available
Raised by 0 contributors.

About NGO:
Sparsha's approach is to work together with parents and children of different poor communities in the area of Sion, Kurla, Mankhurd, Wadala,Vashinaka in order to achieve their goals together.
We understand the need to support the parents as well as the children through their programs.
The parents are the role models and in charge of the early childhood of their children. It is important to reach out to the parents to ensure the children's education and continuous attendance at school.
In 15 yrs of our effort we have touched the lives of over 800 children, from the poorest communities of Mumbai.
Our intervention has helped change and shape the lives of many such street dwellers, that we, in the natural order of things pass off as doomed. Sparsha, with their Financial Inclusion Programme, has changed many street dwellers' destiny.
Every parent seeks to financially secure the future of his or her child. Given the nature of jobs these days, street dwellers usually undertake hazardous work to earn their daily bread. .
The tag-line of the organization states": Holistic development of child through parental Support." And through this Financial Inclusion Program, the Trust is doing just that.
Fund Usage:

Rights of children are related to food, clothing, shelter, health and education, which often receive a widespread attention while the child's rights to be cared for, loved, encouraged and protected are often left out of the spotlight.
Psychosocial support is a continuum of love, care, protection and encouragement that enhances the cognitive, emotional and spiritual wellbeing of a child and strengthens their social and cultural connectedness. Effective psychosocial support enhances individual, family and community competencies and positively influences both the individual and the social environment in which people live.
If children are to thrive and grow, especially in difficult circumstances, there is a need to focus greater attention and resources in children's emotional and social - their psychosocial- well-being.
Psychosocial support is love, care and protection; it is support for the emotional and social aspects of a child's life, so that they can live with hope and dignity.
We want to create special stream for psychosocial development of our 350 kids.
The funds raised by the SCMM 2016 support will be used to provide Sparsha beneficiaries with their daily services and programs:
- Special psychosocial therapy training for parents, teachers & close attached group of the child.
Impact:
Rehana Shabir Shaikh, 16 years
Rehana, from the community of Kokari Agar was not allowed to attend school due to her parents not believing in education. About 4 years ago when Sparsha has opened a Learning Center in Kokari Agar, she used to just come around to play with the children.
When she came to the center and saw the other children study, she got interested to learn reading and writing herself. Sparsha discovered her great talents in writing and she even became a mentor for the younger children.
However she was still not allowed to attend school. Sparsha took the initiative to counsel her mother, who then agreed for her to attend a school in the close neighborhood. Since Rehana has already acquired some education in the learning center, Sparsha has enrolled her in the 5th Standard in the "S.K.Roy Memorial High School" where she past her SSC with 63% in March this year.
After passing her SSC, Sparsha counseled Rehana in finding her future dream job, which is to become a teacher.
Again Sparsha supported Rehana to convince her parents that she can continue her education.
Sparsha enrolled Rehana in the "SIES College of Arts" and even her mother ensures today that she attends the lessons continuously.