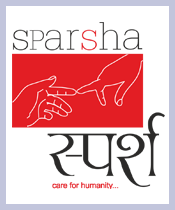 Sparsha Charitable Trust
20/a, Hemant Manjrekar Market, Flank Road, Sionkoliwada, Sion, Mumbai, Maharashtra, India, 400037
Email: sparshatrust@hotmail.com ; sanskar_child@hotmail.com
Website: www.sparshatrust.in/ www.sparshatrust.org.in

Charity Bib Status: Sold out

About NGO:
LITTLE LIVES ON THE STREETS
"Didi 1rupiya do na", ' Saheb ek phool le lo. "We often hear such things on the roads, near traffic signals, in the trains etc. How do we react when we see these little children clinging to our clothes, touching us and begging?" We get irritated and we say "dur ja hath mat laga".
Is it all these kids deserve? Our rejection, false attitude, and bad words. These children don't deserve our misbehaviour because they are forced to beg and sell products either by their destiny. No matter how people are they certainly don't lose the Dignity of being a Human being and above all these are "CHILDREN".
Ever wondered why Street Children beg? May be, its because we have so many things that these children are Deprived of. Here in 'Sparsha Charitable Trust' we are making lot of efforts to Provide these children at least of something that we all have. We provide them with Education, legal documents and various opportunities to Grow and Build themselves.
Fund Usage:

It is a known fact that over 45% Mumbai's population lives in slums and pavements. A single room is all that the entire family has to satisfy all their needs. Often both the parents are working for the livelihood and the living condition is extremely detrimental to the healthy growth of the child. Many a times the younger children are taken with the parents to their work sites like domestics, rag pickers, beggars, construction workers, hawkers etc. or instead of sending to schools they are forcefully sent to earn money through begging at signals, in trains, wiping cars, etc. thus the child in these families becomes an earning members at early age.
It is not the ill will of the parents but often their own socio; cultural, economic situation of the parents that causes the child's neglect and its lack of all round development.
We need Funds to develop a holistic intervention through:
Child's education
Nutrition & Health
Community development
Awareness (Women, Savings, LIC, Legal Documents) Parental/ teachers/ Volunteers Training program.
Impact:
Varsha bapu mane;
At 17yrs she cleared S.S.C with 68%. Varsha is from a remote village in Maharashtra. Her family consist 5 members i.e. mother, father, brother sister& herself. Her father works as a supervisor at a company, her mother is house wife & she also sells garlic in the market.
Varsha is studying in our classes from last three years she is very active girl. After her mother goes for work Varsha has to look after the household jobs .i.e. cooking washing clothes, taking care of younger siblings and helping her mother.
Varsha never complained of her situations. She had accepted this as her responsibility the place where they are residing is not good for young girls .due to that her father sent her to their village, where she had appeared S.S.C exam through her village & passed with 68% marks.
During summer vacation, through Sparsha charitable trust, she had done personality development; English speaking & sale retail management course from Kotak Mahindra foundation. Now she is studying in college, she wants help for selecting Career; also she thinks she can help her family by supporting them through earning for her education.

Page Url :
http://www.unitedwaymumbai.org/ngo67_sparsh.htm
Online donations are now closed for SCMM'13'
Founded Year:
2000
Cause category: Education
You can raise funds by placing this donation widget on your web page or blog. Please click on the image.