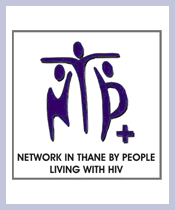 Network in Thane By People Living With HIV
104, Success Chs, Lula Arcade No. 3, Near Bhanusagar Cinema, Kalyan (w), Mumbai, Maharashtra, India, 421301
Founded Year: 2004
Cause category: Health
Telephone: 7507263323
Charity Bib Status:
Not Available
Raised by 0 contributors.


Donations for SCMM 2015 are closed. Thank you.
About NGO:
Network in Thane by People Living with HIV and AIDS (NTP+) is a non-profit making community based organization of people living with HIV/AIDS. Formally registered under the Society Registration Act in Oct 2004 to have more involvement of People Living with HIV and AIDS in a democratic way. NTP+ is the District Level Network of, for and by People Living with HIV and AIDS in Thane. At present it is also covering the district adjoining to Thane viz Mumbai and New Mumbai where Networks are yet to be established.
The Organization aims to improve the quality of life of people living with HIV in Thane, Mumbai and New Mumbai and to provide sense of belongingness and togetherness to people living with HIV.
The member ship is open to all people living with HIV in the jurisdiction of the District of Thane, irrespective of gender, caste, religion etc. The Confidentiality of members is ensured by NTP+.
Fund Usage:

Distributions of Educational material:

Children selected for educational sponsorship program are from poor economic background. During need based counseling with People Living with HIV (PLHIV), NTP+ has identified many PLHIVs children who are in need of educational things to continue their primary & secondary education. PLHIVs especially women are facing the financial crunch due to high cost of HIV treatment & death of their husband by AIDS, who was sole earning member in the family. They are unable to fulfill the educational requirement of children by bearing expenses in available income resources. Thus, there is urgent need to provide educational needs to children who cannot continue their education due to lack of financial support by their affected or infected family members. Children will be provided with the necessary educational material like school fees, admission fees, uniforms, books, remedial coaching, etc.


Nutritional food supply to HIV affected and infected children:

Although micronutrient supplements may help to meet increased nutritional requirements, nutritional supplements cannot replace eating a balanced and healthy diet. Furthermore, supplements are often not available, are expensive and may leave less money for food. Whether a person is infected with HIV or not, WHO and UNAIDS recommend a good mixed diet, whenever possible, rather than dietary supplements.

Optimal Anti Retroviral Treatment (ART) requires safe, clean drinking water and a balanced diet rich in energy, protein and micronutrients. Secure, good nutrition and clean water may make antiretroviral therapy easier to take and help ensure that treatment works effectively. Thus, it is extremely important to provide nutritional food to HIV affected and infected children.
Impact:
Sarika lives with her mother & younger brother. She lives in rural area. Her school is at a distance of 1 hour from her house by walk. Then also she has the will power to attend school regularly. People who lives around them ignores them and refuses to talk with them because of their status of HIV. Although atmosphere around them is worst; Sarika's mother is standing behind them as their backbone. Her mother herself creates good atmosphere around them so that she did not have to face problem.
But now, there have been a lot of changes seen in her. She has started showing interest in studies which was less within her in the beginning. And the support she is getting from her mother because of her regular attendance in "Parent's Meeting."
They are living in that place which is besides her paternal uncle's house, where he keeps his domestic animals like hens etc. Sarika's mother has covered that place with wooden sticks and red mud. They have to face lot of trouble because there are dangerous insects in their house even though she manages to keep her house-cum-shed neat and clean and free from insects. The main part is that her mother has got this confidence to live happily just because of all the moral & other support they are getting from 'Positive Step' program.