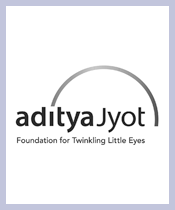 Aditya Jyot Foundation For Twinkiling Eyes
Plot No. 153, Rd No. 9 Major Para,eshwar Road Wadala (west), Mumbai, Maharashtra, India, 400031
Founded Year: 2005
Cause category: Health
Telephone: 022-24177600
Charity Bib Status:
15 Available
Raised by 0 contributors.

About NGO:
The foundation is indeed committed to eradicate the needless and avoidable blindness in society through better access to eye care and quality eye care treatment. Creation of awareness on preventable eye diseases among general public and medical fraternity is one of foundation's objective. These programs result in timely intervention in cases of avoidable blindness.
The trust has been proactive in organizing free eye check-ups for various ocular diseases like refractory errors, squint, cataract, diabetic retinopathy etc. The main aim is to bring awareness among people regarding eye disorders and their early detection. Till date Foundation has screened 1,70,000 House Hold through its initiatives has screened 8,71,553 underprivileged people & provided treatment where necessary.
screened approximately 29493 children from various schools , 47555 people are screened through various camps and 300 free surgeries in 1 year alone.
AWARENESS GENERATION ON EYE DONATION IS AGAIN OUR MAJOR OBJECTIVE
Fund Usage:

The demand for our work in the community has increased significantly. We need a good OT and inpatient care support services to cope with the demand. Our trust is looking for fund support to run a 5000 square feet comprehensive eye care centre with OT in Dharavi slum or its vicinity (Rs 4 crores). This centre would be able to operate a minimum of 100 cases of cataract per month and provide quality eye care to nearly 500 people per month.
This includes capital investment cost and running expenses. The capital cost is about Rs. 2 CRORES and would cover civil work for OT complex, procurement of OT equipment like operating microscope, OT table, autoclave, minor surgical instruments, Phaco machine etc.
The remaining funds would be used for well equipped OPD with equipment to diagnose and treat all major eye ailments in patient services etc. Experienced Ophthalmologists trained in management of complicated eye ailments would be providing service free of costs to the poor and needy.
Impact:
Samay Desai is a 10 year old boy residing in Pune, Maharashtra. He was injured when his eye was damaged by ball while playing cricket with his friends. He received primary treatment at nearby hospital there he got diagnosed both eyes cataract. It is from family history (paternal side). He was at the risk of losing his right eye and also the other eye. He received treatment at minimal cost for both eyes by our team of experts and now he is happily able to see and to go to School and lead normal life. He is very thankful to our Foundation for helping him.
Many such incidents have touched the lives of several people through our expertise and largesse. We have also done so many diabetic retinopathy awareness camps and also outreach programmes.