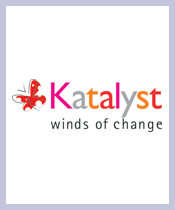 About NGO:
Katalyst achieves economic emancipation for talented girls from marginalised communities with through the medium of professional and higher education with specific interventions which include access to technology, mentoring, financial support, hard /soft skill training and customised programmes. Thus increase the management bandwith of India Inc. . Through a mediated process of skills training, mentorship programme overall personality and psycho-social development, Katalyst girls are well on their way to achieving their dreams, providing future leadership.

Katalyst's unique approach applies our core competence in talent management and executive search to create leaders amongst girls, giving them the same platform and opportunity which are a norm for girls from economically well off families. We believe that the solution to bettering the odds for our country lies in providing equality of opportunity to its bottom-of-pyramid citizens, especially girls.

Education without a doubt is the most powerful tool for empowerment. This is more so for disadvantaged girls whose historic and social realities in low income communities make them prone to living a life of uncertainty and exploitation. Today, Katalyst has directly reached out to 225 girls across Maharashtra and Karnataka.
Fund Usage:
We intend to spend the funds raised towards the educational needs of the students from underprivileged background with family income less than Rs 2 lacs per annum, those enrolled in professional academic streams in government colleges. The under privileged and meritorious girl students from interior areas of the state are taking admissions in these colleges 1) Technology: Providing each student with a computers and internet access. 2) Mentoring: One-on-one, from senior professionals accomplished in their sphere of work and corporate internships 3) Hard Skills Coaching: In their core academic curriculum 4) Soft Skills Training: For communication and personality development as well as confidence building 5) Customized Programs: Events that enhance awareness and build general knowledge. 6) Financial Support: For college fees, books, tuition, hostel, travel & medical insurance.
Impact:

Nilu Khed hails from Solapur in Mahrashtra, her father is a farmer and mother is a house wife. The annual income was less than 50,000. Lately, he is not keeping good health, hence is quite inactive. Nilu has an elder sister who is a teacher by profession, now married and settled. Nilu is a very bright student; on getting very good marks in 12th class and the CET she got selected in one of the top institutes, College of Engineering. Her stream for the B Tech degree was Electronics and telecommunication. Nilu very motivated and an intelligent student coupled with hard work, graduated with 8 pointers and secured a job in Idea Cellular with 5 lakhs per annum as her compensation. Farsighted as she is, she had appeared for CAT examination. She got 90% in the same and secured a seat at IIM Kozikode to study further, MBA in Finance. During her stint at the IIM she did two months of internship at ICICI Bank 's Risk Management area. At IIM she excelled in her studies and got a higher rank. On completing her MBA got placed in Goldman Sachs with compensation over 12 lakhs per annum. Today, Nilu is in New York office of Goldman Sachs for her orientation.



Page Url :
http://www.unitedwaymumbai.org/ngo62_third_sector_partners.htm
Founded Year:
2006
Cause category: Education