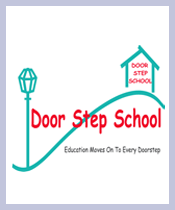 The Society for Door Step School
Jagannath Shankarsheth Municipal School, 2nd Floor, Room No.54/55, Nana Chowk, Grant Road, Mumbai, Maharashtra, India, 400007
Email: MUMBAI@DOORSTEPSCHOOL.ORG
Website: www.doorstepschool.org

Charity Bib Status: Sold out

About NGO:
"Door Step School" is an NGO which was started with the aim of addressing literacy amongst the marginalized sections of society. The organisation built its program to address three major problems viz. Non-enrollment, wastage and stagnation.
Door Step School provides education and support to the often-forgotten children of pavement dwellers, slum dwellers, construction site families and many other underprivileged families. Many of these children are not enrolled in school and have limited access to books and a place to study. Additionally, many children drop out of school to work or care for younger children. With neither support nor resources at home some children also suffer from very low learning levels. We are trying to bridge this gap by bringing education to the "Door Step" of these underprivileged children.
Today, in Mumbai, the educational needs of the children in the community are met through a range of Community Based Educational Programmes. To ensure maximum outreach in all communities where we work, classes are conducted at a time, place and pace convenient to the each respective group of children. The School Partnership Project is a form of direct intervention in corporation run schools. It is a partnership we have chosen to engage in to enable us to enhance the quality of the learning experience for the students of the selected schools.
Fund Usage:

The funds raised by donor's support will be utilized to run the Community Based Educational Programs, Programs in Partnership with Municipal Schools and other support services run in the both the cities of Mumbai and Pune. To cater to the educational needs of the underserved children in the slums and construction sites, programs like Balwadis (Preschool education), Study Classes (Supporting first generation school goers) and Non Formal Education classes (Educating out of school children) are run by Door Step School. Education is taken to the 'doorstep' of the often-forgotten children living on streets and pavements through the School on Wheels project. To address the problems of non-enrolment, wastage and stagnation observed over the years of working in the urban slum communities, Door Step School has intervened and collaborates with MCGM to support them in imparting quality education. Various educational programmes like Reading Promotion, Libraries, Remedial Class,Mental health project are run in the Municipal schools.
Computer center to impart basic computer literacy skills, Bal Samuha for promoting responsible citizenship, Community learning center, libraries and educational sponsorship are few support services Door Step School runs in the slum communities. The Training cell provides training for different cadres within the organization, offers support directly in the field and also imparts professional development training to other agencies on request.
Impact:
Water is an expensive resource in an urban slum in Mumbai, and many a family cannot afford to buy it. So little Tanuja was forced to stay at home to fill the water when supplied by the municipality and supplement it by doing odd jobs in neighbouring homes where in return for her efforts her family was given some water. She also had the responsibility of washing her family's clothes.
All this left her with no time to attend school. The Door Step School teacher in the community had noticed this and spoke to the girl and then with her parents. The parents felt they would not be able to manage without having Tanuja pitch in. Her older sister was working as domestic help and she had brother attending the Balwadi. So it was necessary for Tanuja to be at home. The teacher however persisted over a couple of months, visited the family regularly, empathized with the mother, helped her by bring clothe discarded by others for the family to use. Finally the parents were convinced that Tanuja should also be educated. The mother took over some of her chores and Tanuja began attending the Balwadi and in the next year was enrolled in school. Today Tanuja is studying in Std III and also attends our Study class on regular basis.
Since inception, Door Step School has been working persistently to bring such children into the fold of education.

Page Url :
http://www.unitedwaymumbai.org/ngo59_door_step_school.htm

Online donations are now closed for SCMM'13'
Founded Year:
1989
Cause category: Education
Our Supporters
You can raise funds by placing this donation widget on your web page or blog. Please click on the image.