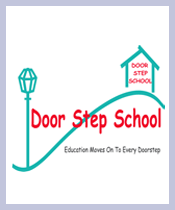 The Society for Door Step School
Door Step School, Jagannath Shankarsheth Municipal School , 2nd Floor, Room No.54/55, Nana Chowk, Grant Road, Mumbai, Maharashtra, India, 400007
Founded Year: 1989
Cause category:
Telephone: 9122-2382634
Charity Bib Status:
22 Available
Raised by 0 contributors.

About NGO:
"Door Step School" is an NGO which was started with the aim of addressing literacy amongst the marginalized sections of society. The organisation built its program to address three major problems viz. Non-Enrollment, Wastage and Stagnation.
Door Step School working since 1989 provides education and support to the often-forgotten children of pavement dwellers, slum dwellers, construction site families and many other underprivileged families. Many of these children are not enrolled in school and have limited access to books and a place to study. Additionally, many children drop out of school to work or care for younger children. With neither support nor resources at home some children also suffer from very low learning levels. We are trying to bridge this gap by bringing education to the "Door Step" of these underprivileged children. Door Step School's flagship project, School on Wheels takes education to doorstep of the street children through a mobile classroom.
Fund Usage:

The funds raised through SCMM 2016 will be used to run the various interventions of Door Step School in Slum communities, Municipal schools and School on Wheels. Out of the total raised amount 75% will go in supporting educational interventions of Door Step School and remaining 25% will go in the General donation fund for emergency expenses of the organization. The General fund will help Door Step School to sustain its programmes in the event of crunch of funds or sudden unanticipated situation of funding from any donor for a particular programme. In case of an emergency Door Step School can have funds in the reserve to fall back on in the interim period.
Impact:
Being the eldest daughter of the family, 10 years old Neha had to support the family's living expenses by working with her Mother as the family was also deserted by their Father. When she was not at work, Neha had to look after her younger siblings while they stayed at their grandmother's place. During one of her regular follow up visits the teacher met Neha's mother and spoke to her about sending Neha to the School on Wheels class. Scarred from the previous experience of being beaten up and harassed in the Formal School by the teachers, Neha was afraid to attend to School. Neha's mother was apprehensive about sending her to the school as there was no one who could look after her younger daughters. The teacher suggested Neha's mother that her younger daughter can accompany Neha to the class.
On hearing the teacher's suggestion, Neha's mother immediately agreed to send Neha to School on Wheels class. Though initially Neha's sister was quite disruptive the teacher found a solution to the same by letting the young one play with clay and toys. As her sister was engaged in playing by herself, Neha got more time to concentrate on the classroom lessons. Today Neha is regular student in the class and is still accompanied by her younger sibling. She has progressed a lot in her studies. A peek in the School on Wheels class and one will see Neha taking her lessons in class with her younger sister dozing off in her lap. Neha's mother is more than happy to see her daughter's progress and applauds the efforts of the teacher and the School on Wheels project which she calls as "An Unusual School".