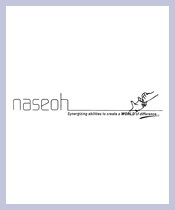 About NGO:
National Society For Equal Opportunities for the Handicapped, India (NASEOH, INDIA) is a NGO founded in 1968 with the initiative of Mr.Vijay Merchant, a great Indian Cricketer, Industrialist and above all a Social Worker par excellence. It is a registered body as a Society under Societies Registration Act, 1860 and as a Trust under Bombay Public Trusts Act, 1950. NASEOH is engaged in providing rehabilitation interventions, in the areas of early intervention, education & training, health & prevention, Restorative Services, employment & income generation support, Rural CBR and Community outreach, advocacy & awareness. NASEOH over the years has built strong linkages with other NGOs in the field, corporates and governments both at State and Central level and is considered one of the pioneering institutions for the persons with disabilities in the country
Fund Usage:

As above 70% of our people with disabilities live in Rural India with very few options and opportunities for education, training, employment, Income generation and livelihood, NASEOH as a strategy is shifting its focus from the institutional rehabilitation to community based rehabilitation (CBR). Ahmednagar district in Maharashtra has been chosen as a target district for the CBR initiatives and we have covered 3 tehsils of the district namely Ahmednagar rural, Parner and Karjat. Applying the techniques and approaches of Community Based Rehabilitation we have been able to create permanent livelihood opportunities for more than 3500 people with disabilities in these tehsils. These approaches have been proved effective not only because of its reach but also the low cost per beneficiary ratio. It has helped us to make the community of these beneficiaries as the largest stakeholders in sustaining the program after our withdrawal from the area. This has been achieved through formation of the Self Help Groups of the beneficiary people with disabilities and building capacities of the group to sustain this after our withdrawal.
We would like to extend this approach to another tehsil in the district called Akole which is a tribal dominated. Funds we generate through the Marathon 2013 would be ustilised to initiate the program in this tehsil.
Impact:
Our Community Based Rehabilitation Program (CBR) initiated in the Karjat Tehsil in Ahmednagar district which is around 350 km. from Mumbai has helped us to identify, train and economically rehabilitate around 1200 people with disabilities in the age group of 16 to 40 in 122 villages of the tehsil. This initiative have been not only helped to optimize their capability through appropriate skill training within community retaining their socio psychological status but also to involve the stakeholders in the community to identify themselves in the process. The rehabilitated people with disabilities have been formed into 35 Self Help Groups spread across the tehsil and these groups have been motivated and directed to form a Federation of Self Help Groups in the tehsil. This Federation will take the responsibilities of NASEOH in the tehsil to sustain and strengthen the program after the withdrawal of NASEOH from the area.
Page Url :
http://www.unitedwaymumbai.org/ngo58_naeoh.htm
Founded Year:
1968
Cause category: Disability
Telephone: 022-25220224/25220225
Our Supporters