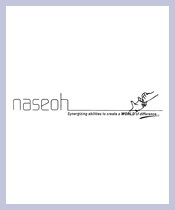 National Society For Equal Opportunities For The Handicapped India
Postal Colony, Chembur, Mumbai, Maharashtra, India, 400071
Founded Year: 1968
Cause category:
Telephone: 025220224 / 025220225
Charity Bib Status:
45 Available
Raised by 3 contributors.

About NGO:
National Society For Equal Opportunities for the Handicapped, India popularly known by the acronym NASEOH India is a NGO founded in 1968 with the initiative and leadership of the famous Cricketer and the philanthropist late Shri Vijay Merchant. The range of services aimed at providing a comprehensive need based rehabilitation support to the people with disabilities include health and prevention, early intervention, education and vocational training, community based rehabilitation of the rural disabled, employment & income generation options, physical restorative services, advocacy & awareness. By design NASEOH Extends this support to the poorest of poor among the disabled free of any charges.
The focus area of the programs is to build capacities of adult disabled in the age group of 18 to 35 years with appropriate vocational skill development and to prepare them to access employment and income generation options on equal terms.
On an average NASEOH extends the various interventions to around 6000 people with disabilities directly every year, with its need based multiple interventions.
Fundraisers supporting this NGO:


Fund Usage:

At NASEOH's vocational training centre for the people with disabilities the following vocational skill development are conducted to suit and meet the needs of different categories of people with disabilities.
Ceramic & Pottery
Gardening
Bakery & Confectionery
Paper Craft & Assembly
Welding & Fabrication
Aids & Appliances
Tailoring & Embroidery
Electronic Assembly
Computer & language development
Data Entry
On an average 150 people with disabilities are provided this support at any given point in time. As all of the beneficiaries come from the very lower economic and social background, the support is extended free of any cost or charges. We intend to utilize the funds we expect to generate through our participation in Mumbai Marathon to meet the part cost of the vocational training.
Impact:
Our Community Based Rehabilitation Program (CBR) initiated in the Karjat Tehsil in Ahmednagar district which is around 350 km. from Mumbai has helped us to identify, train and economically rehabilitate around 1200 people with disabilities in the age group of 16 to 40 in 122 villages of the tehsil. This initiative have been not only helped to optimize their capability through appropriate skill training within community retaining their socio psychological status but also to involve the stakeholders in the community to identify themselves in the process. The rehabilitated people with disabilities have been formed into 35 Self Help Groups spread across the tehsil and these groups have been motivated and directed to form a Federation of Self Help Groups in the tehsil. This Federation will take the responsibilities of NASEOH in the tehsil to sustain and strengthen the program after the withdrawal of NASEOH from the area.