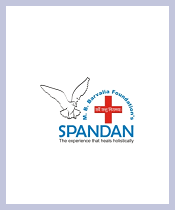 M.B.Barvalia Foundation
Naidu Colony, Opp. Bldg No. 161, Near Jain Temple, Pant Nagar, Ghatkopar (e), Mumbai, Maharashtra, India, 400075
Founded Year: 1998
Cause category: Disability
Charity Bib Status:
Sold Out
About NGO:
M. B. Barvalia foundation is a registered public charitable trust established in February 1997 with the objective of promoting holistic health and value based education. It has following units:
Holistic child care centre:
This is unique centre where all work under one roof with a holistic approach through a multidisciplinary of:
Homoeopaths+ Pediatrician+ Neurologist + Pediatric orthopedic
Surgeon + clinical psychologist + psychiatric occupational Therapist +
Special educators + speech therapists + Physiotherapists + Social workers
+ Counselor and yoga therapist.
This centre is dedicated to the comprehensive care of children with disabilities.
It operates through following units.
Special children performing in culture programme.
Govt. recognized special school registration No. 918
National trust registration No. 1338/MR-CP-MD - AUT/2006
Special school for slow learners
Advance school for autism
Special children receiving therapy.
Fund Usage:

Though our outreach project, we serve that most deprived and slum areas which literally touch the dumping grounds. We screened 10,000 municipal school students for identification of mental health problems and disability. Out of 3200 were found positive and were given free treatment counseling etc.
We dreamt of a holistic multi disciplinary institute. We have come closer to its realization. We have been allotted plot of land with old structure at Deonar, 'M' ward of Mumbai Municipal corporation.
We are restructuring maternity home and establishing comprehensive mother-child complex, and homeopathic institute comprising of:
Advanced Pediatric Hospital & maternity home
Institute of Holistic health sciences : Homoeopathy and yoga
Entire project is dedicated to underprivileged people and their tender gifted children. We have come thus far with the help of donors and philanthropist institutes.
Comprehensive Children's Hospital:
Holistic multidisciplinary care in disability and mental health.
Medical, surgical & therapies under one roof for autism, down's syndrome, cerebral palsy, M.R. Etc.
Specialized NEONATOLOGY unit
Vocational Training centre
Services range from EARLY INTERVENTION to ADOLESCENT CARE.
Homoeopathic Hospital & Research Institute:
• Homoeopathic Hospital & research institute.
• Homoeopathic O.P.D. & I.P.D. imparting QUALITY CARE & RESEARCH.
• Basic & Advance fellowship courses of international repute.
General Health care:
Basic and advanced diagnostic services like pathology lab, sonography, radiology, CT scan
I.P.D. and surgical facilities.
Well equipped maternity home.
Community care through mobile clinic & satellites centre's.
Comprehensive care for HIV & AIDS
Screening early identification , diagnosis
O.P.D., I.P.D. facilities.
Holistic management through homoeopathy and yoga.
Impact:
Spandan has screened almost 10,000 students from BMC schools & slum areas in this project.
Psychological testing of over 1,650 children has been conducted
589 teachers from mainstream schools benefited from Seminars, awareness campaigns and workshops. These events were held to sensitize teachers to handle children with disabilities and about role of Homoeopathy in their management.
Around 1500 parents of affected children were oriented about their child's disabilities and therapeutic options including Homeopathy.
Regular ongoing treatment, counseling and follow up of students is conducted. Our doctors, psychologist and social workers regularly interact with class teacher and parents on weekly basis for effective implementation.
To involve parents we organized parents meeting in their locality itself where many parents attended. Teachers, school principal, community leaders also participated in these meetings and motivated parents to come avail of facilities provided by Spandan.