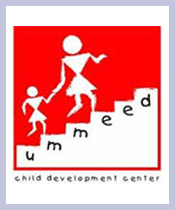 Ummeed Child Development Centre
Ground Floor, Mantri Pride, 1-b, 1/62, N.m., Joshi Marg, Subhash Nagar, Lower Parel, Mumbai, Maharashtra, India, 400011
Founded Year: 2001
Cause category:
Telephone: 91-22-65528310/65564054/23002006
Charity Bib Status:
10 Available
Raised by 6 contributors.

About NGO:
Ummeed is a non-profit organization set up by Dr. Vibha Krishnamurthy, Developmental Pediatrician, to help children with developmental disabilities such as Autism, cerebral palsy, down syndrome, mental retardation etc. Besides providing assessments and therapies, Ummeed also achieves this by working in collaborative teams, following best practices, empowering families, building resources in the community, participating in advocacy as well as working with families from all sections of society.
Ummeed focuses on
Clinical Services : Such as assessments, therapies and counseling for children with special needs, especially for those in the age group 0-6 years.
Training : Ummeed has designed curriculum, based on the best practices developed at its center, to train community workers of NGO's, Medical professionals and parents in the area of Early Childhood Development and Developmental disabilities.
Research : Ummeed is currently collaborating with the National Institute of Health and developing and testing a tool to monitor early childhood development for the India specific population.
Advocacy : Ummeed is working on disseminating information on the Rights of special children and working as part of the task force for the implementation of the Right To Education act (RTE)
Fundraisers supporting this NGO:


Fund Usage:

Ummeed's aim is to help families acknowledge and accept the differences in their child, and help them reach their true potential. Over the years, Ummeed has seen families emerge from the depression of a diagnosis to embrace their child's uniqueness and derive joy from experience of parenthood. Given this, we believe that Ummeed accurately and truly reflects the essence of 'Diversity' through inclusion.
Each Year Ummeed conducts around 7000 treatments and builds the Capacity of other NGOs and individuals in helping address this urgent need, which helps extend its reach to another 25,000 children at risk of developmental disabilities.
All funds raised will be used to extend our reach through training community workers and increase our intervention for these Special kids and their families through our clinic.
All donations to Ummeed are tax exempt under section 80G of the Income tax act.
Impact:
The impact of Ummeed's programs has been at multiple levels.
Clinic activities : Every child and family that come for therapies are provided with an individualized family service plan (IFSP). This document lays down the goals set for the child's therapy for a particular period of time and all progress is measured against these set goals.
Community worker - these trainees (10th standard pass) have increased their level of knowledge in the field of early childhood development and addressing issues related to developmental disabilities which has resulted in betterment of their career paths within organizations. The capacity built within each trainee has also led to these trainees being able to work with over 5 times the number of families that they used to work with prior to the training.
Communities - Ummeed's training programs have been instrumental in creating a cascade of learnings (impact assessment by Barometer Research) which have resulted in greater awareness among families and communities and greater transfer of this knowledge between communities which will help in mitigating the incidences of preventable disabilities in children at risk.
Organisations - Ummeed's training programs have helped create a cadre of champions working through their organizations for the prevention of and for addressing early childhood developmental issues.