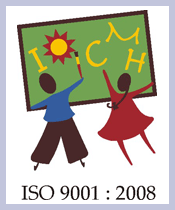 The Indian Council For Mental Health
Upm School Building, 1st Khetwadi Lane, Off S.v.p Raod, Girgaon, Mumbai, Maharashtra, India, 400004
Email: icmh11@gmail.com
Website: www.icmh.org.in

Charity Bib Status: Sold out

About NGO:
ICMH is an ISO 9001: 2008 Certified NGO registered as a Public Trust (E- 700 Bom) based in Mumbai, India since 1953. Until 1990, we provided psychiatric and counseling services. Thereafter since 1990 we shifted our focus towards providing services for children with developmental disabilities. Organization has expanded significantly to reach its current capacity of around 250 Mentally Challenged and Hearing Impaired students.
The children in both the schools are from middle class families and would not be able to afford fees as charged by similar special schools. Therefore, a concerted decision was unanimously taken to subsidize fees substantially and make every effort to bridge the gap through donations. At the same time, it was felt that whatever difficulties are faced, our efforts should always be to offer the best and the latest therapies to our children for their possible breakthroughs. We pioneered Animal Assisted Therapy some seven years ago. It is with a sense of pride that we can record that this therapy has worked wonders for the children who have been fortunate to benefit from it. We have achieved numerous milestones at both the Schools. ICMH inducted Occupational Therapists, Speech Therapists, Yoga, Color Therapy along with sports, drama and vocational training.
Hence, in spite of the wonderful work that we are doing, we are unable to manage financially. We depend on donors who help our noble cause. We also provide the Certificate to donors which gives the benefit of 50% tax rebate for the purpose of Income Tax Exemption under section 80G of the Income Tax Act.
Fund Usage:

There are no good special schools in Mulund at the radius of over 10 kilometers; hence we took a chance of leasing rooms at a municipal school to accommodate our children and converting the day care center into a Skills and Ability School. This was found inadequate. Hence, we decided to run the school in two shifts, thus managing to grow from 10 to 105 children (and still counting). It is the first priority of ICMH to have our own premises, so that we can introduce all available and new therapies, sports and drama, yoga and vocational training and continue the noble work.
Animal Assisted Therapy, Arts Becomes Therapy, Speech Therapy, Garden Project, Occupational Therapy and Color Therapy are some of the therapies given to our children. With the consultation and personal involvement of fully qualified psychologists who are trained in this therapy, we have made gradual progress over the past years. As these are a one-on-one therapy in principle, the total number of children would be less but these children are selected through a very stringent process and the results have spoken volumes for themselves. We have evaluated these therapies over the years and introduced it at Mulund School. These therapies are offered free by us as there is no separate fee. However, the annual cost to ICMH works out to more than Rs. 19,00,000.
Impact:
Joshwyn Mathew, 8 years old male child is a case of Autism Spectrum Disorder and Moderate Intellectual Impairment. Joshwyn when admitted to the school in June 2011 showed signs of moderate to severe Sensory Integration Dysfunction, that is, the information processed through vestibular, proprioceptive, auditory sensory channels. Child showed signs of Dyspraxia, that is, ability to plan & execute a motor task. His attention span was low and could not concentrate on classroom activities for longer duration. Child had moderate-evere fine motor problems. He neglected his left upper extremity although left upper extremity function was normal.
Joshwyn's sensory processing has improved owing to regular therapy and adequate follow up of the Home based therapy program at home. His postural reactions has improved, muscle tone which was low due to inappropriate processing of information through vestibular & proprioceptive sensory channel has improved. Joshwyn's sitting tolerance is better & can perform classroom activities with fair concentration for longer duration. Improvement in fine motor function has resulted in lesser dependency in Activities of Daily Living. Joshywn's performance in bilateral activities has improved due to good use of left upper extremity.
Page Url :
http://www.unitedwaymumbai.org/ngo4_icmh.htm
Online donations are now closed for SCMM'13'
Founded Year:
1953
Cause category: Disability
Our Supporters
You can raise funds by placing this donation widget on your web page or blog. Please click on the image.