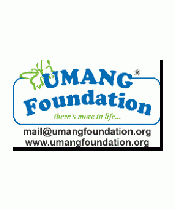 Umang Foundation
1506/07, Ruby, Nirmal Lifestyles, Lbs Marg, Mulund (w), Mumbai, Maharashtra, India, 400080
Founded Year: 2009
Cause category: Education
Telephone: 9819940222
Charity Bib Status:
Not Available
Raised by 74 contributors.


Donations for SCMM 2015 are closed. Thank you.
About NGO:
Umang Foundation, as the name suggests, is here to bring hope and joy to the lives of underprivileged section of the society. Umang Foundation has been working extensively in the fields of education, tribal village upliftment, elderly home connect, technical growth of children and many more. Since 2008, a group of passionate volunteers have been trying to bring a positive change to the society. Till date, Umang has no employees and works on pure volunteerism. Various projects of Umang Foundation include Promote Education, Creative Hands (mega drawing competition), Umang Gurukul (classroom teaching program), Blood Donation Camps, Inspire-a-kid(educational and corporate tours for children, School outreach program(visit to schools)
Fundraisers supporting this NGO:


Fund Usage:
"Promote Education – ek kadam ujwal bhavishya ki aur" is an initiative where Umang Foundation tries to curtail the root cause of school drop-outs. When surveyed, it was found that major reason for school drop-outs in slum schools is the lack of stationery and notebooks. The children and their parents are unable to cope up with the regular demand of new notebooks, pens or any stationery material; due to which the child stops coming to school. Umang Foundation identified such school and students where the drop-out rate was high and started this initiative. As the years passed by, the drop-out rate reduced considerably. With the funds raised from Mumbai Marathon, Umang Foundation will provide a stationery kit to such needy children which will suffice them for a year. The cost of a stationery kit is Rs 300, which is less than 1 Rs a day for a year. Umang Foundation appeals to every individual to come forward and Umang Foundation has entered into the Limca Book of records twice, once in 2012 and now in - See more at: http://unitedwaymumbai.org/ngo44_umang_foundation.htm#sthash.eLaZoV24.dpuf once in 2012 and 2014
Impact:
Umang Foundation has been successful in bringing down the number of drop outs which were witnessed due to non-availability of resources post its initiative Promote Education – 'ek kadam ujwal bhavisya ki aur'. This has encouraged donors and resulted in the continued progressive distribution trend of Umang Foundation. In last 5 years of this project Team Umang has witnessed many students who were struggling to get new notebooks earlier but now they are happily and regularly coming to the school.
Umang Foundation would need at least 48 lacs to provide complete stationery kits to 16,000 less fortunate students in June 2013 with the New Academic Year.
More Related
About SCMM 2015
Participating Charities
Corporate Teams
Individual Fundraisers
Student Challenge
Fundraiser Levels & Privileges
How It Works
Fundraising Kits
Charity Bibs
Frequently Asked Questions
Downloads
The Superhero Rises!
Click to watch the video.