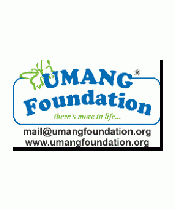 About NGO:
Umang Foundation focuses on the upliftment of society in every possible way. In order to achieve this goal Umang Foundation has organized 388 philanthropic events and activities since inception in July 2008. Distribution of stationery kits, clothes to villagers, blood donation drives, celebration of festivals with people in old age home, celebration of special days with children and children suffering from cancer are few of the activities organized by Umang Foundation.
Umang Foundation has entered into "Limca Book of Records - 2013" for distributing stationery kits to 9125 students of 31 schools in a single day on Saturday - June 23, 2012.
Team Umang is working without employees; all volunteers do support to keep admin cost as low as possible. Complete Stationery kit contains:
1. Set of Notebooks
2. Set of Long books
3. Slate
4. Pencils
5. Pens
6. Eraser and Sharpener
7. Scale
8. Plastic Compass box
9. Geometry box
10. Crayons
11. Sketch Pen
12. Water Color
13. Drawing book
14. Coloring Book
15. Kit holder bag

Fund Usage:

Umang Foundation has identified more than 16000 students who belong to SC / ST category of society and belongs to a family of daily wagers or home-maid who resides in slums of Ulhasnagar, Kalyan, Ambernath, Kalwa of Thane District. Although these children are enrolled in school(s) but due to lack of the requisite education material like basic stationery material, these children are compelled to manage their entire academic year with as little as one or two notebooks for all their subjects for the entire year!!
Team Umang has witnessed instances of these children dropping out from the school due to scarcity of means to buy new notebooks. This, the effort is to equip these children – the future of India with basic educational material to ease out the scarcity at a fundamental level.
Impact:
Umang Foundation has been successful in bringing down the number of drop outs which were witnessed due to non-availability of resources post its initiative Promote Education – 'ek kadam ujwal bhavisya ki aur'. This has encouraged donors and resulted in the continued progressive distribution trend of Umang Foundation. In last 5 years of this project Team Umang has witnessed many students who were struggling to get new notebooks earlier but now they are happily and regularly coming to the school.
Umang Foundation would need at least 48 lacs to provide complete stationery kits to 16,000 less fortunate students in June 2013 with the New Academic Year.
Page Url :
http://www.unitedwaymumbai.org/ngo44_umang_foundation.htm
Founded Year:
2009
Cause category: Education
Our Supporters