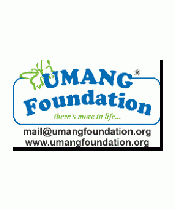 Umang Foundation
1506/07, Ruby, Nirmal Lifestyles, Lbs Marg, Mulund (w), Mumbai, Maharashtra, India, 400080
Founded Year: 2009
Cause category: Education
Telephone: 022-25900222
Charity Bib Status:
30 Available
Raised by 40 contributors.

About NGO:
Umang Foundation focus majorly on education and overall growth of the school going children and put its best efforts that students do not drop out of school because of lack of resource availability. There are 35 different project of Umang Foundation. Team Umang has entered two times Limca book of records for providing highest number of stationery kits in a single day from single venue.
Various Projects are:-
Promote Education
Creative Hands
Umang Gurukul
Inspire-a-kid
Umang Mentors
Umang Scholarship
Umang Care
Swatch Vidyalaya
Green School
Project Asha
Donate Blood
Old is gold
Umang Foundation has entered thrice into LIMCA BOOK OF RECORDS 2013 edition, 2015 edition and 2016 edition on 23-June-2012, 28-June-2014 and 27-June-2015 respectively for organizing biggest stationery distribution drive at single venue in a single day.
Education to every child is very important to ensure today a better tomorrow of our country. In most of the cases children drops out from school because their family could not support them financially and could not afford education material and other resources for them.
Umang Foundation is determined to support a minimum of 15,000 students every year which is not possible without support and engagement of a individual like you.
Fundraisers supporting this NGO:


Fund Usage:

Background of identified children: Typically, the identified students belong to a family of daily wagers or home-maid who resides in slums. Although these children are enrolled in school(s) but due to lack of the requisite education material like basic stationery these children are compelled to manage their entire academic year with as little as one or two notebooks for all their subjects for the entire year!! Team Umang has witnessed instances of these children discontinuing / dropping our going to the school due to scarcity of means to buy new notebooks. This, the effort is to equip these children – the future of India with basic educational material to ease out the scarcity at a fundamental level.
Feedback from school staff: Students are able to have meticulous and organized structure of their education, this clearly contributes to a high morale of a happy child pleased to have the facility and being away from the feeling of deprivation. Students are happy that they are having separate notebooks for each subjects, they can now maintain their class work neat and clean in separate subject notebooks.
Impact:
Umang Foundation has been successful in bringing down the number of drop outs which were witnessed due to non-availability of resources post its initiative Promote Education – 'ek kadam ujwal bhavisya ki aur'. This has encouraged donors and resulted in the continued progressive distribution trend of Umang Foundation. In last 5 years of this project Team Umang has witnessed many students who were struggling to get new notebooks earlier but now they are happily and regularly coming to the school.
Umang Foundation would need at least 48 lacs to provide complete stationery kits to 16,000 less fortunate students in June 2013 with the New Academic Year.