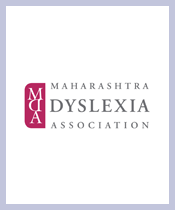 Maharashtra Dyslexia Association
003, Amit Park Bldg, Ground Floor, L J Marg, Deonar, Mumbai, Maharashtra, India, 400088
Email: mda@dyslexiaindia.com
Website: www.mdamumbai.com

Charity Bib Status: Sold out

About NGO:
The MDA is unique in its focus on providing end-to-end solutions to ensure that students with dyslexia can remain in the mainstream education system and realize their potential. This includes working within schools to promote early identification and research-based reading instruction for all students, specialized programmes for adolescents and young adults, and internationally recognized training programmes to equip teachers, special educators, psychologists and therapists with tried and tested tools and techniques for working with this population.
MDA offers a wide range of services-counselling, assessment, remedial education, aptitude testing and vocational counseling, occupational and sensory integration therapy - for young people with dyslexia, apart from training and internship opportunities for professionals interested in working with them. A vigorous advocacy cell coordinates the movement for policy change at the national level while also taking up individual cases with the concerned authorities.
MDA operates from 2 centers in Mumbai and one from outskirts of Mumbai.
Fund Usage:

As part of its larger goals of creating an education system that is sensitive to the special needs of differently abled individuals,MDA is designing a model project for the appropriate identification and intervention for LD amongst children in the non aided, government aided and municipal schools outside Mumbai where there is little awareness and no facilities available. The objective of this project is to create a viable model for supporting students with LD in middle town cities where no such support system exists. Activities proposed to be carried out is awareness workshops for mainstream teachers and parents in understanding and identifying LD students. Training interested teachers in strategies for managing LD students within mainstream. Motivating interested teachers to seek specialised training through suitable modules in Mumbai or elsewhere.
Impact:
We have subsidised remediation fees for 24 children in all our 3 centers some children also free remediation amounting to Rs 7,00,900 in the last year.
Page Url :
http://www.unitedwaymumbai.org/ngo3_mda.htm
Online donations are now closed for SCMM'13'
Founded Year:
1996
Cause category: Education
You can raise funds by placing this donation widget on your web page or blog. Please click on the image.