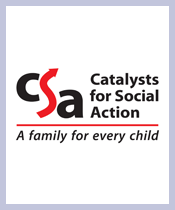 About NGO:
It is now nine years since CSA set out to make a difference to child rehabilitation in India.Last year while continuing the intensity at our program implementation .We also focused on building awareness and advocacy .Toward the latter enlisted Sandip Sopparker the celebrity dancer and an adoptive parent as the Cause Ambassador for CSA. We hosted sit down dinner at the Water stone club.
We now partner with 45 adoption agencies and orphanages and the result are encouraging - jointly with partne r agencies the number of adoptions were 200 + . We successfully moved eligible children from orphanage to adoption agencies,our preferred mode of rehabilitation. In addition we are trying to rehabilitate institutionalized children by providing educational, nutritional and vocational training support.
Fund Usage:

Catalyst for Social Action (CSA) is in process to scale up its intervention for the state of Madhya Pradesh for this financial year (2012-2013). The objective of the project is Optimizing Rehabilitation outcomes for institutionalized children-implementation of the ICPS.
The proposed project will be implemented with altogether 16 agencies through 9 districts of Madhya Pradesh. The pilot project with 6 orphanages will be started with the need assessment. The project will be replicated to 10 more orphanages/adoption agencies. Through this project CSA expect to reach to 800 orphan children to provide them better place for living and their holistic development. Approximate budget for this project is 10. Lac.
Impact:
A few minutes walking distance away from NSS is an orphanage called Jasoda Anathalaya. Shyam
Jal, a tribal runs the orphanage. There are approximately 50 children ranging from newborns to 17year olds. Very small children including newborns are sometimes abandoned at the orphanage. Not being authorized to place children in adoption, most children continue to remain in the orphanage. Thus, despite the fact that there is an adoption agency in close proximity through which the children can be placed in adoption, the children languished in pathetic care conditions.
Primarily, the cause for such conditions prevailing in Kalahandi, is a lack of awareness about the law and/or the applicable regulation governing adoption and movement of children across institutions. CSA's interaction across processing levels (District Officials, CWC, Adoption agencies and Orphanages) in the chain, have brought about phenomenal results. 2 newborn infants were moved into NSS and have been placed in adoption. The process continues!
Page Url :
http://www.unitedwaymumbai.org/ngo36_csa.htm
Founded Year:
2002
Cause category: Women, Children & Aged
Our Supporters