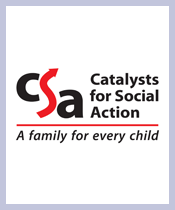 Catalysts For Social Action
C/o .accelyakale Solutions Ltd. 3rd Floor ,modi House ,naupada, Eastern Express Highway, Thane, Maharashtra, India, 400602
Founded Year: 2002
Cause category: Children
Telephone: 022-67808888
Charity Bib Status:
Not Available
About NGO:
Catalysts for Social Action (CSA), is a social welfare organization dedicated to the cause of child welfare. CSA focuses on Adoption and Holistic child care. Initiated as the outcome of an adoption in the family, CSA was established in September 2002.Our aim is to optimize rehabilitation outcomes for destitute/orphaned children and to influence change in adoption practice. We work both, on enhancing the total number of adoptions and towards better child care.
Fundraisers supporting this NGO:


Fund Usage:

Established in September 2002, Catalysts for Social Action (CSA) is a Not-For-Profit organization dedicated to the cause of child welfare and rehabilitation for children living in orphanages.CSA works as a "catalyst" focusing on a holistic approach to child care and optimal rehabilitation outcomes.In the area of enabling holistic child care, we support a number of child care institutions in the areas of Health & Hygiene, Nutrition, Education, Vocational skills, Infrastructure support and Recreation activities. CSA not only cares but also goes beyond, thus, enabling children to be self sufficient and become contributing members of society.We continue to make a valuable difference to 2800+ children across 55+ child care institutions in 4 states that we support. As part of optimal rehabilitation, CSA facilitates Adoptions in the country; we work with existing adoption agencies in rural areas to facilitate the quality, speed and number of adoptions in India. We have successfully facilitated over 200+ adoptions in India, so far. We believe that Adoption is the best form of child rehabilitation. Our intention is to ensure that every adoptable child should find a home.
Impact:
A few minutes walking distance away from NSS is an orphanage called Jasoda Anathalaya. Shyam
Jal, a tribal runs the orphanage. There are approximately 50 children ranging from newborns to 17year olds. Very small children including newborns are sometimes abandoned at the orphanage. Not being authorized to place children in adoption, most children continue to remain in the orphanage. Thus, despite the fact that there is an adoption agency in close proximity through which the children can be placed in adoption, the children languished in pathetic care conditions.
Primarily, the cause for such conditions prevailing in Kalahandi, is a lack of awareness about the law and/or the applicable regulation governing adoption and movement of children across institutions. CSA's interaction across processing levels (District Officials, CWC, Adoption agencies and Orphanages) in the chain, have brought about phenomenal results. 2 newborn infants were moved into NSS and have been placed in adoption. The process continues!