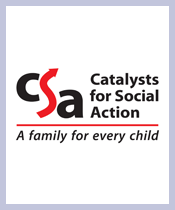 Catalysts For Social Action
C/o. Accelya Kale Solutions Ltd. 3rd Floor, Modi House, Naupada, Eastern Express Highway, Thane (west), Thane, Maharashtra, India, 400602
Founded Year: 2002
Cause category:
Telephone: 022-67808888
Charity Bib Status:
12 Available
Raised by 0 contributors.

About NGO:
CSA works as a 'catalyst'; focusing on a holistic approach to child care and optimal rehabilitation outcome for orphaned children in the following domains -
Transforming lives of orphan children via initiatives ranging from providing education and training, health and hygiene plans, nutritious meals and overall well being
Promoting and facilitating adoptions wherever possible
Fund Usage:

We have a Dream! A Dream, that each child living in orphanages in India, will be nurtured into a contributing member of society. And those that have even a miniscule chance of finding a family should be adopted!
We invite you to join us in this endeavor. Corporate Houses can support implementation across an entire state or, sponsor smaller projects. Individuals can just donate. Funds will be used to provide everyday necessities - after all, children in an orphanage pretty much need the same stuff that those in our homes do - nutrition, clothing, health, education, recreation, living arrangements, infrastructure work (toilets/kitchens, water supply, electricity). NO contribution is too small - it all adds up. And of course, volunteer participation is most welcome!
Impact:
A few minutes walking distance away from NSS is an orphanage called Jasoda Anathalaya. Shyam
Jal, a tribal runs the orphanage. There are approximately 50 children ranging from newborns to 17year olds. Very small children including newborns are sometimes abandoned at the orphanage. Not being authorized to place children in adoption, most children continue to remain in the orphanage. Thus, despite the fact that there is an adoption agency in close proximity through which the children can be placed in adoption, the children languished in pathetic care conditions.
Primarily, the cause for such conditions prevailing in Kalahandi, is a lack of awareness about the law and/or the applicable regulation governing adoption and movement of children across institutions. CSA's interaction across processing levels (District Officials, CWC, Adoption agencies and Orphanages) in the chain, have brought about phenomenal results. 2 newborn infants were moved into NSS and have been placed in adoption. The process continues!