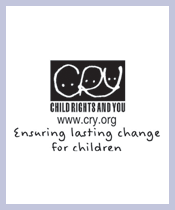 CRY Child Rights and You
189 A Anand Estate , Sane Guruji Marg , Near Arthur Road Jail , Mumbai, Mumbai, Maharashtra, India, 400011
Email: swati.desai@crymail.org / Shatarupa.chatterjee@crymail.org
Website: www.cry.org

Charity Bib Status: Sold out

About NGO:
A happy, healthy and creative child whose rights are protected and honoured in a society that is built on respect for dignity, justice and equity for all.
Mission: To enable people to take responsibility for the situation of the deprived Indian child and so motivate them to seek resolution through individual and collective action thereby enabling children to realise their full potential. And people to discover their potential for action and change. To enable peoples'collectives and movements encompassing diverse segments.
Fund Usage:

CRY (Child Rights and You) acts as an enabler, a catalyst between two groups of people:
[a] development organisations and individuals working at grassroots-level with marginalised children, their families and communities, AND
[b] people like you, coming together from all walks of life who believe in the rights of children. CRY believes that by being a link or facilitating organization of this nature, it has greater impact by ensuring higher reach through hundreds of individuals and organizations that work with the most deprived communities and their children.
In over three decades, CRY has enabled communities in villages and slums across 20 states in India to work towards addressing the root causes of issues like deprivation, adult unemployment, exploitation and abuse - that constrain the rights of children. By mobilising these communities CRY along with its NGO partners have ensured over 1,500,000 children across India with opportunities they could not dream of. None of these micro-miracles would have been possible without the active involvement and support CRY experienced from more than 150,000 individuals like you and organisations in India and overseas.
Impact:
Project: Shramika Vikasa Kendram (SVK)
Mahabubnagar, Andhra Pradesh
Objectives:
# Eradication of child labour and universalisation of elementary education.
# Empowering women socially, politically and economically
# Health care of women and children by ensuring regular delivery of health services at village level
# Promoting collective action among the community towards their holistic development
# Promotong Children's Collectives (Balala Sanghams)
# Improving the livelihood of the rural poor # To build peoples movement against privatization of education and health.
Page Url :
http://www.unitedwaymumbai.org/ngo32_cry.htm
Online donations are now closed for SCMM'13'
Founded Year:
1978
Cause category: Women, Children & Aged
Our Supporters
You can raise funds by placing this donation widget on your web page or blog. Please click on the image.