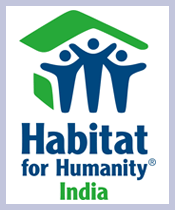 Habitat For Humanity India
303, Dhanthak Plaza, Makwana Road, Marol, Andheri - East, Mumbai, Maharashtra, India, 400059
Email: info@hfhindia.org , vijayx@hfhindia.org, benedictp@hfhindia.org
Website: www.habitatindia.in

Charity Bib Status: Sold out

About NGO:
Habitat for Humanity in India (HFH India), began its operations in 1983, and is one of Habitat for Humanity's largest country programs. Habitat India operates through its resource centers known as Habitat Resource Centers (HRC's) in Mumbai, Bangalore, Chennai, New Delhi. HFH India has successfully served over 40,000 families till date through its housing program across the country, including 13,000 houses under the tsunami response.
HFH India program beneficiaries are selected from the vulnerable, economically weaker sections and marginalized groups which include scheduled tribes, scheduled caste and other backward class communities, rural and urban poor and disaster-affected families.
In addition to building homes, Habitat is involved in integrated programs that extend to areas in livelihood, water and sanitation, disaster mitigation and preparedness which promote the improvement of the overall quality of people's lives.
Involvement of volunteers in house building is a unique aspect of Habitat's housing programs. Volunteers from locally based corporates, international schools, international groups and other institutions take part in various builds around the country. During these builds, volunteers provide unskilled labour working along with the prospective homeowners and engaging in activities ranging from brick-laying, plastering, mixing mortar and painting.
Fund Usage:

The funds raised through Mumbai Marathon 2013 will help construct houses for tribal and rural communities in Maharashtra.
A large number of families in the region live in Kuchha or temporary houses that need to be repaired/ rebuilt periodically. Many of these houses are built with stones and mud and are plagued with difficulties in obtaining wood and Karvi. Families living in such incomplete houses face several constraints/ difficulties. Most of these houses are not well built and have problems such as insufficient space; poor ventilation and lack of privacy as some of the major problems.
The support from donations raised from the marathon will help these families have a Pucca house, provide access to safe and decent houses and improve the health and living conditions of these families.
Impact:
"I remember, last year during the monsoon. It rained so heavily that our entire mud house was flooded. I couldn't use the chulha and we had nothing to eat. I'll never forget those months. As a mother, when your children have to go hungry, even for one night, it is something you don't forget.
I live in Nandgoan village, Karjat where most of us earn a living working as agricultural field labourers. On an average, people here earn about 7,000 a month . It's enough to cover our basic needs but not enough to fix the roof or build a pakka house. I have four children to feed and send to school, so repairing my home was not affordable at that time.
However, to my great relief, a group of young volunteers from Habitat for Humanity India came to build my home in May, 2012. My family and I worked on laying the foundation and with the help of this group of young people we built my new home. It was our first step towards owning a dry, safe and decent place to call home. We made a separate room for a kitchen so now I will never have to worry about being able to cook during the monsoon."
Asha Kathe is one of six beneficiaries who received homes on May 12, 2012 through the Habitat YouthBUILD campaign. Habitat India has built homes for over 2300 families in Karjat alone since 2006.
Page Url :
http://www.unitedwaymumbai.org/ngo31_hfh_india.htm
Online donations are now closed for SCMM'13'
Founded Year:
1983
Cause category: Social, Civic & Community Development
Our Supporters
You can raise funds by placing this donation widget on your web page or blog. Please click on the image.