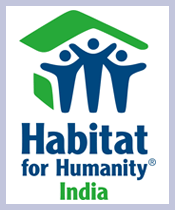 Habitat For Humanity India
A/ 301, Everest Chambers, Andheri Kurla Link Road, Marol Naka, Andheri East , Mumbai, Maharashtra, India, 400059
Founded Year: 1983
Cause category: Women Empowerment
Telephone: 022-29209851
Charity Bib Status:
30 Available
Raised by 0 contributors.

About NGO:
Habitat India beneficiaries are economically poor, low income, marginalized groups considered non-bankable, disaster affected families that includes historically disadvantaged communities. Till date, we have served over 62,025 families comprising of 297,720 individuals through our interventions in Housing, Sanitation, Access to Water and Disaster Response. We are head quartered in Mumbai and operate from 4 Program Implementation Offices - Delhi, Mumbai, Bengaluru and Chennai. Our projects are in multiple districts of India. To reach out to maximum families, we initiate partnerships with local implementing partners for project execution with handholding by Habitat India.
Our campaigns - Youth BUILD, Women's BUILD, Sensitise to Sanitise helps us reach out to volunteers, who invest their time, skills, money and energy in building homes and sanitation facilities for the low income families.
Our projects attract international volunteers for engage in week long BUILDs on project sites. Individuals from corporates, in their personal capacity, school children and foreigners participate in Volunteer Programs, popularly known as Volunteer BUILDs
Fundraisers supporting this NGO:


Fund Usage:

Over the span of 30 years, the organisation has developed expertise by working on Community Led Total Sanitation (CLTS) model in areas of Housing and Sanitation. We have launched an exclusive sanitation segment, known as Sensitise to Sanitise (S2S). This project is closely aligned with government's 'Swacch Bharat Abhiyan". It aims at constructing appropriate sanitation facilities for children, women, aged, and handicap. It reflects on sensitizing the individuals on subject of 'Water and Sanitation Hygiene (WASH)" and providing access to Water for the maintenance of the newly constructed facilities and change in the health perspective.
Goal - To construct 100,000 sanitation units to make India Open Defecation free
To achieve the goal, Habitat India has divided the project under 5 broad verticals:
Individual Household Latrines (IHHL)
Community Sanitation Facilities
School Sanitation and Hygiene Education (SSHE)
Behavioral Change Communication Program
Access to Water
OUR APPEAL
We request support from individuals and corporates to support our mission by participating in the marathon, making donations and helping us raise funds through 'Pledge Raising'. We aim to raise Rs. 10 lakhs from Mumbai Marathon 2016.
Impact:
"I remember, last year during the monsoon. It rained so heavily that our entire mud house was flooded. I couldn't use the chulha and we had nothing to eat. I'll never forget those months. As a mother, when your children have to go hungry, even for one night, it is something you don't forget.
I live in Nandgoan village, Karjat where most of us earn a living working as agricultural field labourers. On an average, people here earn about 7,000 a month . It's enough to cover our basic needs but not enough to fix the roof or build a pakka house. I have four children to feed and send to school, so repairing my home was not affordable at that time.
However, to my great relief, a group of young volunteers from Habitat for Humanity India came to build my home in May, 2012. My family and I worked on laying the foundation and with the help of this group of young people we built my new home. It was our first step towards owning a dry, safe and decent place to call home. We made a separate room for a kitchen so now I will never have to worry about being able to cook during the monsoon."
Asha Kathe is one of six beneficiaries who received homes on May 12, 2012 through the Habitat YouthBUILD campaign. Habitat India has built homes for over 2300 families in Karjat alone since 2006.