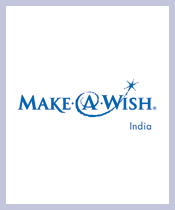 Make-A-Wish Foundation Of India
111, Vasan Udyog Bhavan, Sunmill Compound, Lower Parel (w), Mumbai, Maharashtra, India, 400013
Founded Year: 1995
Cause category: Children
Telephone: 022-24919140
Charity Bib Status:
50 Available
Raised by 0 contributors.

About NGO:
The Foundation is dedicated to granting the most cherished wish of children between the ages of 3 to 18 years, living with life threatening illnesses, irrespective of their socio-economic status, caste, race or religion. For children battling with life threatening illnesses, the joys of childhood are replaced with a daily battle for survival, painful treatment and medication and endless rounds of hospitals.
The fulfillment of the most cherished wish of a child who has very little hope of enjoying a normal and healthy life not only gives happiness and joy to him/her but also has a therapeutic effect on the child. Doctors have often reported an improvement in the child's physical condition, after the fulfillment of his/her dearest wish. A wish fulfillment makes a sick child believe that anything is possible - even a future. Typically children's wishes fall into four categories - Wish to Go, Wish to Be, Wish to Meet and Wish to Have.
Fund Usage:

There are over 100,000 children in India who have been diagnosed with life-threatening medical conditions like Cancer, Thalasemmia, HIV/AIDS, Kidney/ heart ailments etc.
Every year Make-A-Wish India is able to grant 5,000 wishes only.
To reach out to every eligible child we need the support from you, to adopt-a-wish by supporting us as a corporate team or by buying a Charity BIB in SCMM 2016 and also by joining us as a volunteer, to interact with every eligible child at the hospital and help identify the wish.
Impact:
The 10year old ACP ......
Aniket Parmar, a resident of Ahmedabad, is a 10year old boy suffering from a life threatening illness.
His innermost wish was to be the Assistant Commissioner of Police (ACP) for a day.
His wish was fulfilled by the Commissioner and Jt. Commissioner of Police in Ahmedabad. Aniket was provided with a complete police officer's uniform and adorned with the rank of ACP. Later he was escorted in the police car with full honor to the Shahibaug police station, where he took charge of his duties as an ACP. Media was invited to interview the new ACP and announcements were made over the local radio station.
As per his school principal, before the wish got fulfilled, he was a very shy and scared type of boy. But after his wish has been fulfilled, he is playing with his friends, sharing his tiffin with them and has become care free that now nothing can happen to me and he can lead a normal life with his friends and family.