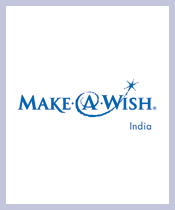 Make-A-Wish Foundation Of India
15/ C, 1st Floor, Hendre Castle, Gokhale Road (north), Dadar (west), Mumbai, Maharashtra, India, 400028
Email: info@makeawishindia.org
Website: www.makeawishindia.org

Charity Bib Status: Not available

About NGO:
Make-A-Wish Foundation® of India fulfills the most cherished wishes of children (between the age group of 3-18 yrs) suffering from life threatening illnesses. It gives the children and their families the hope, joy and strength which the illness and its treatment takes away. A wish fulfillment makes a sick child believe that anything is possible -even the future.
Make-A-Wish Foundation® of India has fulfilled up to 22,500 wishes since its establishment in 1996 in India. The foundationís work is spread across 10 divisions in India, viz, Ahmedabad, Bangalore, Coimbatore, Delhi, Goa, Hyderabad, Jaipur, Kolkata, Mumbai and Pune. The foundation also has a base of 196 dedicated volunteers who go out to the hospital and interact with the hospital authorities, the wish families and the children and seek their wishes. Throughout India, the foundation works with as many as 94 medical institutions and hospitals. Make-A-Wish Foundation® of India is an affiliate of the Make-A-Wish Foundation® International.
Fund Usage:

We work in 10 centres in India and we fulfil 10 wishes a day on an average. Each wish is supported either by an individual or a trust or a corporate unit through their employees and CSR activities. Every wish donation will get a thanking note, a photo with the wish gift and the child, 80G tax certificates and a donation receipt.
What we do is a tip of an iceberg in this situation. We could and we wish to cover and reach many more such children in India. This would be possible only with the generous support and help of well wishers and corporate and many more. We would love to have you as our proud partner and share your support to many others as a role model.
Spread the good work that we do through your organisation and help us to get more wishes fulfilled. Be a proud partner! Let us help to bring back the happiness among such children!
Impact:
Case Story:
Namrata Wagh, 15 yr, like every other teenager is very fashion conscious. When our volunteers met her at the hospital and was asked her wish, she was very thoughtful. She told the volunteers that she wanted nice clothes, she also went ahead to tell them that she wanted to choose them herself. A convenient time and date was decided and the shopping trip was arranged.
As choosy as she was, Namrata took almost an hour to choose the clothes. The salesmen were running from one counter to the other trying to match up with her fancies. Finally, Namrata choose her clothes. She bought three different types of dresses. Her parents were very happy. She seemed to just satisfied. When the Make-A-Wish staff asked her about her displeasure, she immediately shared. She had liked a dress that was draped on the mannequin but was not sure if she could get that one. After getting that dress, Namrata was truly very happy.
Page Url :
http://www.unitedwaymumbai.org/ngo30_make_a_wish.htm
Online donations are now closed for SCMM'13'
Founded Year:
1995
Cause category: Health
You can raise funds by placing this donation widget on your web page or blog. Please click on the image.