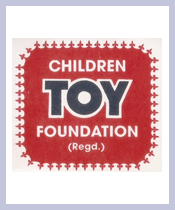 Children Toy Foundation
Ali Building, 72 Shahid Bhagat Singh Road, Fort, Mumbai, Maharashtra, India, 400001
Email: play@childrentoyfoundation.org
Website: www.childrentoyfoundation.org

Charity Bib Status: Sold out

About NGO:
AIM: To educate children through Play, beyond reading and writing, so as to help them acquire real
skill and develop positive attitudes in their life. To instill a sense of Pride within the young ones and further boost their confidence.
Activities / Achievements- The children toy foundation has been working selflessly for over the last quarter century in order to achieve its goal of providing every child the joy of games and toys.
In addition to that we at children toy foundation undertake the duty of educating the child morally
as well as academically through the mode of our games. The innovative minds working with
children toy foundation not only incorporate games available in the market but we design new
games which would help in enhancing the personality of children.
various games like Memory games improve their memory a concentration , Maths puzzle, improve mathematical skills, improves analytical skills, Lego blocks improves design skill, so on. Above ones are just a few of the thousands of game used by us. Ten fifteen minutes of each our is also dedicated to some light physical activity.We cater to construction side children,differently abled children also when we get the opportunity.
We have won several national & international awards also.
Fund Usage:
We can utilize the funds for: 1)running our Khelvigyan centers in Mumbai & Baroda 2) we can help to set up toy/game libraries in various states 3) we can start family play centers and stret children's play centres in Mumbai 4)we can buys toys and games to replace the worn out and buy new varieties also 5)we can organize various fund raising activities through the available funds and so on
Impact:
A general study of controlled group(who had no play facilities) and an experimental group having Khelvigyan center showed the following result in favor of our project:
-Improved children's attendance
- Number of drop-outs reduced
- Children develop liking towards academic subjects that they found difficult once.
- Children became more organized
- Children began caring, sharing and respecting each other
- They adapted cleanliness and understand the importance of hygiene.
- Their decision making ability was improved.
- They developed new creative ways to solve problems
They learn discipline,honesty, and develop the spirit of co-operative competitiveness. The children who were shy have become more expressive. Now more & more NGOs and institutions are opting or their own toy libraries. Also some side developments are seen. Aarti Sawant whose mother is house maid was to wait from 1 to 4 pm for her mother to come from work and take her home. She was called to our center by our coordinator to enjoy some games and help organize children's queue learnt the art of handling children and some games. She now during waiting time works with school balwadi and organizes children and games.


Page Url :
http://www.unitedwaymumbai.org/ngo28_ctf.htm

Online donations are now closed for SCMM'13'
Founded Year:
1982
Cause category: Women, Children & Aged
You can raise funds by placing this donation widget on your web page or blog. Please click on the image.