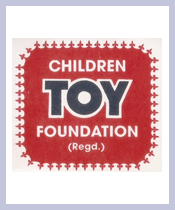 Children Toy Foundation
C/o. R. Desai & Co. Modern House, 11, Dr. V. B. Gandhi Marg, Fort, Mumbai, Maharashtra, India, 400001
Founded Year: 1982
Cause category: Children
Telephone: 022-22820687
Charity Bib Status:
15 Available
Raised by 0 contributors.

About NGO:
Since 1982 CTF aims to educate children beyond reading and writing. To help them acquire real skill develop positive attitudes, To instill a sense of pride to encourage them,To interact confidently with their environment.
Nothing like anything CTF attempts to mould the character and temperament of the young ones & hone their latent through Play thus honouring UNO's convention On Right of the child to play.
7000 children a month benefit through our 6 projects & many uncounted through 314 libraries set up through us in Municipal Schools, Villages,Slums,Hospital, Jails, NGOs,Desert. The miracle isn't that we have succeeded the,miracle is that we had courage to start a new era,intervention in schools curriculum for have and still we are continuing with inadequate support against many odds.
Toys represent a world of delight, a land of enchantment and magic where kids make friends, converse with apparently inanimate objects,find fulfillment and satisfaction & are completely at home happy & peaceful. Games socialize, teach discipling , honesty truth courage,etc
Fund Usage:

Our khelvigyan centres and Mobile van ( extenting of toys/ games library)in all the state & territories centres will be in Government Schools, government hospitals and children will get one hour period twice a week for play, Indoor game and outdoor games and other activities like craft, puppetory, Drawing, Drama ,Dances, Different activities-Glass painting , Warli painting, Punch craft, Sand painting,Greeting Card, Waste out of best, Flower making, Coffee painting,etc. under supervision of trained staffs.
Also to buy new toys/ games replace old toys/broken toys in the books, exsting projects and for training of staff in new skills. This year we are done Impact Assessment report on children's mental abilities.our curriculum and still we are continuing with inadequate support against many odds.
Impact:
A general study of controlled group(who had no play facilities) and an experimental group having Khelvigyan center showed the following result in favor of our project:
-Improved children's attendance
- Number of drop-outs reduced
- Children develop liking towards academic subjects that they found difficult once.
- Children became more organized
- Children began caring, sharing and respecting each other
- They adapted cleanliness and understand the importance of hygiene.
- Their decision making ability was improved.
- They developed new creative ways to solve problems
They learn discipline,honesty, and develop the spirit of co-operative competitiveness. The children who were shy have become more expressive. Now more & more NGOs and institutions are opting or their own toy libraries. Also some side developments are seen. Aarti Sawant whose mother is house maid was to wait from 1 to 4 pm for her mother to come from work and take her home. She was called to our center by our coordinator to enjoy some games and help organize children's queue learnt the art of handling children and some games. She now during waiting time works with school balwadi and organizes children and games.