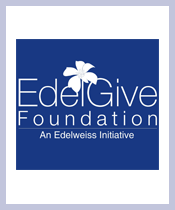 EdelGive Foundation
14th Floor, Edelweiss House, Off C.s.t. Road, Kalina, Mumbai, India, 400 098
Email: edelgive@edelcap.com
Website: www.edelgive.org

Charity Bib Status: Sold out

About NGO:
EdelGive's mission is to leverage the capacity and capital of the for-profit world to equip and enable the social sector to achieve the greatest impact on the lives of the poor in India. Our investments in nonprofits, which are evaluated through an intensive due diligence process, are in the form of financial support and, more importantly, capacity building support. We work closely with our investees on the organizational development challenges they face by leveraging the skills and expertise of Edelweiss employees. Within our education portfolio, our investments reflect the need to move beyond literacy and enrollment to improvements in the public delivery system and the critical link between education and employability. In our livelihoods portfolio, we focus on organizations working to reduce social and economic vulnerability, enhancing the earning potential and negotiating abilities of those at subsistence level and below. In the women's rights sphere, EdelGive Foundation has been running the EdelGive Social Innovation Honours (ESIH) to reward and recognise organizations innovating to empower women in India. Winners are selected through a rigorous three-tier process in four categories: Health & Well-Being, Economic Security & Livelihoods, Educations and Rights & Representation.
Fund Usage:
The funds raised through the donor's support will be disbursed as a grant to the nonprofits working in the areas of Education and Livelihoods supported by EdelGive Foundation.
Impact:
EdelGive leverages the technological expertise of Edelweiss, for the benefit of a nonprofit organization, Aangan Trust. Aangan works for strengthening protection mechanisms for the children in juvenile homes and those residing in vulnerable communities. The volunteer team from Edelweiss have created a web-based monitoring tool for the juvenile homes. This tool captures the essential information and evaluates these homes based on a set of predefined parameters. This tool functions from a centralized system. Each of Aangan's centres is provided access to this tool to capture the information. It allows Aangan to analyze and instantly compare the scores of institutions to gauge their performance. Earlier, Aangan used to capture this information in a hardcopy form making it very difficult to manage and collate the abundant data. Also, manual analyses of scores were undertaken by the staff consuming enormous time and bandwidth. Impact: The web based monitoring tool has helped Aangan to scale up their work on children's institutions. The tool played an instrumental role in helping them to get permissions from the government to scale up their work. It also added lot of credibility to their work as they were able to substantiate their findings and systemize the whole approach.
Page Url :
http://www.unitedwaymumbai.org/ngo238_edelgivefoundation.htm

Online donations are now closed for SCMM'13'
Founded Year:
2008
Cause category: Education
Telephone: 022 4086 3772/9769777892
You can raise funds by placing this donation widget on your web page or blog. Please click on the image.