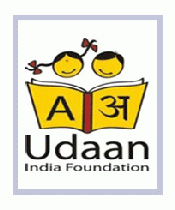 About NGO:
Udaan India Foundation (UIF) is a Mumbai based registered non-profit organization that is committed to the cause of educating the less privileged children. Our primary aim is to ensure that every child, particularly from the neglected urban slums of Mumbai, who is of school going age is in school and gaining a strong educational foundation that would prepare him/her for better employment opportunities and the right to lead a life with dignity and self respect.
Most UIF children are from slums in and around Powai. Their parents are daily wage earners (mainly construction workers), drivers, petty traders / vendors, and security guards. In these families, education is not a priority and it is commonplace for children to drop out of school in order to contribute to the family income.
With a mission to "Empower through Education" Udaan has under its wings a range of teaching- learning spaces like the Udaan Kindergarten, Udaan Learning Center, Hamaari Udaan Library, and the Computer center. UIF also offers scholarships to deserving students who would otherwise be unable or unlikely to pursue further education and a professional career post 10th std.
Through our work we hope to see perceptible changes by way of -
-Increased enrolments in school
-Decrease in school drop out rates
-Better job opportunities for underprivileged
Fund Usage:

You can be a part of our children's journey by pledging your support to Udaan. All funds raised through the SCMM 2014 will be used towards the following -
1.Learning Center Project -Based on the ideal of optimum utilization of resources, Udaan runs its Learning center at Gopal Sharma Memorial School in Powai, after regular school hours. Over 350 children from various BMC schools attend our Foundation and Remedial programs which run everyday from 3pm to 6pm. The focus is to generate interest in education for our first generation learners by enhancing and enriching the learning experience of the students through participatory and group learning techniques with a clear focus on holistic learning. Extra-curricular activities like dance, sports, spoken English, Science club etc are conducted to help instill confidence, values of leadership and team -work amongst the children.
2.UIF Scholarship Fund-The UIF Scholarship program seeks to support children who would otherwise be unable or are unlikely to pursue education post 10th grade due to financial constraints. Currently more than 35 children are being supported through the scholarship program .
3.Corpus Fund -Since Udaan is a relatively new organization it is important for us to build a healthy corpus fund towards a secure future for our educational initiatives.
Impact:
Case Study - "Agar Udaan nahin hota, to mein kabhi school nahin ja paati", says Santoshi. "If Udaan was not there, I would have never been able to go to school", says Santoshi.
16 year old, Santoshi Maitri lives with her parents in the construction workers basti at Hiranandani gardens, Powai. She had never been to school when she joined the Udaan project 8 years ago. A keen learner, Santoshi was enrolled at Tirandaz Municipal school and through her hard work, dedication and the support provided by teachers at Udaan, Santoshi soon blossomed into an all round student. This year Santoshi passed her Xth grade examination in 1st class and is now pursuing her grade XI in Commerce stream. She not only excels in academics but is also an excellent dancer and performs regularly at our Annual day functions. One day Santoshi hopes to be a teacher and help many like her. An outstanding example of how education can change lives!
Page Url :
http://www.unitedwaymumbai.org/ngo22_udaan.htm
Founded Year:
2009
Cause category: Education
Our Supporters