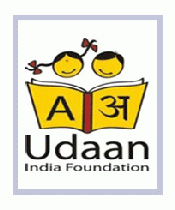 Udaan India Foundation
2202, Odyssey Ii, Hiranandani Gardens, Powai, Mumbai, Maharashtra, India, 400076
Founded Year: 2009
Cause category: Education
Telephone: 022-40000392
Charity Bib Status:
30 Available
Raised by 0 contributors.

About NGO:
Udaan India Foundation is a Mumbai based not for profit organisation working with children from low income communities in the field of education. Our mission is to enable brighter futures for children from low-income communities by providing them with the desired knowledge, skills, values and support to achieve their true potential. Udaan has under its wings a range of teaching - learning spaces that meet the needs of the children who have limited access to quality education. A child's journey at Udaan starts at foundation level and continues till they are employable. Today, over 800 children benefit from our initiatives that include Kindergarten, Learning centre, Saturday club, School Support programme, Library, Alumni support and Scholarships and Skills enhancement programme. At Udaan, we believe in making education a continuous, joyous and voluntary experience for children, which inspires them to believe in themselves and take on the future with confidence.
Through our work we strive to see perceptible changes by way of
Decrease in school dropout rates
Enhanced academic performance
Better job opportunities for the less privileged
Fund Usage:

The Mumbai Marathon is an opportunity for beneficiaries and well wishers to come together and pledge their support for a common cause. The funds raised during the marathon will help us reduce education inequities for less privileged children, sustain and scale up existing programs and to provide scholarships to children who would otherwise be unable or are unlikely to pursue further education post 10th std. We look forward to your support in helping us realize our children's dreams.
Impact:
Case Study - "Agar Udaan nahin hota, to mein kabhi school nahin ja paati", says Santoshi. "If Udaan was not there, I would have never been able to go to school", says Santoshi.
16 year old, Santoshi Maitri lives with her parents in the construction workers basti at Hiranandani gardens, Powai. She had never been to school when she joined the Udaan project 8 years ago. A keen learner, Santoshi was enrolled at Tirandaz Municipal school and through her hard work, dedication and the support provided by teachers at Udaan, Santoshi soon blossomed into an all round student. This year Santoshi passed her Xth grade examination in 1st class and is now pursuing her grade XI in Commerce stream. She not only excels in academics but is also an excellent dancer and performs regularly at our Annual day functions. One day Santoshi hopes to be a teacher and help many like her. An outstanding example of how education can change lives!