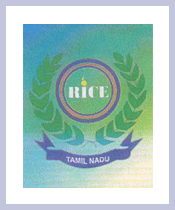 Rural Identity and Cultural Education
13/262, Near Panvhayat Office, Vadaankulam, Tirunelveli, Tamil Nadu, India, 627116
Founded Year: 1985
Cause category: Education
Telephone: 04637230218 / 9842620817
Charity Bib Status:
Not Available
Raised by 0 contributors.


Donations for SCMM 2015 are closed. Thank you.
About NGO:
RICE is an Voluntary Charitable organization working among the below poverty line people, mainly Dalit Communities from 1985 onwards. Mainly for the education of the children and women in various areas. Health and sanitation is other view to develop their economic status. HIV/AIDS awareness and research activities are on as there are so many affected people in our areas. Empowerment of women communities through organizing them in to women self help groups and training them to start income generation programmes. Organic farming is another factor to improve the environment and health of the people. The area of intervention is in Two Taluk of Tirunelveli and Kanyakumari.
Districts one is Thovalai and Radhapuram. Through Local Panchayat and its representatives the programmes are implemented. Our volunteers interact with the local panchayat people and implement the programmes successfully. There is one coordinator and five full time worker and another ten part time workers are in the field. The secretary and two office assistants are in the office. Every week Saturday there will be evaluation meeting conducted by the coordinator. The programmes will be discussed in the Board Meeting Quarterly.
Fund Usage:

We intend to spend the Marathon donations for the Education and health development of these targeted people women and children in various aspects. And for the HIV/AIDS affected people and their children.
Impact:
A widow with her two children at the age of 39, joined in one of our women self help groups. The women self help group consists of 20 member and made a saving of Rs.100 for every months. All the members make saving of rupees 100. She attended the monthly meeting of the group regularly. After 10 months they received from the bank 1 lakhs 60 thousand as loan. This lady received 10 thousand a loan.
She started making idly daily morning and sold it to the public everyday and earned daily 100 to 150 rupee profit and saved her children and paid back the loan amount also in 20 installments. Thus she is happy with her family she is able to send her children to school also. This unit is monitored by RICE volunteers.