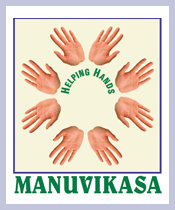 MANUVIKASA
At And Po: Karjagi,taluk: Siddapur,north Kanara District, Kanara, Karnataka, India, 581340
Email: manuvikasa@gmail.com
Website: www.manuvikasa.blogspot.com

Charity Bib Status: Not available

About NGO:
MANUVIKASA is an NGO working in Uttara Kannada and Haveri District of Karnataka state since 2003 with the vision of Development of sustainable livelihood, improve education, enriched environment and development of good human values.
MANUVIKASA is developing small tanks and springs in Uttara Kannada District with the help of Deshpande Foundation and GiveIndia. More than 200 farmers have benefited from this intervention and able to get more yield in their farms. More than 10000 seedlings are planted in Western Ghats region to develop forest and forest based livelihood. More than 500 poor women mobilized under self help groups and these women members are supported by the MANUVIKASA to improve income thorough savings and credit activities and income generation activities. Children of the poor women members are getting scholarships and basic materials to continue education. More than 200 children are benefited from the organization. Micro insurance initiative of the MANUVIKASA is enhancing the security of the lives of poor.
Fund Usage:

MANUVIKASA is working in Uttara Kannada especially in hilly area and focusing on natural resources conservation and education development. MANUVIKASA intended to conserve more water and give access to the small land holders to get more production. This effort also tries to educate farmers on sustainable agriculture and protect them from climate change effect. Most of the children who are orphan and poor are discontinuing their education due to poverty and ill health. MANUVIKASA is also having concern on this issues and major part of the MANUVIKASA budget will be utilized for the betterment of the poor children.
MANUVIKASA is working on forest and habitat conservation issues and spending budget for plant enrichment and capacity building of the forest dependent community to sustainable use of forest resources. Funds raised through this event will be used for water conservation, capacity building of women living in forest areas and education support to the orphan, differently able and poor children.
Impact:
Most of the small land holders in Siddapur Taluk were migrating to the big cities in summer for searching employment. In that time, their children education got disturbed and most of them returned with diseases like HIV and other epidemic diseases. Working members of the family will be migrated seasonally to the cities and taking care of the children and old age people will be neglected. MANUVIKASA observed this problem and started small tank development in the farms of small holders and they have started growing multiple crop and year long they engaged in agricultural activities. Balikoppa is a small village which is very adjacent to the Siddapur city and most of the youths and women were started migrating to cities for searching employment. MANUVIKASA has developed 3 small tanks and provided water facilities to more than 40 acres and 15 families. Now these farming families are working in their filed and getting more crop and earnings. They also started sustainable agriculture and growing horticulture crops. Women members are organized under self help concept and getting financial help from the group and started dairy, fishery and vegetable growing activities and earning supplementary income with regular agriculture activities.
Page Url :
http://www.unitedwaymumbai.org/ngo221_manuvikasa.htm
Online donations are now closed for SCMM'13'
Founded Year:
2003
Cause category: Livelihood Generation
Telephone: 08389-249729 / 08384-223295 / 09845982552
You can raise funds by placing this donation widget on your web page or blog. Please click on the image.