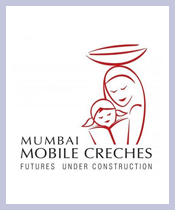 About NGO:
Mumbai Mobile Creches (MMC) has been operating daycare centres for over 40 years. Our vision is a world where all children have a safe and happy childhood. Our mission is to support child-friendly construction sites - where children have access to nutrition, healthcare and education. We run comprehensive child development centres where children are provided with freshly cooked meals, weekly doctor's visits, and specially tailored educational materials. Additionally, MMC works to empower the migrant labourer community: we train women to be teachers, conduct street plays and hold discussions about important social issues, and help facilitate access to PAN cards and bank accounts. Over the last four decades, MMC has developed and pioneered a model that supports the development of the very young child, frees older children from the burden of looking after their siblings, and helps children enroll and stay in the municipal school system. Such an approach - which has the needs of young children at its core - creates the foundations for healthy development and overall growth of our society. When nations and communities invest in their children, they invest in the future of current as well as coming generations.
Fund Usage:

MMC's comprehensive program provides education, healthcare, and nutrition to children from birth to 14 years of age. From instruction in reading and writing to protein rich meals, we lay the building blocks for children to thrive. Your donation will go towards teacher trainings to women from the construction sites, educational resources such as books and stationary, ingredients for nutritious meals such as milk, raggi and dal, and medical interventions including our weekly doctor's visits and medications for the children. MMC first opened its doors in 1972; today we operate 30 daycare centres, and are the only non-profit in Mumbai providing consistent support for this population. With your help, we can continue brining our high-quality services to the underprivileged children of migrant workers living on construction sites!
Impact:
Sagir is 9 years old and lives with family on a construction site in Virar. In their native village, his parents struggled to feed all of their children, and so they came to Mumbai in search of work and better a better life. Sagir's father now works as a carpenter and his two brother's work as head load labourers.
When Sagir first arrived at the centre, he only spoke Bengali and had difficulty in the classroom. He was wary of studying and even seemed afraid to hold a book. Over time and with regular attendance Sagir has slowly started to get comfortable in the classroom. His teachers took initiative and enrolled him in the 1st standard at a nearby municipal school. Sagir continues coming to the centre in the mornings for academic help and attends school in the afternoon. Sagir's teachers report that he is a very kind boy and has developed a passion for learning and studying. We're proud of Sagir's progress and excited to see the strides that he will make in his formal schooling!
Page Url :
http://www.unitedwaymumbai.org/ngo21_mmc.htm
Founded Year:
2006
Cause category: Education
Our Supporters