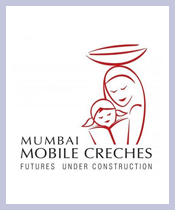 Mumbai Mobile Creches
1st Floor, Abbas Building , Mereweather Road, Colaba, Mumbai, Maharashtra, India, 400001
Founded Year: 2006
Cause category:
Telephone: 022-22020869
Charity Bib Status:
2 Available
Raised by 1 contributors.

About NGO:
MMC runs comprehensive daycare centres inside construction sites for children of migrant construction workers hailing from different states in India. At present we run 23 day care centres. Our education programme focuses on reaching very young children—from birth to six—in order to insure proper cognitive, motor, and social development at a crucial stage in their lives. Our balwadi programme focuses on school preparedness instilling pre-reading, pre-writing and pre-arithmetic skills in the children.
We also create a nurturing learning environment for older children, ages 6 to 14. In this age group we focus on enrolling children in local municipal schools and ensuring that they stay in school by providing afterschool care.
As part of our Nutrition Programme, we provide two nutritious meals and two snacks including eggs and fruits with the objective of giving children the nutrients they need to achieve healthy growth and development. Our Health Programme's objective is to promote preventative care through weekly doctors visits and health camps, which we run in partnership with other organizations. MMC's community outreach focuses on raising awareness of healthy eating habits, hygiene practices, diseases, HIV/AIDs, drug and alcohol abuse, etc.
Fund Usage:

Mumbai Mobile Creches is the only NGO in Mumbai, working for children living on construction sites, consistently since 43 years. We need your support to continue provide high quality services to these children addressing their needs of education , nutritional requirement and healthcare facilities with a larger aim to integrate them and break this perpetual cycle of poverty.
Impact:
Sagir is 9 years old and lives with family on a construction site in Virar. In their native village, his parents struggled to feed all of their children, and so they came to Mumbai in search of work and better a better life. Sagir's father now works as a carpenter and his two brother's work as head load labourers.
When Sagir first arrived at the centre, he only spoke Bengali and had difficulty in the classroom. He was wary of studying and even seemed afraid to hold a book. Over time and with regular attendance Sagir has slowly started to get comfortable in the classroom. His teachers took initiative and enrolled him in the 1st standard at a nearby municipal school. Sagir continues coming to the centre in the mornings for academic help and attends school in the afternoon. Sagir's teachers report that he is a very kind boy and has developed a passion for learning and studying. We're proud of Sagir's progress and excited to see the strides that he will make in his formal schooling!