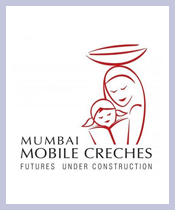 Mumbai Mobile Creches
First Floor, Abbas Building, Mereweather Road, Colaba, Mumbai, Maharashtra, India, 400001
Email: contact@mumbaimobilecreches.org
Website: www.mumbaimobilecreches.org

Charity Bib Status: Sold out

About NGO:
Mumbai Mobile Creches (MMC) was founded in 1972 in Mumbai with the belief that every child has the fundamental right to security, education, health care and protection. Our focus is on holistic development of children from birth up to 14 years. At our centres on construction sites, we run a creche for children under 3, a pre-school for 3-6 years old, and an education programme for children above 6. Apart from education, we provide three freshly cooked meals daily to all children, and arrange for their medical checkup every fortnight. Our model of comprehensive day care and work is in close partnership with the parents, the construction industry, labour communities, government agencies and concerned NGOs to promote child rights. Over the last four decades, we have developed and pioneered a model that supports the development of the very young child, frees young children from the burden of child care and supports children to get into and stay in formal schools. Over the last four decades MMC has operated over 200 centres in Mumbai and reached over one lakh children living on construction sites of Mumbai. In 2011-12 we ran 39 centres, and reached over 4,700 children on construction sites.
Fund Usage:

Mumbai Mobile Creches ( MMC) runs comprehensive day care centre on construction sites, providing children living on constructions sites from birth to 14 years with education, nutrition, and health services. The Mumbai Marathon provides us essential programme funding and supports the education and food that we provide the children on a daily basis.
MMC also aims to build its Corpus fund, which will enable the organization to focus on strengthening the existing centres and expand the number of centres to include more children in the programme.
Impact:
When speaking of his first impression of the MMC centre as a little boy, Dashrath says, "It was the first place where I had toys to play with." Until then, Dashrath and his three siblings played with the sand and mud on the construction site. Dashrath Rathod's family came to Mumbai in 1975 and his parents found employment as head load workers on a construction site in Vashi, Navi Mumbai. Dashrath's mother was happy to see a makeshift tent (in the 1970's MMC centres operated under tarpaulin sheets on sites) with children, and sent his older brother there in 1977. Dashrath who was born in 1982 was enrolled in the same centre in 1984. He fondly recalled his early days in the creche, remembering that the teachers would bathe the children in the mornings and give them fresh clothes to wear, and that their days were filled with singing and dancing.
Dashrath was enrolled in a municipal school in grade 1 with MMC's help in 1989. When Dashrath first arrived at the municipal school, his teachers were stunned and thrilled that he could read, write, and count while most of his classmates would barely even read. It was his time at MMC that helped Dasrath pick up reading, writing and math skills at the municipal school.
He noticed that there were no toys or games at his new school, and so the MMC centre continued to be a space where he could go to play and enjoy his childhood. At a very young age Dashrath started working part-time to supplement the family income. He continued to receive after-school support from MMC and often came over to the centre on the site to play with the other children. "The school I went to never had any toys. MMC was the only place I could go to enjoy and feel like a child. " Eventually Dashrath completed grade 12 before moving on to his undergraduate studies. He then pursued an Undergraduate degree in law and started his career as a lawyer. In 2005, Dashrath's parents moved back to their native village. When Dashrath got married, he moved out and rented a place of his own for his wife and his now 1 year-old son.
Today, Dashrath earns about Rs 35,000 per month and has an independent law practice. He says that he doesn't want more children because he wants to focus all of his energy and resources on his one son. "I'm saving money; I want him to become a scientist". A teary eyed Dashrath says that if it were not for MMC, he wouldn't be where he is today.
We are immeasurably proud of Dashrath's accomplishments, and nobody more so than Mangala, his former teacher who works at MMC to this day. Seeing teacher and student re-unite was a truly special moment that we'll always remember!
Page Url :
http://www.unitedwaymumbai.org/ngo21_mmc.htm
Online donations are now closed for SCMM'13'
Founded Year:
2006
Cause category: Women, Children & Aged
Our Supporters
You can raise funds by placing this donation widget on your web page or blog. Please click on the image.