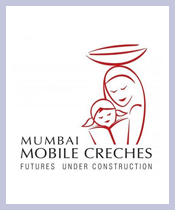 Mumbai Mobile Creches
Mumbai Mobile Creches, 1st Floor, Abbas Building, Mereweather Road, Colaba, , Mumbai, Maharashtra, India, 400001
Founded Year: 2006
Cause category: Education
Telephone: 022-22020869
Charity Bib Status:
Not Available
Raised by 30 contributors.


Donations for SCMM 2015 are closed. Thank you.
About NGO:
Mumbai Mobile Creches is a grassroot non-profit founded in Mumbai in 1972, with a vision for all children to have a nurturing and happy childhood. MMC runs comprehensive day care centres for children living on construction sites from birth to 14 years of age, in Mumbai, Navi Mumbai and Thane. Our model is well rounded and includes components of nutrition, health, training and advocacy in order to ensure that all children living on construction sites are safe, healthy and educated.
Fundraisers supporting this NGO:


Fund Usage:

Mumbai Mobile Creches is the only NGO in Mumbai, working for children living on construction sites, consistently since 42 years. We need your support to continue provide high quality services to these children addressing their needs of education , nutritional requirement and healthcare facilities with a larger aim to integrate them and break this perpetual cycle of poverty.
Impact:
Sagir is 9 years old and lives with family on a construction site in Virar. In their native village, his parents struggled to feed all of their children, and so they came to Mumbai in search of work and better a better life. Sagir's father now works as a carpenter and his two brother's work as head load labourers.
When Sagir first arrived at the centre, he only spoke Bengali and had difficulty in the classroom. He was wary of studying and even seemed afraid to hold a book. Over time and with regular attendance Sagir has slowly started to get comfortable in the classroom. His teachers took initiative and enrolled him in the 1st standard at a nearby municipal school. Sagir continues coming to the centre in the mornings for academic help and attends school in the afternoon. Sagir's teachers report that he is a very kind boy and has developed a passion for learning and studying. We're proud of Sagir's progress and excited to see the strides that he will make in his formal schooling!