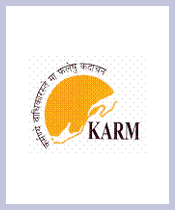 Karm
Karm ,s.s.gaikwad Marg, Opp. Jain Temple, Dhobi Talao, Mumbai, Maharashtra, India, 400002
Founded Year: 1986
Cause category: Women Empowerment
Telephone: 9870437648; 022-22035090/022-67432219
Charity Bib Status:
Not Available
About NGO:
KARM was founded in the year 1986 by with the intention to strive to serve the poor, the needy and the marginalized people in our society through Health, Education and Rural community development activities and programmes.
From past three years KARM has been working in the tribal belt of Shahapur Taluka, Thane District on women's empowerment, Rain water harvesting and village development activities through its integrated approach.
KARM is working in several backward villages in Shahapur Taluka, Thane District, Maharashtra which has acute scarcity of water and lack of other basic amenities which have resulted in alienation of these villages from the civilized world. We, intends to remove the hurdles in the progress of this backward region and bring them into the mainstream society.
KARM has also been able to create awareness regarding women's empowerment among tribals (majority of them are below poverty line). So far 450 SHGs have been formed i.e about 5000 families are promoted under SHGs.
KARM also plans to create opportunities for gainful self-employment ensuring sustainable livelihood, enriched environment and improved quality of life.
Fund Usage:

Integrated Rural Development Projects:
Majority of the villages in Shahapur Taluka are poverty stricken and alienated from the civilized society due to lack of sustainable livelihood and absence of basic amenities and infrastructure.
KARM started its integrated rural development program in some of these villages in the year 2007 by mobilizing and organizing women from socio-economically backward communities in to self Help Groups (SHGs). Till now KARM has promoted 450 such groups reaching out to more than 5000 women. KARM's team is constantly working towards strengthening these groups in order to make the members and their families economically self-reliant. Since the village economy in Shahapur Taluka is entirely dependent upon agriculture, top on the priority is creating livelihood opportunities by promoting sustainable agro-based activities among the families of the members of these SHGs.
The purpose of the projects is to enrich smallholder farmers through a more holistic and self-reliant method not only in terms of improvement of income, employment and nutritional status but also in terms of fostering community development, gender empowerment and protection of environment with the help of promoting rain water harvesting in drought villages.
Impact:
Gainful Self- employment a Passport to Better Future
Karanjpada is small and socio-economically backward village situated in the hilly area of Shahapur Taluka. Majority of the residents of total population of 500 are below poverty line due to lack of sustainable livelihood and excessive dependence on monsoon fed single crop low yield farming.
Despite harsh conditions and Subsistence level lifestyle, there is something remarkable about the members of " Janabai" - a self help group of women formed by KARM in 2009. During last few years their level of awareness, their attitude and their personality have undergone a dramatic change. They are no longer submissive women who tolerate harsh treatment given by men in their families nor are they dependant on the money lenders for their small household expenses.
SHG 'Janabai' started their first business venture by providing midday meals to the local anganwadi with the help of the revolving fund of Rs. 5000 received from the District Rural Development Authority (DRDA). A part of the profit from this business is saved every month and deposited in the bank so that they can carry on internal lending amongst the members. So far they have disbursed Rs. 35000 at the nominal rate of interest of 3%.
KARM staff during one of the monthly meetings talked to them regarding the need for proper sanitation and availability of bank loan for construction of toilets. With their own initiative all the members went to the bank and borrowed Rs. 20000 for building toilets. The money was repaid along with the interest before the deadline. After attending awareness and capacity building sessions held by our staff the members decided to start a small business and become financially independent. KARM helped them prepare a proposal for goat rearing project and got it sanctioned with the budget of Rs. 150000. The members brought 40 goats and employed a senior member who was the poorest among the group for their upkeep. After successful running of the business, they repaid the first installment of the loan and borrowed more money from the bank to buy 65 more goats.
Janabai SHG is now regularly repaying the bank loan along with the interest from its monthly income. With newly built self confidence the members have also started participating in the community development activities. They have not only started a campaign against alcoholism but have also participated in Pulse Polio vaccination drive on regular basis. By building toilets they have inspired other community members to do the same and check the spread of various diseases. Their socio-economic status has improved and they are leading a better life with their families.