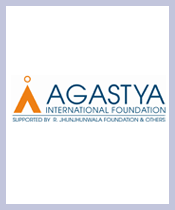 Agastya International Foundation
79/26, 2nd Cross, Ramya Reddy Layout, Benson Town, Bangalore, Karnataka, India, 560046
Founded Year: 1999
Cause category: Education
Telephone: 080-41124132, 080-23545054
Charity Bib Status:
Not Available
About NGO:
Agastya International Foundation (Agastya) is a transformative educational Foundation. Since its formation in 1999, Agastya is actively engaged in propagating hands-on learning among economically disadvantaged children and teachers. It streams its vision and mission to rural India through a variety of channels including a Creativity Lab located on a 172-acre campus near Bangalore, 65 Mobile Labs spread across 10 states in India and 29 Science Centres spread across A.P. and Karnataka. Agastya advisers and members include entrepreneurs, scientists, educators, philanthropists and teachers. To date, Agastya has directly reached and impacted (face-to-face) 5 million children (of whom 50% are girls) and 150,000 teachers through continued efforts.
Agastya's hands-on program aims to spark curiosity and addresses significant gaps in the education system viz. lack of practical exposure to science concepts and poor teacher-student interaction. The main goal is to provide access to, attract and retain vulnerable and disadvantaged children to quality educational programs. The programs are holistically designed to spark creative-thinking and problem-solving skills, improve learning achievement and expand opportunities. Agastya's educational intervention programs complement and work alongside government programs. Furthermore the Prime Minister's National Knowledge Commisssion has also recommended the Agastya model for India-wide scale-up.
Fund Usage:

Agastya aims to transform our education system by developing an ecosystem of creative learning amongst low income schools using science and math education as a tool, this will help these economically disadvantaged children to develop problem solving and entrepreneurial approach - the best way to enable them create opportunity for themselves. We do this through a hub and spoke model, where we have a science centre which acts as a Hub for teacher training, model development etc. and Mobile Labs laced with low cost experiments help us reach to thousands of children in nearby low income schools. In 2011, we organized a mega science fair at Dharavi Slum, Mumbai and were astonished with the overwhelming participation from children and teachers. Building on that, we initiated operating 1 mobile lab in Mumbai, but to cater to the scale of the problem we are addressing, we intend to set up 2 Science Centres and 2 Mobile Labs in Mumbai, which would require approximately INR 80 Lakhs. We assure you; Your support will shape millions of lives and enable our collective dream of a New Normal - A creative India.
Impact:
In May 2012, two village girls, Jyotsna and Bhargavi, studying in class 8 at ZHPS, Chettipalli in Kuppam district, children of financially disadvantaged illiterate parents crossed the vast Indian ocean to set foot in Pittsburgh, USA and visit the Intel International Science Fair as "international delegates". Few months earlier, the two girls traveled to Chandigarh for the IRIS Science Fair finals. Their project "Growing Oxygen on Highways" won an award competing with some of the best private school students of the country to participate in the International Science Fair. Bhargavi and Jyotsna are but the tip of the iceberg of the talents & miracles of rural India. 2012 is the fourth year that Agastya International Foundation has been witness to its children winning the prestigious IRIS awards.
Through hands-on, interactive teaching-learning methods Agastya is creating opportunities for millions of children like Bhargavi and Jyotsna every year to break out of the limitations of their social constraints by transforming attitudes to learning and develop problem solving approach.
Since 2008, Efforts of Agastya and of our growing number of beneficiary children have been continuously recognized at the Intel Initiative for Research & Innovation in Science (IRIS) competition held every year.