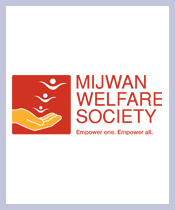 Mijwan Welfare Society
Fateh Manzil, Po&village-mijwan, Phulpur , Azamgarh, Uttar Pradesh, India, 276304
Founded Year: 1993
Cause category: Education
Telephone: 91-5460-230248
Charity Bib Status:
Not Available
About NGO:
Noted Urdu poet and lyricist Kaifi Azmi believed that in a country like India where 80% of the population lives in the villages,we will need to empower rural India if real progress is to be made. Towards this objective, he formed an NGO called MIJWAN WELFARE SOCIETY (MWS)in 1993. Today, his daughter, renowned actress/activist Shabana Azmi, carries forward the work started by her father along with her goddaughter Namrata Goyal.
Fund Usage:

MWS intends to spend marathon monies towards
Kaifi Azmi Higher Secondary School for girls
Kaifi Azmi Inter-College for girls
Kaifi Azmi Embroidery and Sewing Centre for Women
Kaifi Azmi Computer Training Centre
MWS has transformed Mijwan from being a village frozen in time to a model village by creating a template that is both replicable and scaleable.
- RANBIR KAPOOR is the Goodwill Ambassador for Mijwan Welfare Society and has pledged his support
Impact:
MWS Achievements:
-Crafts of Hope, USA, engages the services of Kaifi Azmi Embroidery and Sewing Centre to produce crochet articles that are sold on Ebay.
-MWS has opened six centres for sewing and embroidery in surrounding areas of UP and intends on expanding its reach further.
-With the assistance of Ann foundation USA, English is being taught through Skype to girls of Kaifi Azmi Inter College, Mijwan. The focus has been gender empowerment though overall personality development with focus on extracurricular activities, theatre, dance, craft and computer literacy.
-Girls from Mijwan used to be married off as early as twelve years of age. It was common place to see them in school with the trademark sindoor(vermilion) in their hair. Today these girls have different aspirations. One wants to be an engineer, one wants to be a nurse, another wants to start a business and one even wants to be a supermodel.
-In association with TERI and NDTV's Greenathon, MWS has successfully lit up Mijwan with solar energy.