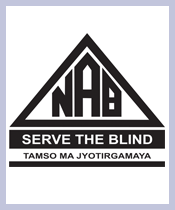 NAB India Centre
L-25, Hauz Khas Enclave, New Delhi, Maharashtra, India, 110016
Founded Year: 2002
Cause category: Disability
Telephone: 011-41656266; 26852589
Charity Bib Status:
Not Available
Raised by 0 contributors.


Donations for SCMM 2015 are closed. Thank you.
About NGO:
NAB WAS ESTABLISHED FOR THE EMPOWERMENT AND REHABILITATION OF THE BLIND WOMEN FROM RURAL AS WELL AS URBAN INDIA. WITH THE AID OF MODERN TRAININGS THE WOMEN ARE ASSISTED TO REGAIN THEIR DIGNITY AND OBTAIN GAINFUL EMPLOYMENTS THROUGH PROFESSIONAL EDUCATION
Fund Usage:

THE CENTRE HAS THE CAPACITY TO ACCOMODATE A BATCH OF 25 GIRLS. SPACE IS THE LIMITATION THEREFORE WE ARE CONSTRUCTING ADDITIONAL ROOMS ON THE FIRST FLOOR THAT WILL ENABLE US TO DOUBLE THE CAPACITY. THE TOTAL BUDGET FOR THIS PROJECT WILL BE ABOUT 65 LAKHS.
Impact:
GOMA RAI- SHE IS A TOTALLY BLIND GIRL FROM NEPAL. WITH THE HELP OF THE CENTRE SHE RESUMED HER STUDIES AND HAS BEEN ABLE TO GET THROUGH THE TOUGH IIM AND TISS INSTITUTES BOTH FOR MBA.