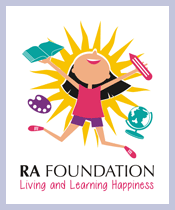 Ra Foundation
Ra Foundation E-2, Mandar Society, Raut Lane, Juhu, Mumbai, Maharashtra, India, 400049
Email: rafoundationmumbai@gmail.com
Website: NA

Charity Bib Status: Sold out

About NGO:
Ra Foundation began in July 2004 with community intervention programme involving conducting health awareness sessions in the 'Pratiksha Nagar' community at Sion, Mumbai.
Ra's work is focused on preventive health care and helps people access medical aid and information by connecting them with the services and resources available in the city. A women's self help group was started in the community with purpose to motivate women to save a part of their income for medical purposes
The Ra Happy Kids Programme enables children to develop their potential to the fullest, supporting them through their chosen paths and helping them find true joy in life. This is done through the means of qualitative and holistic education in residential schools for the young and less privileged children in India, which will have an impact on the child's intellectual, emotional and physical well-being.
This programme gives the child an opportunity to explore the world in a way he/she would like to and encouraging the kids to follow their natural instinct.
The aim of the program is built a content and happy future generation, which set an example for many others
Fund Usage:

The aim of the Ra education programme is to built a content and happy future generation, which set an example for many others. For this, the Foundation: Identifies institutions with boarding and lodging that impart quality education in an inspirational, tolerant and open learning environment.
Identifies children, bearing in mind the enrolment criteria for children for the program. Involves and support families through this process of change.
Become one point contact for the school and parents. Act as foster parents Ensure regular contact with student and school staff through email, phone calls, quarterly visits (or as per the school rules).
Provide support to the student during the vacations to ensure that there is continuity of what is learnt at school.
Beneficiaries: Presently, we have total of 17 children enrolled Schools located in Panchgani and Pune.
Budget: Annual budget for each child various from Rs. 88000 to Rs. 228800 depending on which school the child is enrolled. The budget includes school fees, school and personal materials, travel, lodging/ boarding of guardian / parents during visit to school.
Impact:
Renuka Salve dreamt of living a simple normal life; one that brought joy. Today, she and her brother Rohit live with their grandmother and maternal uncle. She does not have her mother any more and her father after an unfortunate event was imprisoned.
Renuka was one of the first kids referred by Akanksha and enrolled into the Ra Happy Kids Programme. In 2007, she secured admission in Standard VI in Sanjeewan Vidyalaya, a residential school in Panchgani, Maharashtra. This was a turning point in her life, to move out of a difficult environment to an enriching and encouraging school set up.
Renuka kept up a good academic record throughout and also actively participated in football matches, representing her school at inter-school and state level games.
This year, with a percentage of 86.12, she has stood third in her school and makes us very proud. She is the first child to complete Std X though the Ra Happy Kids programme.
Renuka is evolving to be a mature, well-grounded and smart girl. Her behaviour, mannerisms and ways of communicating are admired and appreciated by everyone.
Your Support will make a big difference. We are sure Renuka's achievements make you happy.
Page Url :
http://www.unitedwaymumbai.org/ngo209_rafoundation.htm
Online donations are now closed for SCMM'13'
Founded Year:
2004
Cause category: Education
Telephone: 9819862886
You can raise funds by placing this donation widget on your web page or blog. Please click on the image.