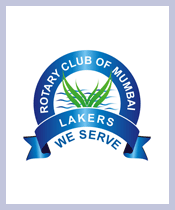 Rotary Club of Mumbai Lakers Charitable Trust
Teamglobal Logistics Pvt. Ltd. 7th Floor, A Wing, Times Square Andheri Kurla Road, Andheri(e), Mumbai, Maharashtra, India, 400059
Founded Year: 2009
Cause category: Social, Civic & Community Development
Telephone: 9867444200
Charity Bib Status:
Not Available
Raised by 0 contributors.


Donations for SCMM 2015 are closed. Thank you.
About NGO:
Rotary Club of Mumbai Lakers wishes to run Bhavisya Yaan Projects across Mumbai. Currently we are running 1 such center in Powai , which looks after computer education for the underprivileged . One more such center is planned in Mumbra.
We are also setting up a center for vocational education with Udaan for which funds are needed.
Challenged Children ( MR and Physically challenged) Education is a focus area for us and we are supporting DD MR school in Ghatkopar, Society for the Education Crippled in Santacruz , , MBA foundation in Powai , Bal Anand orphanage in Chembur. Funds for further up liftmen of society are welcome.
Fund Usage:

Rotary Club of Mumbai Lakers is engaged in various activities of under privilege, the fund generated from this project of this fund (Fund Raiser) will be used towards for running our Computer Education Centre and supporting girl child education program
Impact:
Mumbai's first Disabled Friendly Garden was conceptualized and completed by The Rotary club Of Mumbai Lakers In Powai.
This was a facility provided in a public garden in Hiranandani wherein physically challenged kids can use the swings slides and other rides , a facility that they have never used before.
The Smile on their faces was there to die for.All NGO's like MBA , SEC and others have used the facility.