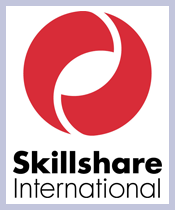 Skillshare International (India) Trust
Wz 10-b, Ground Floor, Asalatpur, A 2 Block, Janakpuri, New Delhi, Delhi, India, 110058
Founded Year: 2005
Cause category: Health
Telephone: 0091-11- 416 43890 , 4352-2101, 4310-4600, 4164 3892;98914 79380 ;98188 71070
Charity Bib Status:
Sold Out
Raised by 0 contributors.


Donations for SCMM 2015 are closed. Thank you.
About NGO:
Skillshare presently work in the sectors of health, education, economic empowerment and environment to improve the quality of life of disadvantaged communities like Tribals, Dalits, fisherfolk and artisans, with particular focus on women, children and youth. Themes of gender, human rights, HIV and AIDS and peace building influence all the work that we do across the world, geared to making sustainable social change.
We work in 12 States (Orissa, Jharkhand, Bihar, Uttarakhand, Uttar Pradesh, Tamil Nadu, Pondicherry, Kerala, Andhra Pradesh, Karnataka, Manipur, and Maharashtra) of India through 30 NGO partners.
The communities with whom our current NGO partners work are mostly in far flung rural/hilly/mountainous/forest areas of and are economically and socio-politically poor, with high level of illiteracy, ill health and barely any access to education and health care facilities, leave alone a sustainable income. Then our work in peace building has also taken us recently to the North East India where we have started with Manipur to start with.
Our community health programme in India has been a highly successful one where we have by now created a strong social capital by way of trained, but unpaid, community health volunteers from among our client communities like Tribals, Dalits and fisherfolk. These unpaid volunteers have been trained in preventive health, maternal and child health and in identifying and responding to medical emergencies through referrals. They have been trained over a period of three to five years by medical doctors who are our volunteers (resident and non-resident Indians and expatriates of various nationalities).
As part of our efforts to protect and promote the rights of the disadvantaged communities like Tribals, we have been working on policy issues. A recent example is the National Tribal Policy and the Forest Rights Bill where we supported Tribals and community groups to lobby the government to bring about a pro-tribal legislation; the new Forest Rights Act for Tribals was passed in December 2006. We have also produced a small documentary film with testimonials of Tribals who have been negatively impacted by the globalization processes.
One of the key areas that we have been focusing on is the issue of trafficking of women and children across the India-Nepal border. Thousands of women and children are traded every year across these porous borders mostly for the purpose of sex work. We have now commenced issuing an ID/Helpline card for children in the trafficking-prone border districts, in an attempt to protect them from abuse and to report cases of abuse. There is a National Helpline for children in distress, which we promote through this card, which is also a photo ID. We intend to do a campaign to encourage the public to report any abuse of women and children using this Helpline.
Yet another programme of ours is 'Coaching for Hope' where sports celebrities support our work with disadvantaged communities especially on the issue of HIV and AIDS.
We supported the setting up of model villages in the Tsunami affected villages in Kanya Kumari district in Tamil Nadu in southern India.
IPAP:
Skillshare is currently implementing a DFID supported International NGOs Partnership Agreement Programme (IPAP). Accountable Grant Arrangements (AGAs) have been formalized between DFID and the INGO Partners and INGO Partner proposals have obtained Government of India (GoI) approval.
Under IPAP, Skillshare is working on the issue of 'Tribal Health and Livelihood' with 13 partner NGOs in 7 states of India -
Andhra Pradesh, Tamil Nadu, Kerala, Jharkhand, Orissa, Maharashtra and Uttarakhand.

Fund Usage:

Skillshare International India works with community based organizations (CBOs). These CBOs are comprised of members from tribal and other socially and economically marginalised groups. The CBOs need support for the development of the whole community.
In this case too Skillshare has previous experience of setting up a health cooperative in Jharkhand and also Uttarakhand where our Development Workers were placed to directly build community skills to initiate and nurture these institutions. In both Jharkhand and Uttarakhandl these coops are managed by the local communities, the training for which was provided by Skillshare professionals.
Cooperatives if managed by members equipped with skills and knowledge, can be effective CBOs in bringing about developmental progress.
Having observed the success of the community health programme through local volunteering, similar strategy of building the social capital and transferring skills to the tribal and other social and economically marginalized communities in Uttarakhand, Orissa and Jharkhand, Skillshare sees the need for doing this in many more villages.
It is these CBOs which will receive the donations raised from the marathon.
Impact:
Rs 1 lakh will save hundreds of mothers and infants in Jharkhand.
Will you give Rs 2,500?
Sumitra looks like any other tribal woman from a forgotten village in India. But this shy woman is at the heart of a quiet revolution that's taking place in Baghuria village of east Singhbhum district in Jharkhand.
Some years ago, death was a constant presence in the lives of Sumitra and her neighbours. Most people died of curable diseases like malaria. New mothers died of unknown causes, as did infants. Few children made it to their fifth birthday - they would die of everyday symptoms like diarrhoea. The nearest health centre was more than 20 km away, in Galudi. By the time the patient was taken to hospital, it would often be too late. And the long journey to the health centre meant that whoever accompanied the patient would lose their daily wages. Debt - and deaths - kept mounting.
No more preventable deaths - and no more debt
In 1998, Sumitra was chosen by her village to train as a community health worker by medical doctors brought in by Skillshare International India. She learnt all about basic hygiene - how important it is to wash hands or to boil water before drinking - and taught her own sons and daughter, as well as her neighbours.
She also learnt how to check blood pressure, administer basic healthcare and offer guidance to women on care during pregnancy and after childbirth. She taught mothers how to stem diarrhoea by giving the child an oral rehydration solution made at home.
Today, no one dies in Baghuria village due to diseases like malaria or tuberculosis. There has been a dramatic decrease in deaths of mothers and newborn babies. All this has been made possible only due to the diligent efforts of community health workers like Sumitra, who visit villagers door to door, improving lives one by one.
A cooperative is formed
In 2007, Sumitra bought a cow with the help of a soft loan from the revolving fund facilitated by Skillshare. The cow gives four to five litres of milk in a day; Sumitra has enough milk for the home, and sells the rest to earn an income. Her sons are graduates, and her daughter is a teacher.
What started as a group of women coming together to change their own lives, has today taken the form of a revolution of sorts. The women came up with the idea of hiring doctors to visit their village. Now, a health clinic runs right there, in the heart of the village, out of a one-room mud hut. Two medical doctors visit the clinic two or three days in a week. The enterprising women source low cost medicines from some companies. They charge very low fees from villagers, and this goes towards maintaining the clinic. The women even manage their own accounts!
Early this year, the group registered itself as a cooperative, called the Sanjivini Swasthya Mahila Vikas Swavalambi Sahkari Samiti. The cooperative has 111 women as members from 15 villages around Baghuria.
Much more is needed. Will you help?
The SMVSSS cooperative has built a pucca clinic with help from Skillshare. But it needs many small things to be fully functional.
Skillshare is also planning to help many more community health volunteers in Orissa and Uttarakhand.
Our target is to raise a total of Rs 10 lakh to equip the clinic (see the women's wish list) in Jharkhand and other community health volunteers in Orissa and Jharkhand by provide some revolving funds to buy low cost medicines and other requirements identified by the cooperatives.
People tell us Rs 10 lakh is not a big sum. But for these women in Jharkhand it could mean the difference between life and death.