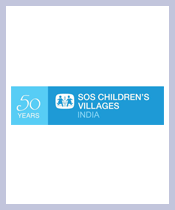 SOS Children's Village of India
Sos Children's Villages Of India, Plot No - 4, C- 1 Institutional Area, Nelson Mandela Marg, Vasant Kunj, New Delhi, Delhi, India, 110070
Email: akshay.singh@soscvindia.org
Website: www.soscvindia.org

Charity Bib Status: Sold out

About NGO:
SOS Children Villages of India runs two programmes:

(A)Family Based Care Programme. Every SOS Children's Village has 14 to 20 family homes. A SOS family consists of 8-10 children who live with their SOS mother in their SOS home. Holistic development including education, health and psychological development is provided to children till they are settled through career or marriage.

The programme is based on four guiding principles:
One: The Mother: So that every child has a caring parent.
Two: Brothers and Sisters: So that Children have family ties, and they grow up with a sense of responsibility and a spirit of sharing.
Three: A House: A place where the child feels secure, and has a sense of belonging.
Four: The Village: A community that surrounds the child. So that every child has roots

(B) Family strengthening programme (FSP) aims to prevent children from losing the care of their family or being deprived of basic essentials. We empower families, to strengthen their capacity to protect and care for their children, and strengthen safety nets for vulnerable children. The Family Strengthening Program is a 5 year program. It operates with a two pronged approach:
(a) First it is to ensure education and health of the children.
(b) Secondly, it enable the care giver (mother) by providing income generation training and capital so that the family becomes self reliant by the end of the project period.


Fund Usage:

The grant amount will be utilized to meet the running expense of SOS Children Villages of India through our Family Based Care Programme.
Impact:
Chanchal was brought to SOS Children's Village Bawana on 27th August 1990. At that time she was 12 years old. She has been the victim of terrorism in Punjab. Chanchal's male family members were brutally murdered by the terrorists. Only her mother, a sister and a younger brother survived. The family was at a cross road where there was darkness everywhere and no path to go in any direction.
It was at this juncture that SOS came to the rescue of her family by adopting her and her younger brother. The support extended by SOS was just like a light at the end of a dark tunnel to her. Ms. Shayama Jain, the mother of Achlama house was given the responsibility of grooming Chanchal. Ms. Shayama Jain's caring and careful handling of Chanchal started showing the symptoms of a promising girl. This support of SOS fully helped her in developing her talents.
She got admission in MSW and passed out with distinction. She was selected as an Assistant Superintendent of Police in Women Jail under Punjab Government. On March 9, 2008 she got married to Air force officer of a reputed family of Chandigarh and now living happy married life with her husband.
Page Url :
http://www.unitedwaymumbai.org/ngo202_sos.htm
Online donations are now closed for SCMM'13'
Founded Year:
1964
Cause category: Women, Children & Aged
Telephone: 91 11 43239200;919811697302
Our Supporters
You can raise funds by placing this donation widget on your web page or blog. Please click on the image.