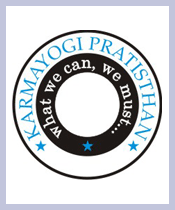 Karmayogi Pratisthan
A11/2 Avanti Apt, Flank Rd, Sion East, Mumbai, Maharashtra, India, 400022
Founded Year: 1/20/2004
Cause category: Social, Civic & Community Development
Telephone: 022-24073618
Charity Bib Status:
15 Available
Raised by 0 contributors.

About NGO:
Www.diehardindian.com started in 2000 (Karmayogi Pratisthan was registered in 2003), with the aim of educating Indians regarding various civic issues which affect them in their day-to-day lives.
Through our practical experience on the ground, we cover an entire gamut of governance issues like BMC-related (Shops & Establishment licenses, Rainwater harvesting, renovating your flat, etc); Property-related (MHADA repairs, building re-development, renting guidelines etc); Complaints (police station, traffic, RTI, elected representatives, media); Election card; ration card basics; etc.
We actively interact with local BMC, helping build new roads, helping fix potholes, new footpaths, Maheshwari Udyan garden renovation, tree plantation etc.
Our interaction with the traffic police is to provide practical solutions to ease traffic, like at Priyadarshini circle, Suman Nagar, Chembur, RA Kidwai Rd, Matunga etc. We also provide traffic wardens at key junctions.
We also filed and won Public Interest Litigations in reference to medical insurance claims settlement; reduction in towing nuisance in the city, garbage trucks parking and police reforms.
We provide education to over 300 children every year since 2003.
Fund Usage:

Our e-Governance website www.diehardindian.com gets about 3 lakh unique visitors every year (about 20 lakh page views). The site can be expanded in a major way. We have over 300 correspondences with various government departments that we have done over the past 13 years, which can be uploaded to be used by lakhs of citizens. An interactive platform can be build for citizens can share their experience dealing with various government agencies.
We help over 300 children every year with their education fees. The collected money can be used to expand this activity.
Impact:
We filed a PIL in Bombay High Court (12 of 2011), against Health Ministry and IRDA, regarding complete absence of any kind of regulations for governing medical insurance industry, specially claims settlement.
In response to our PIL's court order, IRDA has come out with the draft regulations in June 2012, to be implemented by August 2012. Rs 13,000 crores worth medical insurance claims are passed every year, without any audit of Third Party Administrator (TPA's). This would now change, as insurance company would now have to issue a direct cheque to the claimant (as opposed to the TPA's).
Other regulations include an Uncomplicated ONE page customer info sheet, claims settlement in 30 days, denial of claims to be specified with a medical reason, entry age for senior citizens and direct agreement between hospitals and insurance company etc.
This would benefit about 7 crore policy holders all over India, not only providing them mental peace of mind but also financial clarity.