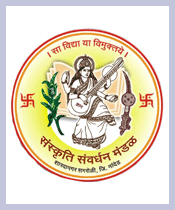 Sanskriti Samvardhan Mandal
Sanskriti Samvardhan Mandal 'karmayog', At Sagroli, Tq. Biloli, Dist. Nanded, Nanded, Maharashtra, India, 431731
Founded Year: 1959
Cause category: Education
Telephone: 02465-227848
Charity Bib Status:
Sold Out
Raised by 0 contributors.


Donations for SCMM 2015 are closed. Thank you.
About NGO:
Education has been the pivot of all SSM's activities since its inception. SSM has therefore put in efforts to impart quality education through various pedagogical projects to more than 4000 children up to higher secondary level.


Sagroli Sunrise is a carefully designed sports project started in 2004. Handpicked young athletes from Sagroli and other villages are given rigorous training by professional trainers every day to bring laurels to the nation.


Many of the rural youth face hardship in employment because of various reasons. To tackle the situation, Vocational Training Centre in 2009 introducing a few need based courses such as Plumbing, Nursing and Tailoring.


SSM has been working for Natural Resource Management since its inception through the activities like plantation, Awareness and implementation of Watershed Development Programs, Capacity Building, etc.


Even today the donkeys are deprived of proper health care by the owners. To attend the most neglected animal, we started our intervention through Equine welfare project in Nanded district in 2010-11.


Considering SSM's remarkable work to encourage the farming community for advanced mechanism in agriculture, ICAR New Delhi had sanctioned KVK(Agriculture Science Centre) in October 2011 which covers 8 blocks in Nanded.
Fund Usage:

We are implementing Sagroli Sunrise sports project since 2005 with specific objectives. It was realized that the strength and commitment of the rural youth is far more competitive compared to the urban counterparts. The rural youth could bring laurels to the nation in sports if whatever they need to hit the target is provided. Our candidates bagged maximum prizes proving their talent in various national level marathon events. Most of the children in the project are orphan and with rural background.
All the children are naturally gifted with strength and vitality. Our goal is to qualify in the Asian and Olympic Games.
SSM has always considered promotion of Sports to be as important as formal education. Since its inception, SSM has facilitated infrastructure and necessary material for sports. The overwhelming response from students in the form of participation and accomplishment in sports competitions at different levels made us support them in every way. Their zeal, endeavour and winning spirit have enabled them to leave an imprint in almost all sports events like Hockey, Volleyball, Handball athletics and traditional games like Kabaddi and Kho-Kho. The sporting spirit of these students has rubbed on the shoulders of the non-playing students who have also developed a spirit of sportsmanship. The school has no other source of income to develop and maintain the sports department. We require sports material and equipment to rejuvenate and upgrade the sports department. The funds raised from SCMM 2015 marathon will be spent on Athletes' dress and standard sport materials, professional coach honorarium, athletes' travelling expenses during marathon, nutritional diet, maintenance and external trainers' hospitality, exposure visits for athletes, tools and equipment for training purpose.
Impact:
Success Story :-
Kanna Sunita Ram :-
When a selection test was conducted for the Sagroli Sunrize Sport Project, she has stunned the organizers with her untiring running. She was immediately taken under the care of the project and the coach encouraged her. Since her debt to the cross country races and Marathon, she's never seen back.
Success after success fell into her credit. Whether it was Hutch Delhi Marathon or Standard Chartered Mumbai Marathon or Thane Varsha Marathon or Vishakhapattanam, her gifted postures while running used to attract the photographers and the sport columns welled with her appreciation. The best of her timing at 21 KM run recorded as 1 Hr 25 Min. In future she wants to join the Rialways and Claim her deserved position in Railway Sports Division.
Kamble Savita Mohan :-
She comes out with yet another touching story from the down trodden class. Both the parents make a living as agriculture laborers. The one who stood always first in academics, couldn't clear the selection test for Sagroli Sunrize Sports Project in her first attempt .But she was so strong in her mind and continued to practice along with the Project trainees as and outsider. Her determination succeeded and she was taken into the project in 2005. Now a student of XII standard, she keeps her pace in athletics without affecting her studies. A real hard worker, participated at not less than ten national level platforms and always stood in top three.
In future, she wants to become a police inspector and sereve the nation. She feels so proud of her coaches and Sanskriti Samvardhan Mandal, having given an identity of her own.