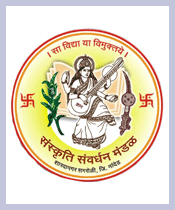 Sanskriti Samvardhan Mandal
Sanskriti Samvardhan Mandal 'karmayog', At Sagroli, Tq. Biloli, Dist. Nanded, Nanded, Maharashtra, India, 431731
Founded Year: 1959
Cause category:
Telephone: 02465-227848
Charity Bib Status:
Not Available
Raised by 1 contributors.

About NGO:
"Sanskriti Samvardhan Mandal (SSM) is a voluntary organization, committed for the upliftment of the rural communities since 1959. We are the member of Credibility Alliance following the norms insisting good governance. Recently, SSM has been certified under Empanelment with the National CSR Hub by TISS, Mumbai. For more details please visit www.ssmandal.net

Sanskriti Samvardhan Mandal (SSM) has been active in integrated rural development since 1959. Started with a small school, SSM has now grown into a 200 acre development hub. The focus of its activities has always been on the deprived rural communities, especially women and girls.
SSM has been working in 10 blocks of Nanded and Beed districts of Maharashtra; changed the lives of over 30000 families through its multidimensional activities.
Vision - Educated, cultured, Vigilant and prosperous rural communities.
Mission - Attain Sustainable Rural development with the need-based, transparent and innovative approach through value-added education, health, environment, energy, animal welfare, agriculture, women & child welfare, capacity building and livelihood."
Fund Usage:

'Sagroli Sunrise' is a carefully designed sports project started by SSM in 2004. Given an opportunity, the rural youth can scale great heights of achievement in sports and bring laurels to the nation. Under the project, a few handpicked young athletes are given rigorous training by professional trainers every day. The athletes aim to participate in the national and international marathons to prove their metal from time to time. It is ensured that they continue their interest in athletics as a career option even after their education at SSM.
Under the project, select 50 young athletes from Sagroli and other villages in the area are given rigorous training by a special trainer. Special diet, food supplements and standard sports material are provided to the children. Experts in athletics are invited for giving additional inputs to the trainer and the children. The pre-set goals are as follows,
To qualify for participating in National games.
To qualify for participating in Asian games.
To qualify for participating in Olympic Games.
Impact:
Success Story :-
Kanna Sunita Ram :-
When a selection test was conducted for the Sagroli Sunrize Sport Project, she has stunned the organizers with her untiring running. She was immediately taken under the care of the project and the coach encouraged her. Since her debt to the cross country races and Marathon, she's never seen back.
Success after success fell into her credit. Whether it was Hutch Delhi Marathon or Standard Chartered Mumbai Marathon or Thane Varsha Marathon or Vishakhapattanam, her gifted postures while running used to attract the photographers and the sport columns welled with her appreciation. The best of her timing at 21 KM run recorded as 1 Hr 25 Min. In future she wants to join the Rialways and Claim her deserved position in Railway Sports Division.
Kamble Savita Mohan :-
She comes out with yet another touching story from the down trodden class. Both the parents make a living as agriculture laborers. The one who stood always first in academics, couldn't clear the selection test for Sagroli Sunrize Sports Project in her first attempt .But she was so strong in her mind and continued to practice along with the Project trainees as and outsider. Her determination succeeded and she was taken into the project in 2005. Now a student of XII standard, she keeps her pace in athletics without affecting her studies. A real hard worker, participated at not less than ten national level platforms and always stood in top three.
In future, she wants to become a police inspector and sereve the nation. She feels so proud of her coaches and Sanskriti Samvardhan Mandal, having given an identity of her own.