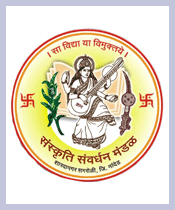 Sanskriti Samvardhan Mandal
Sanskriti Samvardhan Mandal Shardanagar, Sagroli Dist. Biloli Dist, Nanded, Maharashtra, India, 431731
Founded Year: 1959
Cause category: Arts Culture & Sports
Telephone: 02465-227848;227834;9423509073
Email: admin@ssmandal.net, rohit@ssmandal.net

Website: www.ssmandal.net
Visit on Facebook: ssm.sagroli
Charity Bib Status: Available

About NGO:
Sanskriti Samvardhan Mandal is a village based voluntary organization est. in 1959 to educate and empower the deprived rural people. SSM is actively involved in the field of education, health, agriculture, sports development and watershed development. SSM is Member of Credibility Alliance, following the norms insisting on good governance.
Our organization has been felicitated by the President of India for its outstanding contribution in general rural development. We run one of the largest rural residential schools in India imparting education to 4000 children. SSM provides a homely shelter for 750 orphans taking care of their education and rehabilitation. For more, please find us at www.ssmandal.net
Fund Usage:

We are implementing Sagroli Sunrise sports project since 2005 with specific objectives. It was realized that the strength and commitment of the rural youth is far more competitive compared to the urban counterparts. The rural youth could bring laurels to the nation in sports if whatever they need to hit the target is provided. Our candidates bagged maximum prizes proving their talent in various national level marathon events. Most of the children in the project are orphan and with rural background. All the children are naturally gifted with strength and vitality. Our goal is to qualify in the Asian and Olympic Games.
The sole objective of the project is to produce world class athletes and marathon runners capable of winning Olympic Medals for India in the near future. 30 boys and 20 girls are being selected for the project. They have been handpicked at a very young age, specifically from economically and socially underprivileged class irrespective of class, caste, creed and religion from rural areas of Nanded district. Most of the athletes are from scheduled caste, scheduled and nomadic tribes, socially and economically backward bracket of the society. This project truly goes beyond caste, creed and religion.
Impact:
Success Story :-
Kanna Sunita Ram :-
When a selection test was conducted for the Sagroli Sunrize Sport Project, she has stunned the organizers with her untiring running. She was immediately taken under the care of the project and the coach encouraged her. Since her debt to the cross country races and Marathon, she's never seen back.
Success after success fell into her credit. Whether it was Hutch Delhi Marathon or Standard Chartered Mumbai Marathon or Thane Varsha Marathon or Vishakhapattanam, her gifted postures while running used to attract the photographers and the sport columns welled with her appreciation. The best of her timing at 21 KM run recorded as 1 Hr 25 Min. In future she wants to join the Rialways and Claim her deserved position in Railway Sports Division.
Kamble Savita Mohan :-
She comes out with yet another touching story from the down trodden class. Both the parents make a living as agriculture laborers. The one who stood always first in academics, couldn't clear the selection test for Sagroli Sunrize Sports Project in her first attempt .But she was so strong in her mind and continued to practice along with the Project trainees as and outsider. Her determination succeeded and she was taken into the project in 2005. Now a student of XII standard, she keeps her pace in athletics without affecting her studies. A real hard worker, participated at not less than ten national level platforms and always stood in top three.
In future, she wants to become a police inspector and sereve the nation. She feels so proud of her coaches and Sanskriti Samvardhan Mandal, having given an identity of her own.
Page Url :
http://www.unitedwaymumbai.org/ngo197_ssmandal.htm