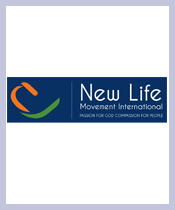 New Life Movement International
301, Vishal Villa, P.naik Marg, Shivaji Park Road No. 5 Shivaji Park, Mumbai, Maharashtra, India, 400028
Founded Year: 2010
Cause category: Arts Culture & Sports
Telephone: 2232258235;9619004997
Charity Bib Status:
Sold Out
Raised by 0 contributors.


Donations for SCMM 2015 are closed. Thank you.
About NGO:
NLMI exists to serve people. We work with a common shared vision, through our local Celebration Centres (branches), to serve people through innovative and sustainable community projects. Beginning with Mumbai and reaching out to our cities towns, villages and tribal areas and across India with a vision to also reach out to the SAARC Nations. We believe in developing, facilitating and releasing people, irrespective of caste or creed, with a special emphasis on nurturing the next generation, with a focus on family, children and youth. NLMI's various activities in Mumbai include our 10 Balwadis, 4 New Life Schools (English), Youth programs and events, Social & Community Development, New Life Sports, Leadership Training and Development; Life Coaching and counseling - which is carried out centrally and through our 200 local branches across the city.
Fund Usage:

Xcel Schools is an initiative of the Creative Arts and Media (CAM) Forum of NLMI
Creativity lies latent in every individual. The nurturing of this creativity in children empowers them to break through the molds of limitations. Providing an outlet for their creativity, enables them to overcome significant challenges and lead fruitful, fulfilled lives. Xcel Schools, across slum communities in Mumbai, will seek to identify, nurture, release and equip the creativity of children. The aim of these schools is to provide an innovative creative environment for children between the ages of 5yrs - 14yrs to help develop and nurture their creative skills through music, the creative arts and dance. Our goal in the first year (2012-13) is to establish four Xcel schools one - in each of the following areas - Dharavi, Bandra, Kurla, and Vasai. Each school will serve 50 children.
The Xcel schools will offer the following disciples
Dance - Rhythm and Movement
Music - Stringed and Rhythm instrument
Vocal - Drama and Singing
Creative Arts - Painting, Sketching, Clay Modeling and Crafts