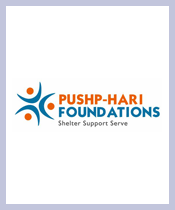 Pushp Hari Foundation
505,shalimar Morya Park, New Link Road,andheri ( W ), Mumbai, Maharashtra, India, 400053
Founded Year: 2006
Cause category: Children
Telephone: (022) 66778192
Charity Bib Status:
0 Available
Raised by 0 contributors.

About NGO:
Pushp Hari Foundation was set up in 2006 with one main goal. To improve the life of the underprivileged people of india.This includes children, elderly and the poor alike.
The objective of Pushp Hari Foundation is to give:
Financial help to the under privileged families.
Education of underprivileged Children.
Medical assistance to the poor.
Help and train people to become self reliant.
Construct Yoga/ Satsang halls & temples.
In order to benefit a larger group of people Pushp Hari Foundation Partners with other trusts as well. Today Pushp Hari has grown into an organization which operated in 4 cities of india.These are Mumbai, Pune, Indore & Bhopal.
Fund Usage:

In line with its aim Pushp Hari Foundation will use the funds raised by the SCMM 2015 to further improve the quality of education for the under privileged children. The funds raised during SCMM 2014 helped us provide text books and note books to children studying in our charitable schools in Mumbai, Indore & Bhopal. This year our objective is to raise funds to expand the capacity of our Mumbai School from 150 students to 300 students so that more under privileged children can attend school.
Impact:
Pushp Hari Foundation in collaboration with Aasara Vrudhajan Seva Ashram runs an old age home.
Adopted by Harish Mirchandani in 1995, this Ashram has developed in to self sufficient home for the senior citizens. Today there are over 125 people (which includes both male & Females) who recide in the campus. There is canteen, medical centre with doctor, Bhajan Room and big garden on campus. This ensures that the residents can enjoy a good life.
To keep the elder busy and fit they foundation encourages them to do jobs in the Ashram itself. The women for example make chips which are sold outside the ashram and revenue generated is used for development of the ashram. The men on the other hand help keep the campus clean by watering the garden, maintain the common living areas and the campus.
In the quiet and peaceful environment the Ashram is place where the elderly live with their friends and everyone of them forgets there sorrows to live a happy and peaceful live.